Raymond Lee Jewelers traveled from our Boca Raton showroom to Florida's paradise coast for the inaugural Naples, Art, Antique and Jewelry Show, and we couldn't be more excited. Produced by Palm Beach Show Group, the Naples show "will have something for every collector – from the novice to the museum curator," says Scott Diament, President and CEO of the Palm Beach Show Group.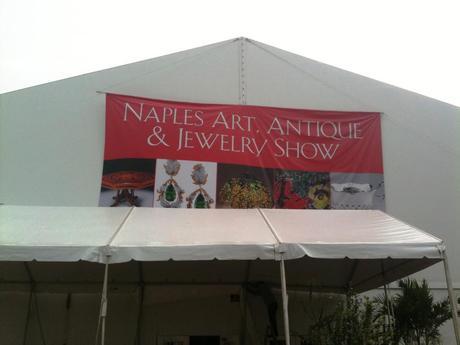 Participating dealers include: A.B. Levy Palm Beach, Antique American Wicker, Arader Galleries, Art Link International, Asiantiques, Betty Bresler, Cara Antiques, Carlson & Stevenson Antiques, Cavalier Gallery, Charles L. Washburne Antiques, Chatelaine's LTD, Crawford, Danish Silver, Dinan & Chighine, Ed Weissman, Eostone, Framont, Fred Leighton, Fred's Antiques, Hancocks & Co., J.S. Fearnley, Janice Paull, Lillian Nassau, Lynda Willauer Antiques, M.S. Rau Antiques, Mark J. West, Marlene Wong Alvarado, Michael S. Haber, Nula Thanhauser, Pearl Master, Pier & Co., Primavera Gallery, Provident Jewelry, Raymond Lee Jewelers, Sands in Time, Santos, Sherry Sheaf & Co., Stephen Kalms, Steven Neckman, Sue Brown, T.K. Asian Antiquities, The Fine Arts Conservancy, Traum Safe, Vendome, Weinreb Diamond & Estate Jewelers, William Cook, Yafa Jewelry and Jay Chatellier Fine Art, among others.
Last night the show invited guests for a special preview of the luxury watches, antique jewelry, art and antiques that the show will feature, and Raymond Lee Jewelers had a fantastic time kicking off what is sure to be an exciting weekend.Click through our gallery below to see exclusive pictures of the show set up, a behind the scenes look at last night's premiere, and a peek at some of the other amazing art and antiques featured by exhibitors:














If you're in Naples, stop by booth 420 to visit Raymond Lee Jewelers and view our selection of gorgeous estate and antique jewelry, designer jewelry, luxury watches and exquisite diamond jewelry!
Liz for Raymond Lee Jewelers, your source for diamond jewelry, luxury estate jewelry, and designer jewelry.