Originally posted on My Sardinian Life: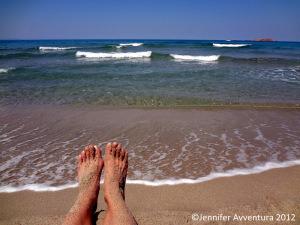 Sardinia is a mecca for beach lovers and with over 1849km of beautiful, pristine coastline it's no wonder naked vacationers return year after year.
Did you know? It's illegal to get butt naked on a Sardinian public beach.
That Sardinia hosts very few, secluded nude beaches (so few, in fact I can't find any resources on legal nude beaches in Sardinia) and if caught in the buff on a beach in Italy that the fine is hefty – very hefty!
Do you know the difference between a topless beach and a nude beach?
What is a topless beach?
A topless beach is a public beach where upper body clothing is optional for men and women. Most beaches in Italy are topless beaches.¹
A general rule of thumb is to look around and see what others are doing. If there are hundreds of people on the beach – dressed…
View original 1,142 more words