This is a much overdue review on the Baltic Amber necklace that Little Miss NAPB's been wearing since she was turned two years old.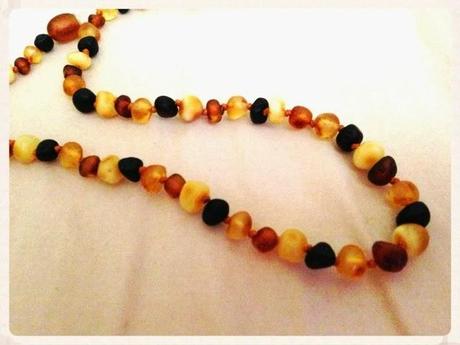 Little Miss NAPB's children Baltic Amber necklace in Multicolour
Before I start of my review, I'd like to inform my readers that this is NOT a paid review. And I am writing this based on my own experience, it might differ from other's opinions. 
I've always wanted to buy the Baltic Amber for Little Missy ever since she was born. And I did. My first Baltic Amber jewelry was a small polished lemon anklet from Bambeado. I didn't wear it too often because Little Missy didn't fancy having something around her ankle while she slept so after a few rounds I took them off. For that few weeks of having the amber on her, I didn't notice any difference with her. She didn't sleep through the night nor did she become more calm and smiley. So, the Bambeado didn't exactly work for me but because I didn't wear it constantly so to speak, it won't be accurate to give my opinion on the item. 
Months passed, and Little Missy turned eighteen months within a blink of an eye. I decided to try it again, but as expected, I couldn't find my old Bambeado. So I decided to order another one, this time from another supplier and because I took the initiative to do some reading on the subject, I knew I wanted to get a necklace and an unpolished one at that. So after browsing through local Australian online stores selling Baltic Amber, I landed a purchase with an east coast based Grace & Favour. The website boasts a range of stunning looking Baltic Amber jewellery, and the business seem legitimate. So I placed my order and waited. Days became weeks and before I knew it, it was more than a month, and my order still did not arrive. So I contacted the seller regarding the matter and was told that once it's shipped out, it's not their responsibility. I was so upset with the response and asked if there was a way we could come down to a settlement because obviously I was going to let this go when it is not my fault. The seller didn't budge so I did the next best thing and lodged a complain with Paypal where I paid it through. The case took two months and finally the seller was forced to pay me back down to the penny. Needless to say, I would never ever go back to Grace & Favour for any future purchases. However, despite me having a bad experience with the seller, I've read some positive reviews on them on the Internet so I might have just been the unlucky one. 
With all that's happened with Grace & Favour, Little Missy was only a month shy of two. So I thought okay, I'm just going to go with reliability and ended up ordering from a friend who sells Baltic Amber through her Facebook page called My Little Highness. 
I put the necklace around Little Missy upon receiving it from My Little Highness. Little Missy, surprisingly, wore the necklace easily. Due to our frequent traveling schedule, I couldn't say that the necklace worked or not because she was still cranky during our travel in November when I just bought the necklace. But if I was absolutely honest with myself, Little Missy's terrible sleeping hours, jetlag and being swarmed by well-meaning relatives and friends during our trip by to KL, and me being busy during those time didn't make things easier. It wasn't until we were back in Perth for a few weeks that I started noticing little little difference with her. 
At first it wasn't obvious but suddenly I was getting comments from my husband and some friends that Little Missy seem to be more calm and more smiley. She was even sleeping through the night, though not until she's been wearing the necklace for a month or so. The most prominent difference I noticed would be the most recent trip we made back to Malaysia in January for Chinese New Year. She was totally fussed free and socially comfortable with strangers (though still no carrying) hugging and being near her. Those few points are a big deal because ever since she was a baby, she disliked strangers and wouldn't even let them near her. So being calm during the crazy CNY gathering was a big BIG deal. 
So would you say that the Baltic Amber made a difference? I would say yes, but only if you buy genuine and unpolished ones. I don't think any changes on behavior would be visible immediately, but as a wearer myself, I've noticed my shoulder pain disappearing after wearing it for a couple of days. I know this to be true because I'm prone to shoulder and back pain, and usually need a chiropractor to help make it better. But nowadays, I just wear my Baltic Amber necklace and the pain is seemingly reduced the next day. Of course, I still need a chiropractor every once in awhile, but I'm positive that the necklace has help lessen the discomfort when the problem arises.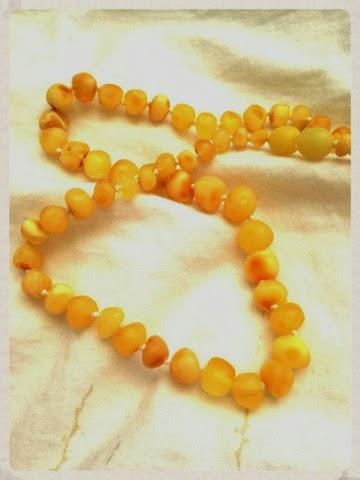 My Adult Baltic Amber necklace in Butterscotch 
In conclusion, I'd say I'm a believer in the magic of Baltic Amber. Furthermore, Little Missy has been growing up beautifully into a more confident and calm little lady, and I have a hunch that the necklace might have helped her along the way. ;)
P/s In case you're wondering how to clean it. Just wash with warm water and dry. Little Miss NAPB wears it 24/7 and even into the bath. All I have to do is dry her neck area and the necklace properly, so far no problems whatsoever.