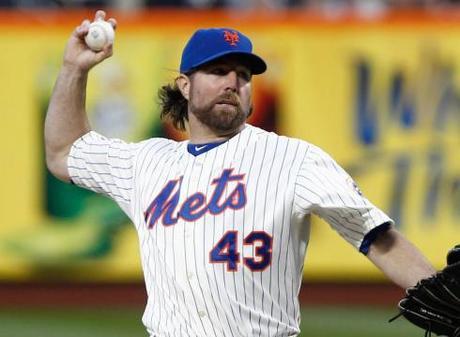 Photo: Debby Wong/US Presswire
- Adam Parker
New York Mets pitcher R.A. Dickey (15-4; 2.89 ERA) has come out of nowhere this season.
While the rest of Major League Baseball is filled with pitchers like Cincinnati's Aroldis Chapman and countless others 'throwing gas',  Dickey is a breath of fresh air; an anomaly, if you will.
Why?
R.A. Dickey (along with the recently retired Tim Wakefield) represent a dying breed of knuckleballers in professional baseball.
Here's the thing that I find interesting about this whole situation. I cannot, for the life of me, figure out a logical reason why there are so few knuckleball pitchers in baseball today. I mean, thanks to the knuckleball, the 37-year old Dickey (who, I'll be honest, I had not heard of before this season despite that nice beard) is on pace to win 20 — that's right — 
20
games this season.
Let's take a look at Dickey's journey from run-of-the-mill conventional pitcher to All-Star knuckleballer.
Dickey's career got off to a rough start after being drafted in the first round (18th overall) by the Texas Rangers in the 1996 Major League Baseball Draft when Rangers team doctors discovered a missing medial collateral ligament in his right (throwing) arm. Needless to say, that was a huge red flag, and it caused the Rangers to drastically drop their previous signing bonus offer of $810,000 to $75,000.
Talk about a tough blow on the wallet. But then again, according to what Dickey,
"Doctors look at me and say I shouldn't be able to turn a doorknob without feeling pain,"
which makes the fact that he can pitch at all all the more remarkable.
R.A. came in as a conventional starting pitcher with "dime-a-dozen stuff" — a high-80's fastball, an occasional fringy breaking ball and a forkball he dubbed 'The Thing.'
From 1996-2005, Dickey's pitching career was full of ups and downs (much more of the latter). In fact, before this All-Star 2012 season, Dickey's career high in wins was 11 (he also had nine losses) back in 2010 — his first year with the Mets; and his previous strikeout high was 134 (set in 2011; also with the Mets).
Before he reached the Mets, Dickey spent time with the Rangers, Seattle Mariners and Minnesota Twins, all of which were stops I imagine Dickey would prefer to leave in the rear-view mirror.
When exactly did Dickey go from mediocre conventional pitcher to stud knuckleballer? Well, by 2005, Dickey came to the realization that his "forkball" was actually a hard knuckleball, and if he wanted to prolong his career in the Major Leagues, he needed to perfect that pitch.
His inaugural unveiling of his "angry knuckleball" pitch on the Major League level came one year later on April 6, 2006 when the Rangers gave R.A. the fifth spot in the starting rotation.
Suffice to say, things didn't go quite the way Dickey had planned. He gave up six home runs that day, tying the modern baseball era record held by fellow knuckleballer Tim Wakefield. After that, Dickey was demoted to Triple-A ball for the duration of the season.
After spending the entire 2007 season out of the Majors, R.A. returned in 2008 with Seattle, where he continued to struggle mightily (5-8; 5.21 ERA).
In 2009, Dickey was with Minnesota, where he was used primarily as a specialist out of the bullpen. He appeared in 35 games that season (one start) and had minimal success.
But then in 2010, the Mets came calling, and as they say, the rest is history. Dickey was a completely transformed pitcher upon reaching the Big Apple. He was chewing up innings and baffling batters right and left — no doubt sending many of them back to the dugout in frustration, usually resulting in some spilled Gatorade containers, if you catch my drift.
Fast forward to 2012 and Dickey, as I explained earlier, is firing on all cylinders. 'The Thing' has become a force of nature, catapulting Dickey's career to new heights many thought (likely including Dickey) he would never reach.
He currently leads all National League pitchers in complete games (4) and strikeouts (175) and his 15 wins ties him for second behind Cincinnati's Johnny Cueto (16) in the NL with Washington's Gio Gonzalez and Pittsburgh's A.J. Burnett.
Not too shabby for a guy many people had never heard of before this season.
The best part about it? We can look forward to seeing Dickey for a good number of years beyond 2012. After all, Wakefield pitched into his early 40's throwing the knuckleball, so I see no reason why Dickey can't continue that same trend.
Some people refer to the knuckleball as a 'unmanly' pitch. Think of it what you will, but it's effective against virtually all hitters and extends pitchers' careers. Sounds great, right? It's a wonder more pitchers aren't trying to learn it.
Be sure to follow Beard And Stache on Twitter 
@BeardAndStache
, and also Adam 
@Adam_Parker43
, Like our Facebook page 
HERE
!