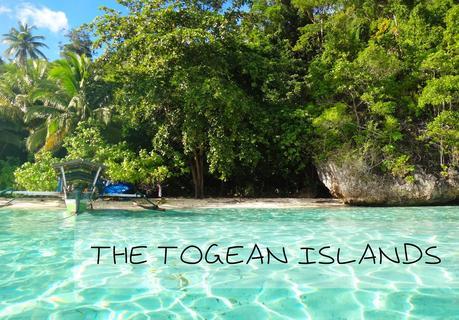 Today, I'd like to share probably the most fascinating place I've been to so far – the Togean Islands.  This archipelago of around 7 thousand islands and islets situated North East from Sulawesi shores in the gulf of Tominco and is hard to reach. Yet, each hour you spend on the twisted jungle road or a ferry towards it is absolutely worth it.  Why you ask? Just check out the picture below.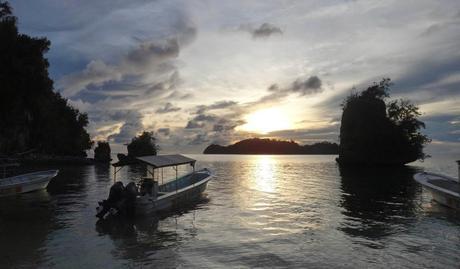 Different adventures happened to me on my way there – the bus got stuck in the mud in the middle of nowhere in heavy tropical storm and all the passengers had to push it back on the solid ground for a few hours; we've nearly missed  the ferry in Ampana 'cause of that and called the captain to delay it. I had a few hour sleep afterwards on the roof where someone was transporting a sofa and a few armchairs.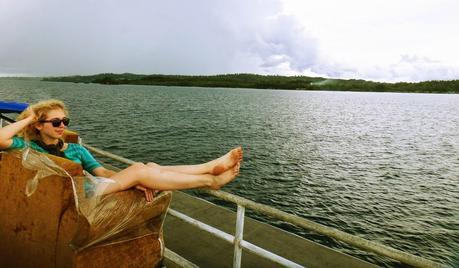 The archipelago is remote and there are just a couple of options of how to get to the Togean Islands: 
From Ampana: a ferry leaves each day except Friday at 10 am in the morning. Check out the schedule here. Tickets can be bought on spot and cost around 5-6$. You'll arrive to Wakai – the main city of the archipelago. 
From Gorontalo: a ferry ride will take around 12-14 hours. Schedule available here.  
There are 4 classes to travel: 
The local way – you don't have a reserved seat, so feel free to crash wherever you want on the lower or upper deck. There special podiums you can occupy, yet you'll have to be faster than the locals to grab your place.
Pros: you sleep under the amazing tropical sky with billions of stats above your head
Cons: it may be chilly and windy, so a sleeping bag's preferable. 
2nd class: you get a seat in a separate room with quite enough leg space, yet it's not revertible.  
1st class: cosier chairs, a telly shouting loud, air conditioning and more leg space. 
Luxury-deluxe: available for tourists only. Pay on the spot to someone from the crew and get a separate cabin with 4 bunks, mildly clean and cozy. Price per cabin around 40$ (10$ per person). The Kadidiri Islet Do you remember Alex Garland's novel The Beach?Well, this place is pretty much the same to that dreamy destination that only the true travellers can reach.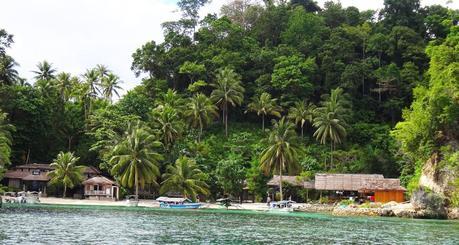 There's no wi-fi, cell connection or supermarkets. Water's brought in barrels from other islands, electricity is available for a few evening hours... So in case you'd like to live the real castaway life for a few days (weeks?), the place is just for you!
Accommodation on Kadidiri There are just 3 hotels situated one next to another on a gorgeous white sand beach. The luxurious one: Kadidiri Paradise Dive Resort The places has the most facilities and popular within traveling families, who crash here for weeks. You can rent a long private house on the beach for around 50-80$ a day including meals. The new home - Pondok Lestari Kadidiri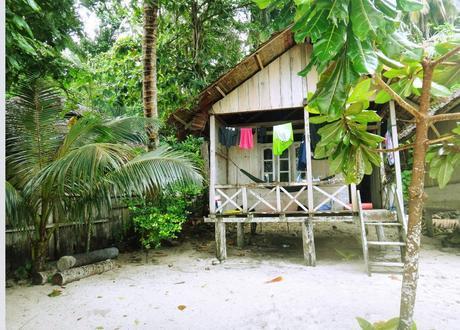 Pondok Lestari can be translated from Indonesian as "everlasting homestay" and I liked this place so much, that was thinking of ditching all my commitments and crash here for a month, or even few.
The place is family-owned with and very hospitable as you make friends with the head of the family, help his wife to cook dinner, hang out with older kids and take boat trips together to amazing places around.
When it's time to say good bye, your heart melts as it feels like you say good bye to your own family.
For around 15$ a day you get a wooden bungalow right at the beach with bathroom outside and daily homemade meals, simple yet yummy!
You can live here for 300$ a month, snorkel all day long, climb the palms for coconuts or search for fresh pineapples in the jungle.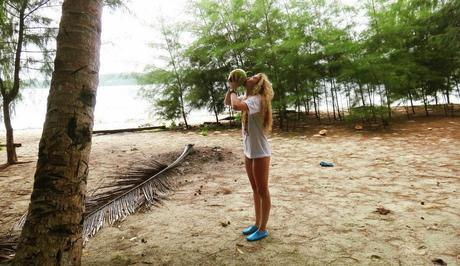 Your Diving school
:

The Black Merlin
Sandwiched in between the previous two, this place offers rooms for 20-30$, but the smallest beach territory of all the places. (But you can walk everywhere free anyway). However, I heard a few stories from fellow travelers who booked their stay here that they were asked to pay twice more upon arrival, so make all your arrangements carefully.
Black Merlin has a diving school where you can get your certificate within a day and they offer numerous boat trips to best diving spots around the archipelago.
Things to do at the Togean Islands
(Except for being lazy on the beach and chasing colorful fish in the coral reefs)
- Take a boat to the Bajau village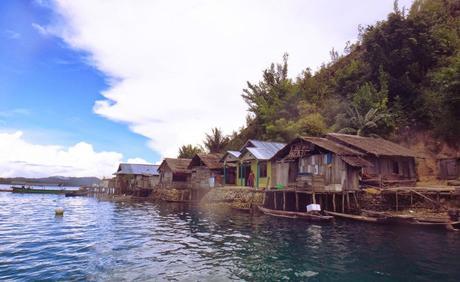 These people have been called the sea gypsies as most of their lives they spend drifting around the gulf in their boat houses. This community has settled at the Togeans just a few years ago and make their living by selling valuable marine like sea cucumbers and shark fins to the Chinese.
- Go snorkelling in a jelly fish lake.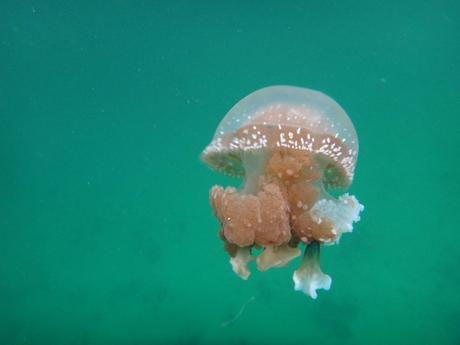 WTF?! - you may think. The species that live here aren't poisonous, so you won't get hurt. Lot's of fun and cool pics guaranteed in case you have the gear.
- Hike around the islet.
There is an amazing, deserted beach hidden on the opposite shore. You'll need to track through thick rainforest. Keep your eyes on the path as it's a tricky one and can disappear before you notice it.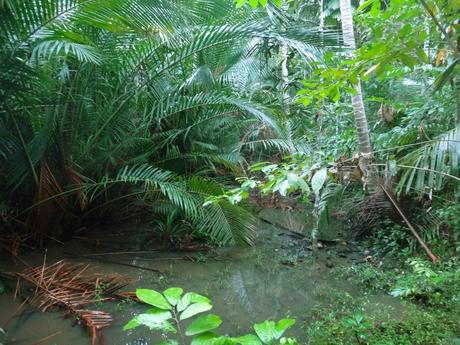 A person who got lost in the jungle is telling you this :) At the very same jungles….
Ask someone's from the homestay to take you there and take a torch just in case :)
- Visit a gorgeous waterfall in Wakai. And finally, check Facebook/email/twitter that's exploding :)
- Check out Una Una island and hike a still active volcano.
The last eruption happened in 1983 and flushed the whole village. A few people came back and started new homes by now, yet there are still plenty of white sand beaches for solitude walks.
- Spend a night at a deserted islet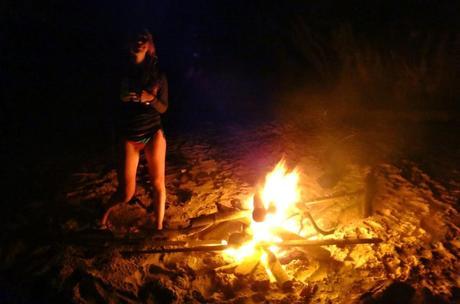 The eldest son of the homestay owner, Puding took us to a gorgeous beach where we camped at night, made food on the fire and swam in warm waves with shimmering plankton glowing around you once you move.
And there are not enough words to describe the night tropical sky …

You don't need to spend a fortune at a 5 star resort at the Maldive
s. There are unique places in Indonesia where you can live for 15$ a day and wake up viewing a turquoise lagoon and coconut palms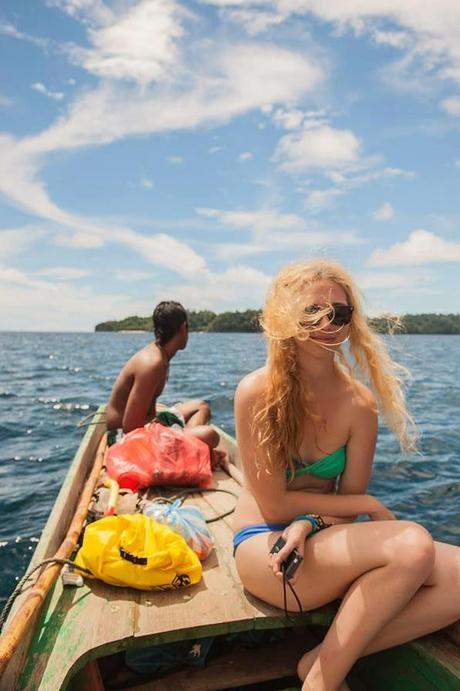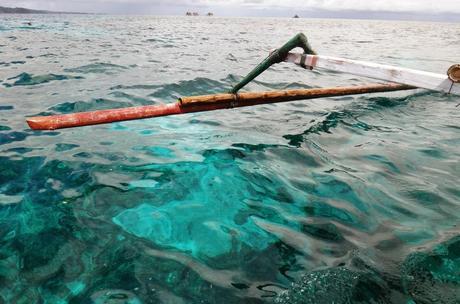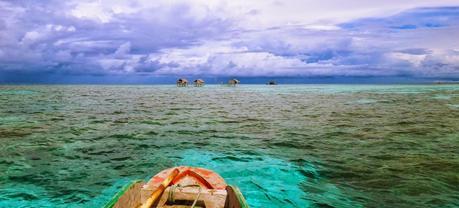 The dark places are the coral reefs
To get a weekly recap of all my adventures right to your email, just enter your address in the box below