Last week Tim Challies posted an article titled
The Most Terrifying Thing God Can Do
. It's a terrifying article. It crushed me reading it and apparently it did for many others as well. I saw this article referred to and re-posted numerous times.
The most terrifying thing God can do is to turn an unsaved person over to his sin. Here is a sample of the scriptural truths the article contains:
We speak often of hell and eternal consequences for sin, but perhaps we give too little attention to God's action against sin in this world and this life. God's punishment for sin is sin. His punishment is allowing people to experience the life-stealing, soul-rotting consequences of their sin. He expresses his wrath by allowing them the very thing they want. He does this because when they get the thing they want, it only deepens their destruction. 
In this way, sin is its own punishment. And in all the world I see nothing more terrifying than this: the prospect of God allowing people to experience the full impact and weight of their sinfulness. Nothing is more terrifying than God determining that he will no longer restrain the evil within them.
This is a terrifying thought.
This would be a terrifying event.
For me, the event was not hypothetical. It actually happened. Just before I came to salvation, God turned me over to my sin.
It is a fearful thing to fall into the hands of the living God
. (Hebrews 10:31)
I'd lived for 43 years as a sinner, but I had one particular besetting sin that consumed me. After so many decades, the Lord turned me over to it and released restraint. He turned me over to my sin so that I'd choke on it, and by virtue of contrast, thirst for His purity and holiness. After a few mercifully short years, I cried for mercy to the God that I would finally acknowledge and my sin that I would finally admit.
I remember the day when I realized that the sin wasn't so fun anymore. I realized that my sin had me, I didn't have it. Like a rabbit in a snare, I tried to shake loose of it, and could not. This perplexed me, because I had always been able to do anything I'd set my mind to. This was different. I was trapped. (Romans 7:14)
Now I know that we are slaves to sin, in bondage to it and to the god of this world, satan. But like quicksand, the more I tried to get out of my sin on my own terms and in my own effort, the more I foundered. I truly felt like I was sinking, forever to be engulfed in a toxic brew of my own making, sinking under the weight of it. My lips were only inches above the water and I felt I had only moments to go, relatively speaking, before I'd sink below the surface to rise no more. And it was cold.
Just prior to salvation, I was attempting to chronicle my experience in art, trying to puzzle out in visuals what words could not express. A spiritual process was happening to me, but I did not understand that it was spiritual. I only knew it was
something
. I was in a 1 Corinthians 2:14 situation. So I thought that whatever was happening to me I could try and figure it out by making visuals instead of words.
I wrote a little book called "Story of a Fly". I look back on it now and I see clearly that it is a record of my coming to faith. It contains images and groanings my soul was expressing that words could not convey. As for the title, I think flies are disgusting, and I had no idea why I chose a fly to represent me, the main character in my little book. In retrospect, it was because I was under bondage to satan, also mentioned in the bible as the Lord of the Flies (Baal-zebub or Beelzebul).
In my book, I 'knew' there existed a secret kingdom, existing in the midst of and alongside the world I could see. I wanted to go there.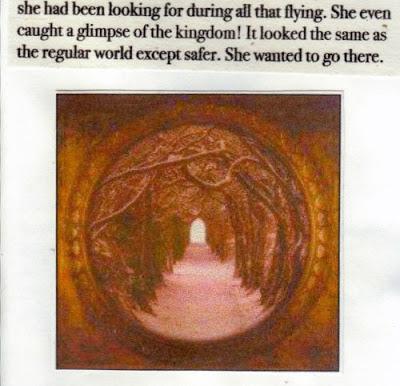 I'd traveled a good deal out in the American West. One of the native mythologies was a trickster god called Kokopelli. He plays the flute and is seen as a spirit of music. He's also a fertility god and god of agriculture. In my deepest recesses I 'felt' that a trickster god was preventing me from obtaining the kingdom, represented below. I called him the 'fly-wrangler'.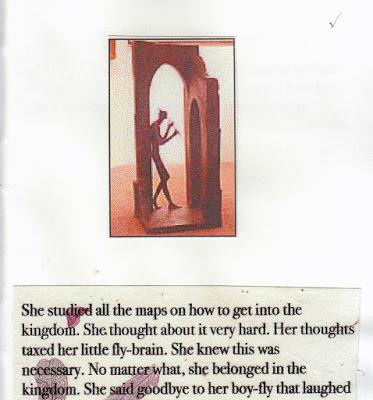 I was searching, seeking, making a long and winding road...but not obtaining this kingdom I wanted to enter so badly.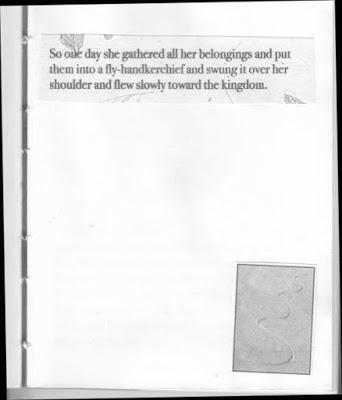 I felt I was so close and was about to triumphantly enter the kingdom! But there was a barrier. It was insurmountable.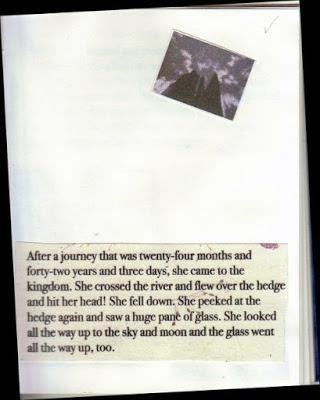 It felt like I was a fly in a jar, captured. I was free to fly around in the jar but not free to get out and go into the kingdom. It was very frustrating. Of course, this feeling I'd had I now know was the weight of sin. Psalm 38:4 is so true! Without repenting no one can ever enter the kingdom of God. I had to deal with my sin.

I could not figure out why I was not enjoying the peace I'd so longed for. I was trying so hard! Yet now I know-
For by grace you have been saved through faith. And this is not your own doing; it is the gift of God, 9 not a result of works, so that no one may boast.
(Ephesians 2:8-9)
All the while, God had given me over to my sin, which I still pursued, though I did not want to anymore. The law of diminishing returns was clearly demonstrating that it was not a worthwhile pursuit.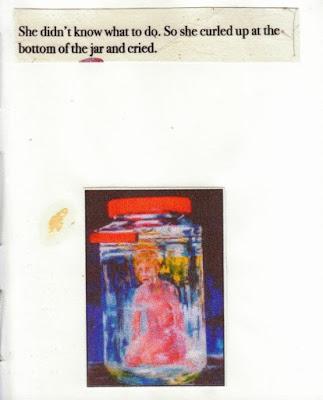 And that is the last page of the little book. The last page depicts a woman who was well and truly locked in sin. Being given over to sin is truly terrifying. There is a soul-numbing effect that God's release to sin as punishment has on a person. At least it did to me. The grief is violent, desperate, physical, all-consuming. Spiritual torment! And yet I didn't know what I was grieving over!
I left many more subsequent pages in the book because I 'knew' the story was not going to end there. I did not know what to do next or what would happen next, but the girl was not going to be left in the jar. It just couldn't end this way...could it? But the grief was an agony.
Not too long after I decided that my sin was the hindrance. I repudiated it. I sought God, who was holy and I repented. Of course the Lord enlivened my spirit and drew me to that point. I had not a clue what to do except wallow in my sin and cry. It was the Lord who was the catalyst.
And you were dead in the trespasses and sins in which you once walked, following the course of this world, following the prince of the power of the air, the spirit that is now at work in the sons of disobedience— among whom we all once lived in the passions of our flesh, carrying out the desires of the body and the mind, and were by nature children of wrath, like the rest of mankind. But God, being rich in mercy, because of the great love with which he loved us, even when we were dead in our trespasses, made us alive together with Christ—by grace you have been saved... 
(Ephesians 2:1-5)
Being given over to sin is terrifying. That feeling never left me. It fuels me, it haunts me. Sin is a terrible thing. Even more terrifying is God allowing us to bask in it, wallow in it, then sink in it. Obey the Lord. Be grateful for His grace. He saved us from a ghastly fate.