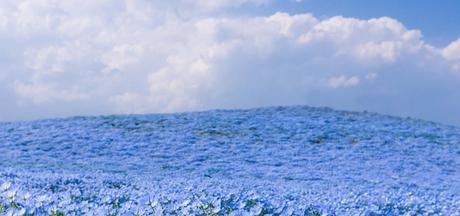 Foreword from me: The following is a guest post from Lily Evans, the founder of SkyWeFly a fellow travel website and blog. Rather poetic for Lily to be writing about flowers so.. take it away Lily!
Flowers can transform even the drabbest and driest of travel destinations into some of the most amazing places in the world. They'll add a splash of colour to your living room and look pretty in a window box, sure, but you've never seen true majesty until you've seen a rolling hill or a sprawling meadow simply bursting with fresh blooms and softly-buzzing honeybees. They're a joy to help bring to fruition and bloom, for there's nothing like knowing you helped nurture a small, tiny seed into something large and magnificent. They can say things in their own special language that poets might take an age trying to explain.
Since the world is, of course, quite large and circular, there are flowers to be had all over the surface of it. From the sprawling plains and valleys of BC to the forests of Holland to the seaside parks of Japan, there is a perpetual blooming of flowers across all corners of the globe, stopped only by the onset of winter and its biting chill. The question is, exactly which places should you make the effort to go and see yourself? Which fields of flowers might inspire you the most once you lay eyes on them? Which bright forests will speak to your very soul?
The answer is here, read on!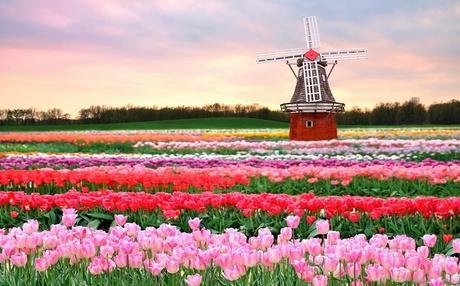 Keukenhof Park
This scenic destination, located near Lisse, Holland, presents the determined flower enthusiast with a sprawling thirty-two hectares of over eight hundred different varieties of the tulip to view. More than seven million blooming bulbs lend their colour and scent to this peaceful, beautiful, and calming locale. It will charm you with its flower shows, inspirational gardens, unique artwork, and planned events. Also worth mentioning is the Tulipomania exhibition in the Juliana Pavillion, a lovely and informative look into the mythology associated with the tulip, spanning bulbs worth their weight in gold.
And for those with little ones, Keukenhof also sports a playground, a petting zoo, a treasure hunt, and a maze. It's open annually from March to May, so even though the name means 'kitchen garden', make sure you consider going over to see something that is most definitely more noteworthy than a plant in a windowsill! One of the most amazing places in the world indeed.
The best time to visit Keukenhof in order to view the flowers will differ year to year according to the weather. It's so unpredictable over there in the Netherlands that the tulips have been known to bloom and fade away as early as New Year's Day and as late as the middle of May! Make sure to sign up to the weekly flower updates to get a rough estimate in March for when to come see them, although generally, the best time to visit this locale would be the last two weeks of April and the first week of May.
Calla Lily Grove in Garrapata State Park
Others may come for the hiking trails, Big Sur Lodge, guided tours, and 2-mile-long beach but I think I speak for all of us when I say that we know what the real attraction is.
The Calla Lily Grove is a long stretch of flowers that line a valley in Garrapata State Park, which is near Big Sur, California. The valley itself leads directly to the Pacific Ocean, where one can sometimes see sea otters, harbour seals, and sea lions lounging or floating, and if you're really lucky you might just spy a California grey whale passing by on their yearly migration!
Keep in mind that, if you're planning on visiting, California is still in the middle of that terrible drought. Wildfire warnings may impede your visit, and some areas of the park might be outright closed to visitors. Check the park's web page before booking any time off, check the weather reports for the area, and take note of any other anomalies that might negatively impact your trip.
Park hours are only available over the phone, and layers are advisable, especially if you go in February when the flowers are reported to bloom. Many visitors have reported the lilies beginning to brown around the edges as early as mid-March, though, so February really is your best shot to seeing this wonderful place in its full glory.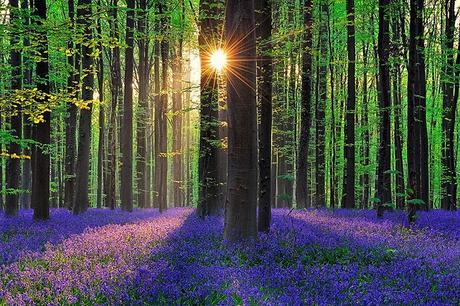 Hallerbros Forest
Located near Brussels, Belguim, the floor of this extensive public forest is absolutely carpeted with bluebells every April. Sadly, people that have journeyed to see this magnificent sight have strayed off of the official paths too often and since bluebells are so fragile, the bare patches on the forest floor have been getting larger and larger every year. If you do decide to make the trip, please be sure to carry a copy of the park map with you and refer to it if you are considering stepping on what looks like a path. It may not be a path at all, but rather the result of the wanton destruction that careless tourists have wrought.
In addition to these vibrant bulbs, the later months of the year see countless other species of the flower blooming all over the forest, including white carpets of Bear's Garlic, white hangings of Salomon's seal, Wood-sorrel in the shadow of the conifers, and Herb-Paris. Wood spurge and bushy Bird cherry bloom around the edges of the forest as well, so even if you don't go in you may be able to catch sight of some amazing blooms.
Make sure to check the flowering season updates on the website to be absolutely certain that the blooms you are going to see are actually blooming. It is agreed upon and even stated by the website that regularly walking through the forest all throughout spring is worth it, but if you live far away, that obviously isn't an option. The best time to see the bluebells specifically is generally the second half of April, but again, the flower updates will be your best friend in this.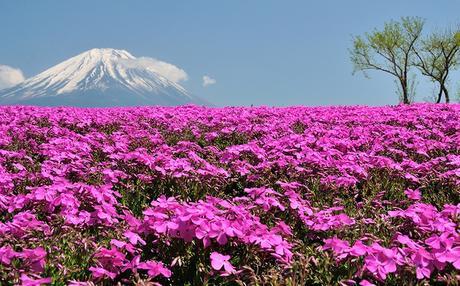 Fuji Shibazakura Festival Gardens
At the base of Mt Fuji in Japan, an annual festival is held on the shores of a sparkling pond. From around the middle of April to the end of May, one can bear witness to over 800,000 Shiba zak Ura flowers, more commonly known as moss phlox, glowering all at once in this expansive site. McDaniel's Cushion, Mont-Blanc, Autumn Rose, Tama-no-Nagare, Little Dot, and Oakington-Blue-Eyes blanket the ground in their myriad of colours, with pre-made paths allowing visitors to walk through and around the vast fields, and not far away, the towering peak of Mt Fuji oversees it all.
There is cheap parking available for those who are driving, but for those who didn't, public transportation drops you right on the front steps of the site. There are multiple recommended places for panorama photos (including a plaza and footbath), shops, wifi, all you can fill tea picking, and around the northeast end of the pavilion, there are restaurants for you to sate your appetite.
Pets are not allowed anywhere in the park, and it is recommended that you wear comfortable shoes. Parking fees do not exceed 500 yen, and tickets do not exceed 600 yen. The flowering conditions may change the dates that the park is open from and until, so don't plan to go at the last minute or too early if you can help it.
The best time to visit and see the flowers varies from year to year but generally, falls into the first three weeks of May.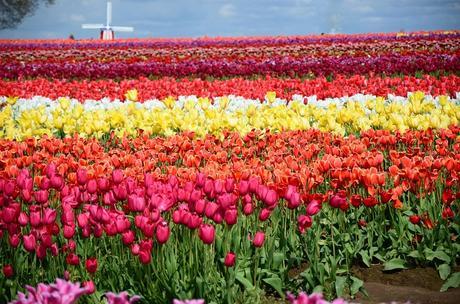 Agassiz Tulip Festival
Set against the snow-capped Mount Cheam, this flower festival held annually in Chilliwack, British Columbia showcases at least 30 varieties of tulips absolutely sprawling over 40 acres of land. Freshly cut tulips and hyacinths are available for purchase in Agassiz starting in early January if you find you want to take a little bit of the beauty home with you.
Exact opening dates will be announced sometime in early to mid-March because as usual, they are dependent on how far along the flowers are after the cold winter, but it would be very surprising indeed if they didn't open sometime in April. Make sure to check the website every so often to get updates, and although there isn't a concretely best time to see the flowers, the festival is usually only open for two weeks at a time unless the weather permits an extension, so you'll have an easy time booking your trip.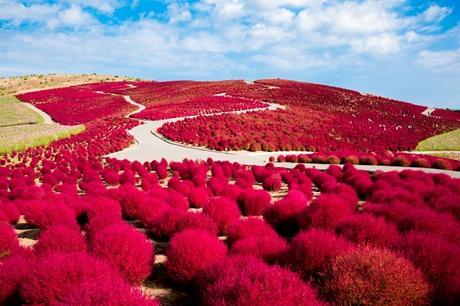 Hitachi Seaside Park
And we return again to Japan to witness the colourful majesty that is the Hitachi Seaside Park. Located in Hitachinaka City, this sprawling, 190-hectare park has become known for its 4.5 million baby blue-eyes flowers that bloom annually but don't think that's all there is to see. In addition to those, the park boasts 170 varieties of tulips, a million daffodils, over 600 species of narcissus flowers, summer cypress, liquorice flowers, cosmoses, and many, many others.
And as if all the flowers weren't enough, the amenities are unquestionably superb. The Pleasure Garden area features shops, restaurants, a Ferris wheel, a BMX Course, and a rental office for the bikes used on their biking trails that run throughout the park. Free wifi and baby strollers make this a convenient and all-inclusive stop, so factor it into your itinerary. Be aware that the park is closed on Mondays, and Tuesdays too if Monday is a national holiday, except during specific periods in the year. It's also closed December 31st, January 1st, and the first Tuesday in February to the Friday after it.
There are far too many flowers to confidently state anyone 'best' time to visit, especially since some of them bloom for only a single month out of the year whilst a handful bloom year round! The full flower calendar can tell you when the best time is to visit for the particular flower you want to see, but don't think that you won't be sidetracked by the veritable ocean of colour swaying gently in the breezes coming off the nearby ocean.
Take a look at some pictures of the different locales above, maybe browse a few alternatives if you'd like, and plan a trip to one of these amazing destinations. Bring your family, bring your friends, heck, bring your dog if the parks allow it. Flowers are a sight to behold, and it's terrible that some people don't properly realise their true majesty, so anything that might get someone to realise just how beautiful they are is the exact opposite of a waste.
You are of course invited to dispute the above list or to add your own choices because beauty is in the eyes of the beholder and you might instead prefer the ordered rows of flowers boasted in Shikisai-no-oka in Biei or the sunflower fields around Tuscany, or perhaps the canola flower fields in Yunnan Province, but one thing's for sure: Your face is sure to bloom into a smile when you lay your eyes on them..
You might also like: