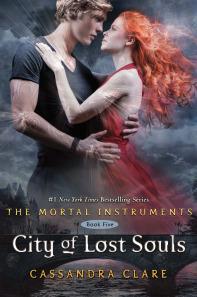 The Mortal Instruments Book Five: City of Lost Souls
Walker Books (paperback), 2012  
542 pages  
BLURB FROM THE COVER
Jace is now a servant of evil, bound for all eternity to Sebastian. Only a small band of Shadowhunters believe he can be saved. To do this they must defy the Clave. And they must act without Clary. For Clary is playing a dangerous game, utterly alone. The price of losing is not just her own life; but Jace's soul. Clary is willing to do anything for Jace, but can she still trust him? Or is he truly lost? What price is too high to pay, even for love? 
EXTRACT 
Simon stood and stared numbly at the front door of his house. 
REVIEW 
I loved City of Lost Souls. I am a huge fan of The Mortal Instruments series. I thought the movie was a decent effort as well. Clare picks City of Lost Souls right where the last volume, City of Fallen Angels finished after Jace's soul is taken over by Clary's evil brother, Sebastian. It's been a couple of years since I read City of Fallen Angels and I was surprised by how quickly I was pulled back into the world of Clary and the Shadowhunters. City of Lost Souls has a lot more action and suspense than the previous volume as the story builds towards the series climax in Book Six, City of Heavenly Fire. There are some great moments in City of Lost Souls. These include Clary pretending to be on Sebastian and evil Jace's side to try to find out what they are up to and expose a way to save Jace. Clary's mother Jocelyn and Isabelle visiting The Iron Sisters, makers of Shadowhunter weapons to see if the bond between Jace and Sebastian can be broken without killing Jace. Magnus and Simon raising an angel and then a demon to find a weapon to cut the bond between Jace and Sebastian. Clare packs a punch in City of Lost Souls. I liked the characters a lot more than I remember liking them in previous volumes. I really felt for Simon in City of Lost Souls. Clary and the Shadowhunters are trying to stop Sebastian and evil Jace from creating an army of dark Shadowhunters and unleashing a horde of demons on the world but Simon's human (almost) problems were a lot more moving. Simon's mother knows he's a vampire and has dubbed him a monster and thrown him out of the house. She's also decorated the house rather obsessively with lots of crosses to ward off her evil son which leads Simon's sister to believe she is certifiable. I thought the scene where Simon reveals to his sister that he's a vampire and she accepts this without question was very touching and a nice contrast to the apocalyptic events going on elsewhere. City of Lost Souls ends on a cliff-hanger making it clear there's a huge battle to come. I look forward to reading the concluding volume, City of Heavenly Fire. City of Lost Souls is a young adult paranormal romance but Clare manages to make Jace and Clary's relationship secondary to the world altering events going on. Unlike some paranormal romances I've read, City of Lost Souls did not make me want to throw up. City of Lost Souls is a well-written novel that my interest from first to last line.
RATING