The Misters Kuru By Trisha Das
is a nicely done
Literary & Contemporary Fiction
in a very subtle manner. The story's beginning is quite exotic, exciting, and erotic manner. After reading first two pages twice, I paused. That compelled me to check two things. I checked the genre mentioned and it was Literary & Contemporary Fiction wondered why not Erotica? Then I checked about author and found out she is a multifaceted personality at such a young age. She has not only four books to get credit (all equally exciting, I suppose after young through their names) but she is also an award winning documentary film maker with more than forty documentary films under her sleeves. In the world of literature and art she is a known personality. Well to confirm the genre, I unpaused reading it and found it is in the right genre.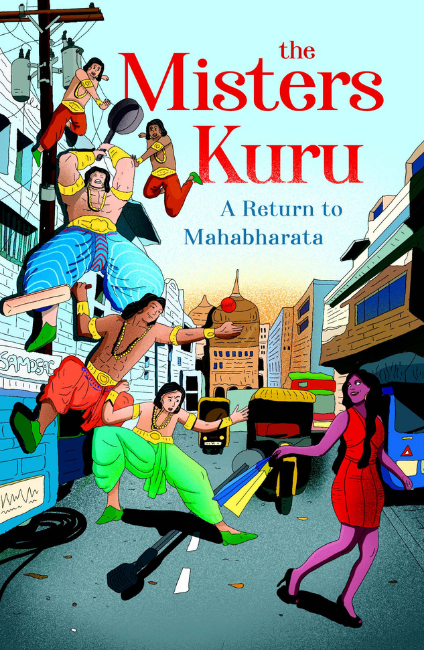 Trisha Das is Vir Das's sister and as usual the story of The
Misters Kuru By Trisha Das
is witty, crispy, and is having an air of freshness in it. The modern story takes back to the Indian epical period of Mahabharata in a 21st century fancied way. We meet the modernized-fictionalized Pandavas in Indraprastha, now New Delhi. The story brings out the real emotional bends of various characters in a very interesting manner. It depicts a real love attraction between Arjuna and Draupadi with an equal amount of fire for each other. That's when Draupadi decides to live an exclusive life with Arjuna instead of staying divided among five Pandava brothers and take a big leap to future, that's the era of now, the Kaliyuga.
Least did Pandavas realize at the time of getting a lease of few days to land on earth and gain a new experience in Kaliyuga without any botheration of war with Kaurvas that those few days in modern era will be more cumbersome and complex than their actual period. I think,
The Misters Kuru By Trisha Das
is a unique blend of imagination, wits, and fun of a very different level that everybody would enjoy.
You can buy the book from Amazon 
here
.
This review is a part of Blogchatter's Book Review Program.   
I'm participating in the #tbrchallenge  by Blogchatter