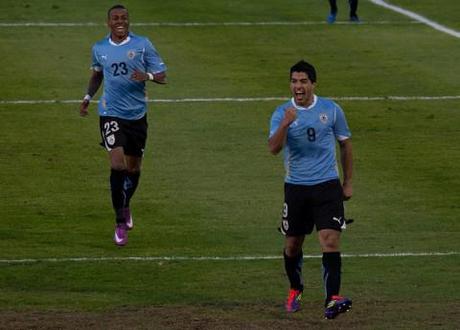 Luis Suarez in action for Uruguay. Photo credit: jikatu
It all began without a handshake. Liverpool striker Luis Suárez's refusal to shake Manchester United captain Patrice Evra's hand in the pre-match handshake before Saturday's crunch Premier League fixture heated up to boiling point an already simmering rivalry and tore open the festering wound that is racism in football.
Given that Suárez has only just returned from an eight-match ban for racially abusing Evra in the reverse fixture on 15 October last year, and that Liverpool Football Club never fully accepted the FA Tribunal verdict, the non-handshake was deeply incendiary. After the game, Manchester United manager did not mince his words. He told Sky Sports that Suárez was "a disgrace to Liverpool football club … The player should not be allowed to play for Liverpool again." Liverpool manager Kenny Dalglish initially attempted to defend his player. He said he'd not seen the handshake incident and told a reporter, "I think you're bang out of order to blame Luis Suárez for anything that happened here today."
Following a surging flood of criticism from all quarters of the game, Liverpool moved to calm the tensions. Along came a string of apologies from Suárez, Dalglish and the club's chief executive. The chastening statements (which you can read in full here) did alleviate a degree of tension but the case is far from closed. The Daily Telegraph reported Monday that Liverpool's American owners, Fenway Sports Group, could be about to step in to ditch Suárez in an effort to restore the club's "battered" image.
The poison and the stupidity flow both ways. "In refusing to shake the offered hand of Patrice Evra at Old Trafford on Saturday, with every camera in the stadium upon them, the Uruguayan striker released the darker emotions roiling beneath the game's prosperous surface, exposing a disturbing volatility," lamented Richard Williams at The Guardian's Sport Blog, who said the events of Saturday "provoked a sudden escalation of what had previously existed merely as a profound and bitter rivalry." Williams feared that there is a possibility that the Liverpool-United rivalry could soon deteriorate into "something approaching the lethal toxicity of Scotland's Old Firm" derby between Glasgow's Celtic and Rangers given that the game has recently "slipped its emotional moorings and is drifting in a sea of treacherous passions." "Suárez's failure to signal an end to the dispute on Saturday by reciprocating Evra's gesture unstopped the wells of poison that immediately flooded the match, the airwaves, the newsprint and – most significantly – social media," observed Williams, who reminded that it is not Suárez at fault: "Evra is an easily roused character and his cavorting in celebration of Saturday's victory was, as even Ferguson noted, foolishly provocative. Copies of Red Issue, one of the most prominent United fanzines, were confiscated on Saturday when they were found to contain Ku Klux Klan masks emblazoned with the words 'Suárez is innocent.' And chants can be heard from the Old Trafford fans in celebration of the death of 96 Liverpool fans at Hillsborough 23 years ago. The poison and the stupidity flow both ways."
"In recent years … everything within English football has been turned up to boiling point, and the authorities are as much to blame in their pursuit of a mass global audience. The pre-match handshake is an example of Sky Sports' desire to dress up every one of the season's 380 Premier League fixtures as a cup final," sniped Williams at The Guardian.
Ferguson, Dalglish must heal wounds. James Lawton of The Independent described the goings-on at Old Trafford on Saturday as "football's version of ground zero … Suárez's Doomsday behavior was almost beyond comment." Lawton insisted that now is the time for managers Sir Alex Ferguson and Kenny Dalglish to come together to "drag game back from brink." He said the "iconic football men" "hold key to restoring a great rivalry sullied by shameful episode" and called on them to have a football "summit meeting," and issue a "joint communiqué" to their tribes.
On Saturday it was announced that Micah Richards, Manchester City's 23-year-old acting captain and an England international with a dozen caps, had closed his Twitter account as a result of receiving a stream of racist messages.
Suárez is trolling football. At The Daily Telegraph, Jonathan Liew said "you have to hand it to Luis Suárez, he has a unique ability to unite the world in loathing … His refusal to shake Evra's hand on Saturday bore a strangely martyrish quality to it; a single-minded resolve to keep outraging us until we had completely forgotten all our own problems." Liew likened Suárez's behavior to that of a internet troll: "There is another character that devotes itself to inspiring scorn and desecrating the sacred whilst taking a perverse pleasure in doing so: the internet troll. Essentially, Luis Suárez is now trolling English football, and doing so very efficiently indeed." Liew listed a few ways Suárez could keep up the good (bad) work such as releasing a festive single, a cover of Bing Crosby's White Christmas, or wearing a T-shirt expressing solidarity with Syrian president Bashar al-Assad or adopting an African child, and then giving him back. Being liked "is the easiest thing in the world," said Liew. "It takes a special talent to court contempt so nakedly and so successfully. Besides, for an entire day, Suárez got the country's best-known football pundits and the whole of Fleet Street talking about a handshake. One he didn't even give. There's a sort of genius to that."