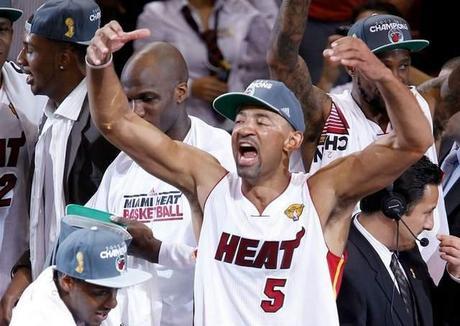 Photo: Getty Images - Mike Ehrmann
- Adam Parker
Satire
Stop me if you've heard this one before.
Another NBA veteran in his late 30's has expressed interest in joining the Miami Heat next season in pursuit of a championship.
Huh.
I guess the successful championship conquest of 39-year-old NBA journeyman Juwan Howard has begun making the rounds throughout the league.
We here at Beard and Stache obtained a copy of said recruitment letter, which can be read in its entirety below.
To: Veteran NBA Players
From: Juwan Howard
Hey fellow future NBA retirees, it's me, Juwan.
If you're like me, then you've begun to realize that your already constantly aching bones have started withering away under the duress of what seems like a lifetime spent in the NBA in pursuit of a title, then boy do I have an offer for you!
If you're looking to go championship ring chasing in the twilight years of your career before the 'wheels' fall off, then you've come to the right place. Miami has everything us veterans could want. Great weather, great clubs (for those of us still young at heart), great view (especially on the beach haha) and most importantly for guys like you and me -- three NBA stars who are willing to carry our almost dead weight to the NBA Finals.
All you have to do is show up. Sounds like a pretty sweet gig, right?
After all, you're lying to yourself if you think it's 'beneath you' to come in, collect a paycheck and sit on the bench next to me while looking spectacular filling out your Miami Heat warm-ups. I know what you're thinking.
This is some sort of pipe dream...what's the catch?
Well, I'm glad you asked. There are few prerequisites that you'll need to meet before you get your foot in the door. First, unless your name is Eddy Curry or Dexter Pittman, you must be over the age of 35.
Second, you must
look
 the part. I put emphasis on
look
 because it's everything in our business. When you're our age and sign with Miami, you shouldn't come in expecting to see any actual court time. Nevertheless, it's important that you
look
 good enough physically that you could be counted upon to tear off your warm-ups and take the floor at a moments notice. (Don't worry, coach Spo won't ever call your number unless we're in 'garbage time.'
And even then, all you'll be expected to do is jog back and forth down the court (running is out of the question because it's absolute
murder
on the knees...) and then put your arms up when an opposing player is in your area to
look
(there's that word again)
 as if you're going to contest a shot.
Last but not least, you must be a leader in the locker room. You know the saying, every team, especially one in perennial title contention, needs leaders in the locker room.
Basically in Miami, all that means is chiming in with an agreeing nod or grunt whenever LeBron, Dwyane or Chris say anything. Oh, and I almost forgot -- you have to (this part is essential and non-negotiable) pile on Mario Chalmers and the rest of the young guys when they make a mistake and "help" them learn from it. After all, LBJ, D-Wade and Bosh sometimes might be too busy carrying us to another W to be bothered with such mundane things.
That's where you and I come in. When Mario or Norris or whoever gets back to the bench after being subbed out after making an error, you sit them down and give them a stern talking to aka tear them a new one. It's okay, they're thick skinned, especially Mario. Not to mention, as NBA veterans, it's our duty to teach the young fellas the ropes.
Thankfully, because we've been around the block more than a few times (I could guide a blind man around said block while blindfolded myself I've walked it so many times), teaching moments like these will come very easily to us, seeing as how the younger guys revere us as 'legends' or some nonsense and thus hang on our every word like it's basketball scripture.
Another thing -- don't worry, it's not part of our job description to wait on the hand and foot of the big three -- we only have to 'supervise' the younger players while they do the trivial but necessary tasks of using towels to wipe the sweat from everywhere on the Big Three's persons as well as keeping our three horses well-hydrated.
P.S. I'm unsure at this this juncture about the amount of vacancies we'll have on our Semi-Retired, *ahem I mean,Veteran NBA Leaders Council here in South Beach, but it wouldn't hurt to drop off your application, anyway, would it?
After all, there's a chance that guys like Mike [Miller] and James [Jones] are contemplating the r-word (retirement), which means we could have as many as two positions open up very shortly. Steve [Nash], Ray [Allen], you guys are the frontrunners and may even have enough left in the tank to see decent floor time which would be a first in our business.
P.P.P.S. Sorry about this guys, this is the last one I swear. My memory isn't quite as sharp as it used to be...
Anyway, whatever you do, don't push for loads of money in contract negotiations. Micky [Arison] isn't made of money. Okay, he is, but he still doesn't like doling out extra cash and having to shell out even more for the luxury tax if he doesn't have to. I'm serious, don't be greedy. If you ask for too much, he'll cut you off and show you the door. Best to start small (one dollar) and work your way up.
Don't forget to wear your Sunday best suit and be prepared to give the sales pitch of your life.
If you can do all that, you'll become a full-fledged member of the Miami Heat and be well on your way to becoming an NBA champion riding the coattails of the Big Three. Who knows? That could be you in the picture next me this time next year (because God knows I'm not retiring and giving up a sweet gig like this).
Sincerely, Juwan.
Juwan Howard
Resident Locker Room Leader and Chairman of the Veteran NBA Leaders Council
Be sure to follow Beard And Stache on Twitter 
@BeardAndStache
, 
and also Adam 
@Adam_Parker43
, Like our Facebook page 
HERE
!