Last weekend was the annual Miami Beach Antique Jewelry & Watch Show, and Raymond Lee Jewelers traveled to the Miami Beach Convention Center to show off some of our favorite diamonds, precious gems, designer jewelry, and luxury watches.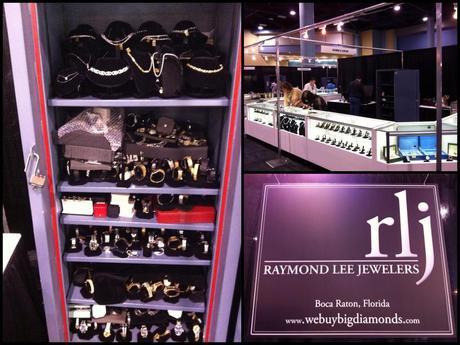 Raymond Lee Jewelers setting up shop before the show started.
Raymond Lee Jewelers had a busy booth all day, while watch enthusiasts, diamond lovers, and jewelry collectors sampled and bought our selection of estate jewelry, pre-owned luxury watches (our Rolex watches were a big seller), and designer jewelry, especially Cartier.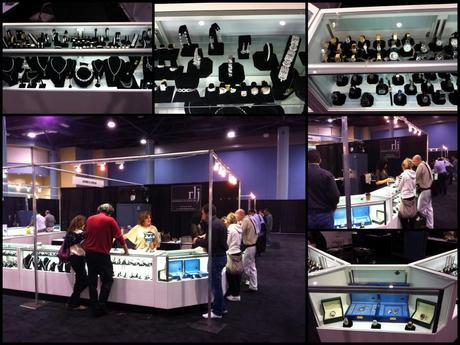 Raymond Lee Jewelers booth during the show.
The show also presented an excellent opportunity for exhibitors to buy from each other, and some of their wares were eye-grabbing, impressive, and downright collectible.
The first exhibitor that grabbed our attention was Suraj Joshi, of Suraj International. Suraj took the time to explain the significance of his antiques -  most of which are actually ancients. Suraj, a cartography specialist, travels the world researching and buying ancient coins, maps, and jewelry.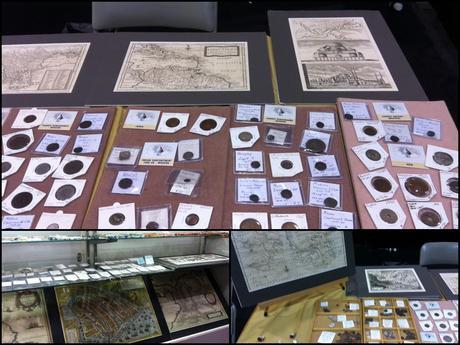 "All of our antique coins are authentic, ancient coins from every civilization set in gold or silver rings, often in very simple settings,  or we sell them loose," said Suraj. The coins range from 200 years old, all the way to 2500 years old, while his jewelry is up to 3000 years old.
Suraj's antique maps, from 1500 down to the 1700′s, largely in the age of discovery, are thoroughly researched in order to authenticate them, and he explained that the majority of his time is spent researching what he buys and sells.
Another exhibitor that "wow"-ed was United States Pearl Company, Inc. Founded in 1973, James Peach said that his Camden, TN based business travels to shows all over the country doing big business with buyers. Peach said that during the Miami show, he sold mostly cultured, South Sea and fresh water pearls, but that his main sales to dealers are natural pearls.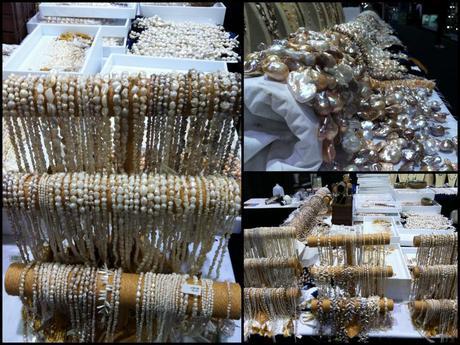 US Pearls' showcase
The final exhibitor whose booth grabbed our attention had us at Hermes. Those orange boxes stacked atop their pop-up boutique led the way towards dozens of gorgeous luxury designer bags.
Only Authentics' bags are a collection of runway, press pieces, new and preowned one of a kind and vintage. They have cultivated a nice network of connections that allow them to buy bags that might not even be in stores yet, are incredibly rare, or have just been anointed with a certain fashion editor's seal of approval.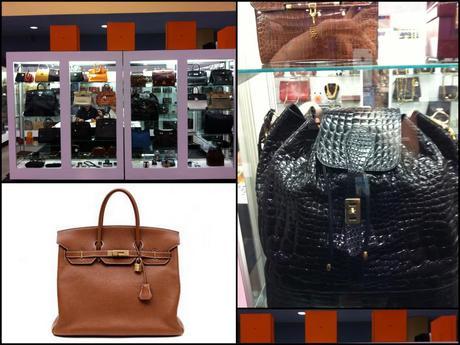 Only Authentics' pop up boutique.
Only Authentics specializes in Chanel and Hermes, and show off their gorgeous collection in Miami a few times a year, as well as at the Naples and Palm Beach antiques shows.
Raymond Lee Jewelers always enjoys traveling to antique jewelry and watch shows, and the Miami Beach Antique Jewelry & Watch Show was no exception.
Liz for Raymond Lee Jewelers, your source for jewelry industry and trade show news and updates.