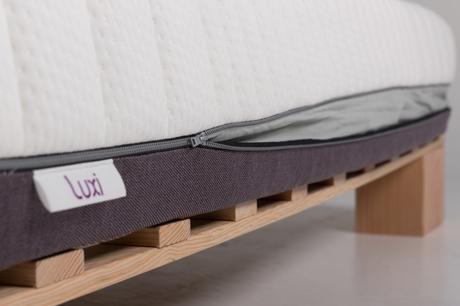 As the only three-in-one adjustable mattress that you can modify yourself in the comfort of your home, Luxi's product is built to sit on the floor, a box spring, a slatted base, or a platform. This way, you're not tied down to any specific foundation.
Luxi believes that customers have the right to develop a lasting relationship with their mattress that can be modified over the years. In order to create the best possible product, they produce one type of mattress with three configurations that can be changed anytime—that is, soft, medium, or firm. This adjustment can be made yourself by unzipping the mattress, splitting open the four layered pieces, and flipping them over. You can even customize one side of the mattress separately if your partner prefers a different sleeping setup. For even more options, the Farley team works directly with customers to create custom configurations if special needs arise over the years. 
When a Luxi mattress is ordered online, it's delivered straight to your door in a box that's surprisingly manageable in size. As soon as it's removed and rolled out, the decisions are then up to you. Take a look at these images to learn more about the innovative technology that goes into the design, as well as what you can expect when you receive a Luxi package at your front door.