The Manny has had a spate of bad luck lately, but I want to reassure all his fans that he is absolutely fine, despite the rather ominous tone of this post's title. If I were more verbose, the title of this post would have been "Someone whacked me on the head and stole my pants, shoes, and underwear, and then some ladies found me lying stone cold naked from the waist down a bush," which is decidedly worse. Because who steals underwear?! And why leave the shirt and take the skivvies?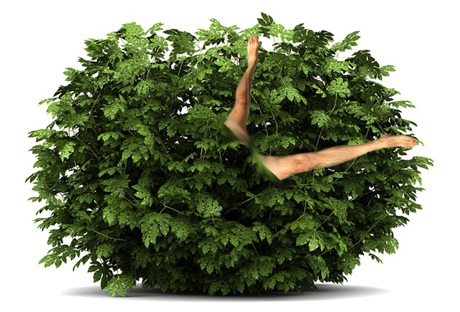 This is so much more acrobatic than it must have really looked, and my Photoshop is poo, but how long do YOU want to Google terms like "Hairy male legs protruding from bush" before you have to permanently clear your browsing history and take a scalding shower? 
But let's back up. A while back, we got a phone call from Manny, who had suffered a stroke/seizure sort of thing and was slurring and hiccuping uncontrollably. Luckily, the stroke/seizure sort of thing had occurred while his kind landlord, Rudolfo, was on hand unstopping the toilet.
"Apparently, you're not supposed to put TP in the toilet in Mexico," says Manny. "Because I got it all clogged up. Why do they call it toilet paper, anyway? If it doesn't go in the toilet what kind of paper IS it?"
Manny suddenly keeled over and whacked his head on the floor and commenced bleeding and writhing. He related the story as such:
"I fell flat on my head. I almost died! I was bleeding out on the floor! Rudolfo, he sticks his wallet in my mouth so I won't bite myself. But it's too late. I already swallowed some of my tongue! I mean, a big chunk of my tongue! I think I swallowed it!"
"So anyway, Dora, my landlady, calls the Red Cross. She says to me, you're not going to die today, and especially not in my apartment. Meanwhile, my skull is cracked open. It was too much! Did you know that a quarter-inch of my tongue is missing because of the crazy-ass seizure I had?"
"The Red Cross tell me I have brain enamelies. I was fledge-e-ling around all over the floor. My arms were in the air! I bit my tongue off! My mind is crazy! The Red Cross told me that my tongue will fix itself."
He seemed okay, though, and fairly jolly despite what had happened. The Red Cross didn't charge him a penny. He hiccuped and blamed it on the "brain enamelies." He didn't drink anymore, of course!
He went on, sharing more details of his life in Mexico:
"So then, the lady with the scorpion tattoo calls me. I met her at the Learning Library—all the gringos go there. She tells me about the guy who put scorpions in the Mezcal. He cuts their stingers off. Charges $250 a bottle. Hey, my eyes are doing weird shit. There is a guy here who is trying to sell me an AK-47. I've gotten old, and OLD! One day this crazy German chick shows up at my door. She wants to sleep with me!"
"Did you sleep with her?" one of us asked.
"You know I'm a private guy! I don't like to talk about that stuff! How dare you ask me! Yeah, I did.See, I'm glaringly honest about everything now. I'm like a retarded child! And I'm not drinking a drop."
Then he started talking about how awesome Mexico was and how we all had to come down and live there because it's so beautiful and so safe and marvelous. He planned to rent a beach house. He hoped that we would serve as his "memory," because his brain was doing weird tricks and couldn't remember things properly anymore. 
It might have had a little bit to do with the night, a few weeks later, when someone whacked his skull with a crowbar and took all the clothing off his nethers. He was lost, walking around dazed in some neighborhood, when someone gave him a whack and left him slumped in the weeds, free of pants and shoeless.
"They even took my underwear," he said. "The Red Cross made me some paper towel underwear. I still have a big dent in my head. Like a HOLE in my head, Miss Jennifer. It was awful."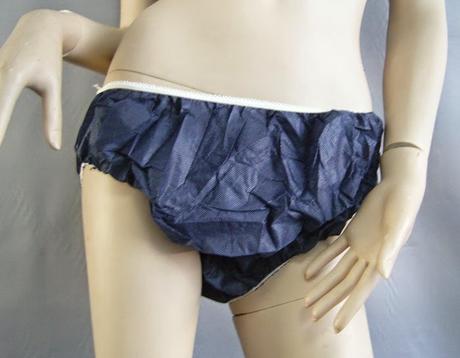 Disposable undies. Not the finest.
During the incident, the poor man bit his tongue again. Maybe a wee little chunk went down the gullet?
But he's still in fighting form, despite the fact that on top of all this, he had a heart attack not too long ago. The Red Cross told him he probably had the heart attack because he stopped drinking so suddenly that it shocked his system. "Remember
that day you picked me up on the side of the road
?" he said. "That wasn't alcohol. It was my HEART."
But, mind you, he is
not
drinking now. Ahem. His landlords are the kindest people possible—much unlike his previous landlords, who kicked him out for giving the Mexican workers free beans and rice. The Mexicans shouldn't "get used to the idea that they get anything for free."
"You don't do that to people, that isn't right," he said. "He told me, you will either be shot or arrested. So I left."
He's a good person. He delivers meat to some of the local men, whose wives reportedly hate him because all they serve is beans and rice, and he shows up with steak and mushrooms.
"My life right now is the best thing that's ever happened to me. I pay $235/month to live here. And they feed me three meals a day," he said. "Oh, and I'm about to get married to their niece. She's only 25, and she likes me. Her name? What? No, I didn't forget her name, I just don't remember it. She likes me a lot! We're going to move into a bigger place. She wants to take care of me!"
Manny had just been to a 9-year-old's birthday party, where he had been offered alcohol, and he vociferously refused. Purportedly.
"I'm so much healthier. Listen to how I'm talking. This is not crazy! I feel so much better. I am healthy! I am not worried about drinking too much. I love it so much here. They knock on my bedroom window at 11 at night and bring me tostadas. This is a good world. This is a good place."