"Miss Jennifer! Miss Jennifer! I'm going to buy ten chickens tomorrow!"
Such were some of the first words that Manny spoke when he finally reached me by phone from his new home in Oaxaca, Mexico. And boy, did he ever sound drunk.
Happy
drunk, mind you. Ebullient drunk. Almost giddy with drink.
"Ten chickens! Like, 20 cents a piece. Hey! Do you know you can get two GALLONS of Mezcal here for only $16. Two gallons! Not that I'm drinking anything because, man, I'm about a mile high up in mountains and it's beautiful and I don't need to drink or do anything bad at all. Nyet! Nyet!"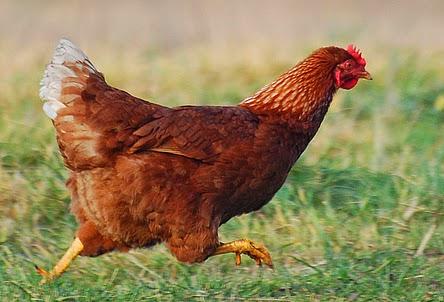 Will he name one of his new chickens "Bun-Bun"?
Was that Russian he was speaking? Yes, he revealed to me that he can speak about 10 different languages fluently. Never once while he was staying with us had I heard him speak one word that wasn't English or mangled English.
"Any Eastern European language there is, I can speak it. I don't like to tell people because they will get an impression of me," he said. "Like a wrong impression or a weird impression, you know?"
It seemed odd that a man who forgot how to pronounce words like "guacamole" and called a "beet" a "parsnip" and a pork loin "that other meat--the meat, you know the one, that's not chicken and not beef, dammit, what's that called?" would have such a facility with languages. But I didn't argue.
"Nyet!" he said again, and then: "Dammit! There I go again. It's so confusing, all these languages going around in my brain."
"How about Spanish? You learning Spanish?"
"Yeah yeah! Uno, dos, tres, nachos!" I laughed. "What, what?" he said.
Mexico was treating him rather well. He loved it there, after only two or three days. He could see the President of Mexico's house from where he stood! The food was fresh and good and unbelievably cheap. He repeatedly remarked on the cheap price of the Mezcal and then quickly added "not that I'm drinking it" after every reference. He mused about the two gallons of Mezcal that were about to be delivered to his casa, and sniggered gleefully over the cheap price. "For cooking. And maybe a sip with lunch. Just a splash," he coughed.
He insisted that we all come down for a visit and live like kings. Heck, we should all just move down there permanently, because it was heaven on Earth. "Those boys can run wild in the agave fields!" he said. "It's the safest thing! A mile of space! They would be perfectly safe to just run
wild. 
Except there are these burros...these really big burros. What are they called? Burritos...OXEN. I mean, bulls! You don't pet those guys. They could gore you."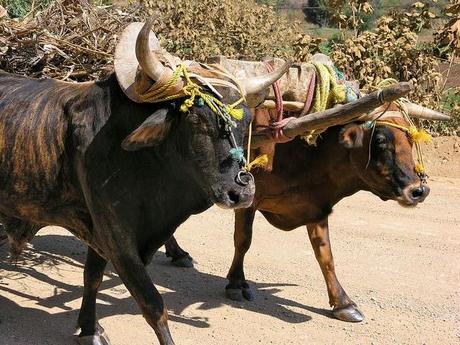 That is one big Burrito!
The trip down had gone perfectly. His large bag weighed two pounds over the weight limit, but the woman in the baggage area had winked and waved him onward. The Federales treated him kindly and laughed at his jokes, despite the fact that he'd been gurgling free double Absoluts on the plane (apparently Aeromexico hands these out for free, plus hot breakfast. What an airline!) "I would not be escaping from anything, of course. Who the hell wants to escape TO Mexico?" the Manny snorted at customs, as they all laughed and waved him through.
His new landlords met him at the airport and took him out for dinner: A huge meal with tequila shots that amounted to about 8 dollars total for three people. After this he became really chatty and mentioned that in Vietnam, he had killed 163 people. Apparently, they keep a tally. It's considered a sort of honor, a point of pride. I think it has haunted Manny his entire life.
"That's a lot of dead people," he said, almost soberly. His landlady had hushed him and said, "Let's not talk about that, okay? Not out in public and not to other people, at least?"
"I almost screwed my pooch there, Miss Jennifer!" he said. "163 people. That's a lot." There was a long moment of silence and then he was off and running again:
"Do you know how salty the salt is here? And how sugary the sugar? I took a big lick of a salt pile and it was so salty I almost threw up. They have mountains of salt! Your dad, I mean your husband, would hate all that salt. The sugar is just so
sugary. 
And the sun? I'm brown like a beautiful Mexican girl! I've found my smile. I have finally found my smile. There is nothing better than this. Do you know how much free booze there is, Miss Jennifer? I mean, I'm so happy, I'm not needing to drink
at all
. Just a little with breakfast, lunch, and dinner, you know?"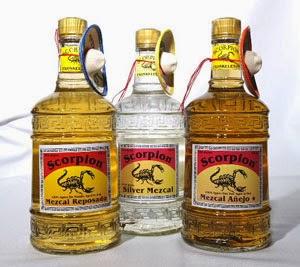 From left to right: Breakfast, Lunch, Dinner.
He called back about 10 times in the next two days. He sounded a little lonelier; he asked to speak with the boys and they all shouted things like "We miss you!" as we poked them and pointed at the phone. He'd received his chickens and was prepping to name them. They each produced about one egg per day. He thought he might name three of them after the "little guy, the middle one, and the big one," our sons.
"You really ought to come down here. I'll pay for your trip! I'm working on a new business plan. Pretty soon I'll be making 10K a month. Hey, did you know that you can get a meal down here with eggs, beans, chorizo—all you can eat—plus three shots of Mezcal, all for three bucks?"
The last time he called was June 21. I recall that when he had been gone a few days we took note of a strange sort of melancholy, almost as if we had been at a funeral. "I feel as if someone has died," I said, in the parking lot of Trader Joe's. And then there was the thought: He has gone there to die. We will never see him again.
We will never see him again.
Never again will I be worried that, upon stepping out of the shower robed and towel-turbaned, that Manny will sight me and recoil and stammer his way into a doorframe. Never again will I see the plate of fresh-cut fruit that he has laid out for the boys at 6 am, making sure there is an ample supply of red apples (the only ones youngest son likes!) in proportion to green apples, along with cuts of watermelon and pineapple. Never will I see the chaotic mess he has made of the kitchen after a stir-fry extravanganza, with drippings down the edge of the stove. We won't hear him moan and cry out: "The pain! The pain!" as he plods up the attic stairs to his dark aerie.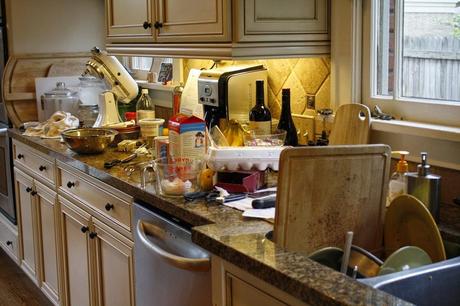 I hast barfed profuse filthy dishware whilst I wast cooking.
Here is what I wonder on this rainy, desolate, wind-cooled night: As he steps out beyond his meager possessions (wok, pot, coffee carafe, lemon squeezer, spoon) and looks past the casa to see the burros plodding along, carrying firewood against the sunset, is he perhaps, strangely, the happiest of beings? Does he know even one sure thing that we do not, if even for the briefest of moments? He has claimed his smile. He knows better, perhaps, than to expect its certainty each dawn.
We dream a fiction. We can never really know the truths that fools and madmen hold in their dark, stung, longing hearts.