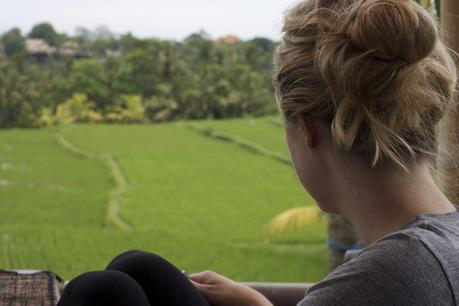 This view.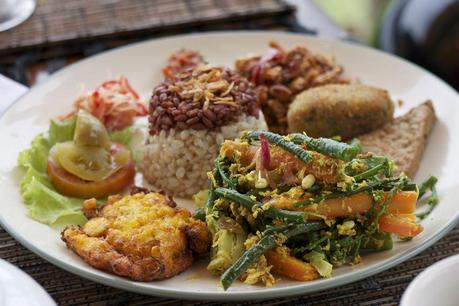 This fine example of nasi campur deliciousness. Some pretty great company. An iced lemon tea. And maybe a sunset. Hello, fabulous start to another week in Bali.
In other news, we're beginning to get travel plans for the next couple months at least somewhat worked out. Seeing as we're a little bit obsessed with our current bungalow outside Ubud, we decided to stay here for another two weeks before heading over the east coast and 10 days in Padangbai. At the end of March, we then move on to Nusa Lembongan, where we're going to spend a few days exploring the islands and surfing (Jesse, not so much me) before moving onwards.
The initial plan was to spend all of April traveling the rest of Bali, the Gili Islands, and Lombok, but we ran into a bit of a visa issue yesterday, when it turned out that the only way to extend a 30-day visa twice is to do it completely under the table at a fairly large cost. Therefore, we'll only be taking one extension and heading on to NEPAL on April 6th. We figure if we desperately decide we want to come back and spend more time in Indonesia, we can always do it in December at the end of the trip. 
So that's exciting. Jesse is definitely a little disappointed there won't be more time to surf in Bali, so he's probably going to be jetting off on the bike most of these next days to fit in some more beach time. After almost a full month here and a few days with college friends last week, we definitely feel like we've fallen into a real groove with island living (see today's New York Times article on Nyepi here!) and if it wasn't for the fact there are so many other places to see we might be very tempted to just stay...forever.
I, for one, need to start thinking about how to fit a little fitness into the next month. We're planning on hiking 180 miles in Nepal. So yeah. Suggestions welcome.