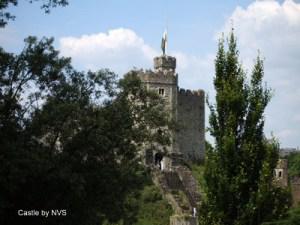 The love of Henry VIII and Anne Boleyn.
First discovered in the Vatican library, a compilation of 18 letters written by the English King Henry VIII to Anne Boleyn was published "in Oxford in 1720 by Hearne, in a volume entitled
Roberti de Avesbury Historia de mirabilibus gestis Edwardi III
and inserted in the third volume of the
Harleian Miscellany
, 1745″, according to J.O. Hallywell Phillips who wrote some notes for the English edition (some of the letters were originally written in French) that was launched under the title
The Love letters of Henry VIII to Anne Boleyn
, published in 1906 in Boston and London, by John W. Luce and Company and The Merrymount press.
In these letters the words of Henrry VIII are full of love and hope regarding his relationship with her "mistress and friend" as he refers to Anne.
The notes made by Hallywell say that these correspondance should have been written around 1525, some time after Anne Boleyn left the royal court.
In his writing, the king expresses great affection for Anne, reasuring her of his love and worries due to the time they have been appart from each other, wishing she keeps the same affection for him. Henry VIII also shows great concern when he learns that Anne has been sick and wishes they could be together again.
In his fourth letter he writes: "…my heart and I surrender ourselves into your hands, beseeching you to hold us commended to your favour, and that by absence your affection to us may not be lessened: for it were a great pity to increase our pain, of which absence produces enough and more than I could ever have thought could be felt, reminding us of a point in astronomy which is this: the longer the days are, the more distant is the sun, and nevertheless the hotter; so is it with our love, for by absence we are kept a distance from one another, and yet it retains its fervour, at least on my side; I hope the like on yours, assuring you that on my part the pain of absence is already too great for me; and when I think of the increase of that which I am forced to suffer, it would be almost intolerable, but for the firm hope I have of your unchangeable affection for me…"
The last letter of the series of 18 ends with these words: "Written with the hand which fain would be yours, and so is the heart."
Unfortunately a very little is know about the letters that Anne sent to the King during this period, replies that are refered by the King in his own mail, however some missives written by Anne appear in books like The Life and Death of Anne Bullen, Queen Consort of England and Letters and Papers, Foreign and Domestic of the Reign of Henry VIII.
It's in these XIX editions where the last letter written by Anne to Henry VIII can be found, asking her King to spare her from the death sentence, reminding him of the love he had for her which made him chose her for his wife. "You have chosen me, from a low Estate, to be your Queen and Companion, far beyond my Desert or Desire", Anne says as a last attempt to save her life.


Twitter @travelingbook

Advertisement