When we reached the bottom of the escalator we were in the area to buy our tickets. As you might guess the place was pretty busy. The tickets are purchased at machines and the whole process worked really well.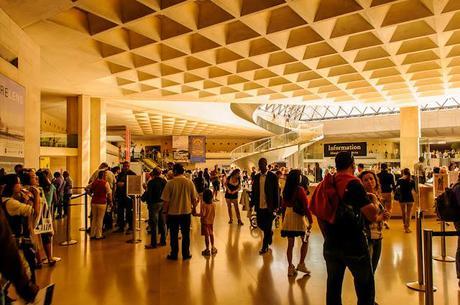 I moved behind the bank of machines to take this picture of Phyllis buying the tickets. She loves it when I take candids of her, sure she does!!!!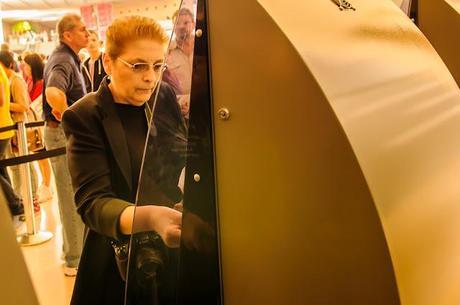 As we entered the part of the museum we were interested in I saw this staircase!!! I think the word European translates into stairs!!! We ate really well on this trip, going off of our health/ light diet, but I only gain one pound. I think that is due to all the **## stairs we climbed in Europe!!!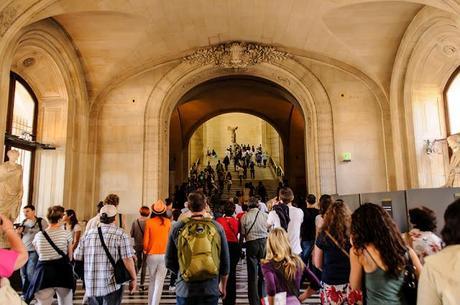 The one thing I have to say is that all the climbing and walking was worth it, especially in the Louvre!  This statue was on the first landing. It is called "Winged Victory" or " Nike of Samothrace". It is a second century BC marble sculpture of the greek goddess Nike, discovered in 1863 and estimated to have been created in 190 BC.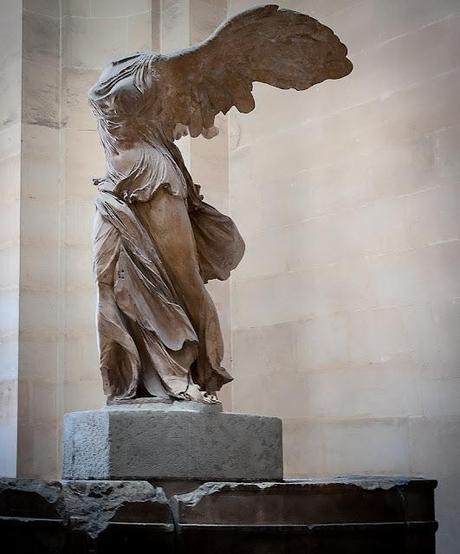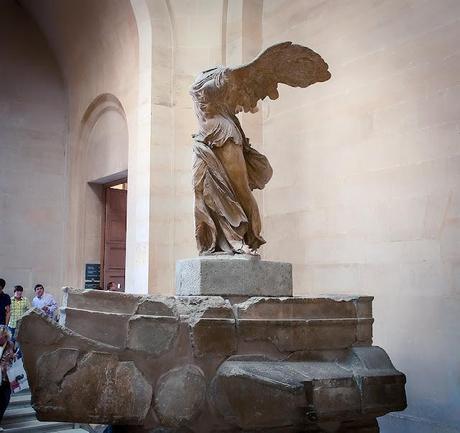 As we walked we were amazed at the amount of famous works of art that were in front of us, some that we have seen for so many years in books, television or movies. Others were new treasures for our eyes.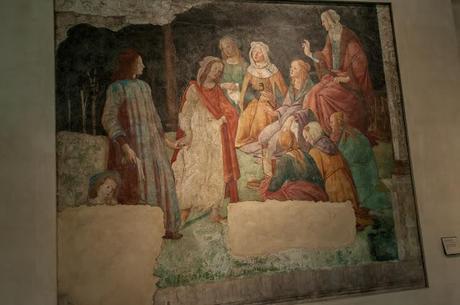 You find yourself mesmerized by one work of art after another and then your eyes look up at the ceiling. You then behold ceilings to almost match the works of art !!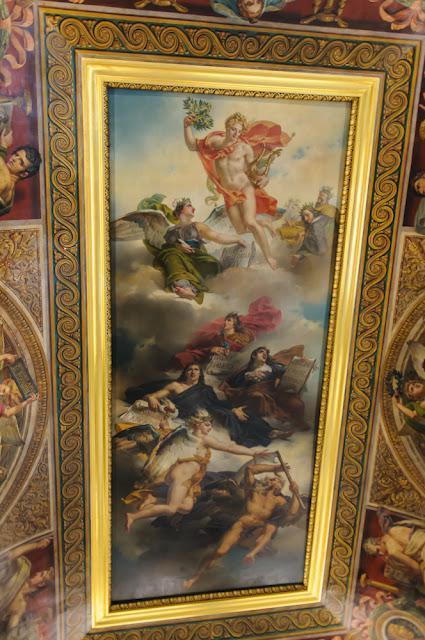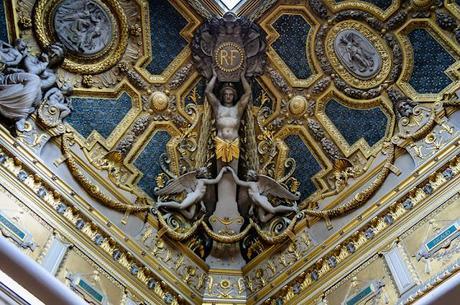 So many works that I would recognize but not sure from where.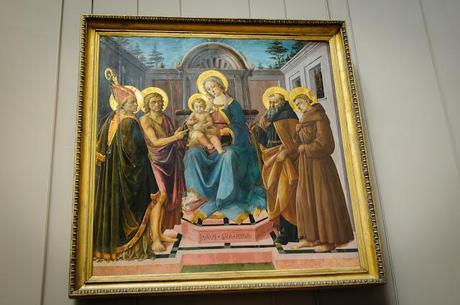 Any type of artistic person can learn so much about light, depth and how to convey feelings from these works of the masters!!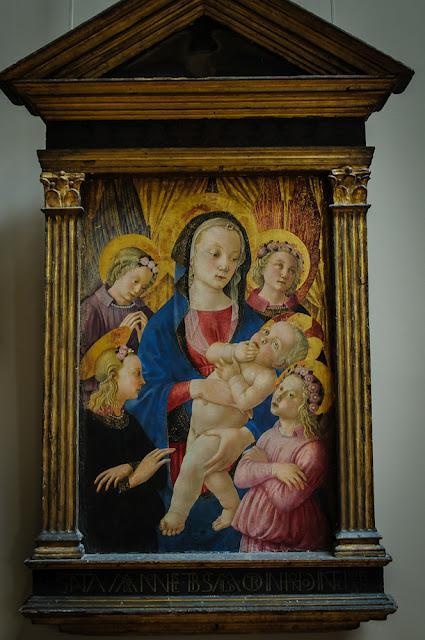 It is a marvelous place to visit and I was surprised that you could photograph all these works of art. You were asked not to use flash and in all cases, I did not need it. By the way all you smartphone photographers, not using flash is meant for you folks also !!!!
Soon we were in this hall and knew we were close to seeing the work of art I most wanted to see. One that most visitors want to see also but for myself it was a little more personal. This world famous portrait is a mystery, who is the model that Leonardo Da Vinci painted??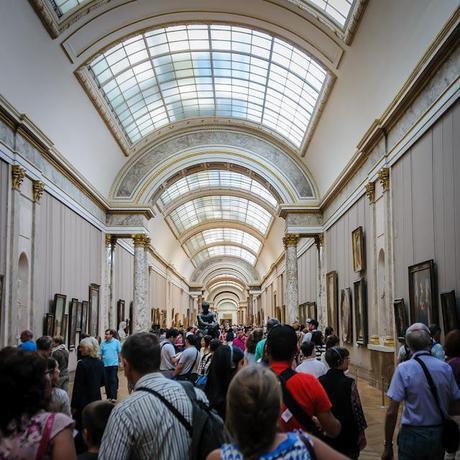 By now you have guessed that I was writing about the painting  named " Mona Lisa". Before I go on let me say that it is behind a heavy sheet of plexiglass or glass. I could not tell which because  we were not allowed very close. So if the images are not really sharp  that explains it.
So why is it so personal to me?? There has always been speculation of who she was, even that Da Vinci used his own face as the model. In recent years another thought has emerged, another possible model. Her name being, Pacifica Brandani or Brandano.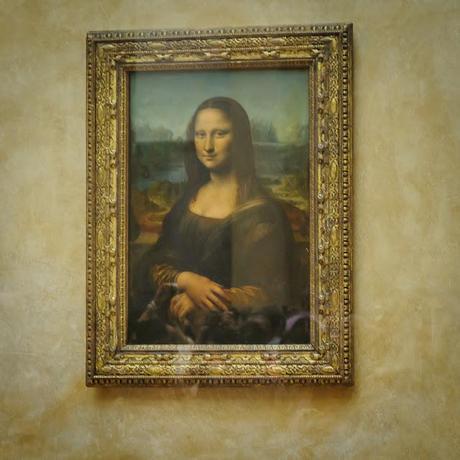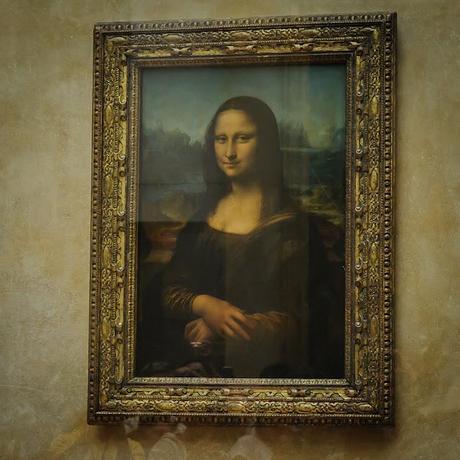 For some reason unexplained to me by my relatives in the US or in Italy, my family's name is spelled both ways in Italy, Brandano or Brandani. Now I am not claiming that Pacifica was the model but it is one speculation. I am copying and pasting this next paragraph  from a sight found on line, Kleio.org.
The Lady at the Louvre is Pacifica Brandano or Brandani.
Since October 2009 we now have another candidate for the Lady at the Louvre. According to the Italian historian Roberto Zapperi the Mona Lisa painting depicts Pacifica Brandano or Brandani. For a number of years this woman was the mistress of Giuliano de' Medici (1479-1516) and bore him his illegitimate son, the future Cardinal Ippolito de' Medici (1511-1535). Roberto Zapperi seems to have been afraid of nobody being interested in his research with regard to Pacifica Brandano. Again, Leonardo da Vinci and "Mona Lisa" had to serve as the attraction in this case. That would be the only explanation why he makes the completely unscientific claim that the Lady at the Louvre is Pacifica Brandano. In Antonio de Beatis' travel diary we find the following entry dated 10th October 1517: "Our master went with the rest of us to one of the suburbs[of Amboise] to see Messer Leonardo Vinci of Florence, an old man of more than seventy [Leonardo was 65 years old], the most outstanding painter of our day. He showed the Cardinal [Luigi of Aragon] three pictures, one of a certain Florentine woman portrayed from life at the request of the late Magnificent Giuliano de' Medici, another of the young St. John the Baptist as a young man, and one of the Madonna and Child set in the lap of St. Anne. All three works are quite perfect, though nothing good can now be expected from his brush as he suffers from paralysis in the right hand [after a stroke in early 1516]" (in: The Travel Journal of Antonio de Beatis – Germany, Switzerland, the Low Countries, France and Italy, 1517-1518. Translated from the Italian by J.R. Hale and J.M.A. Lindon. Edited by J.R.Hale. London 1979, p. 132)
Is Mona Lisa really my 
relative? I am guessing we will never know for sure but in the right light, at the right time, I do see a resemblance in our eyes. Of course that time is usually after a few glasses of " vino rosso"!! 
In all seriousness it was a special moment to see her, this women who men have written poems, songs, and stories about after all these years. To know that we may share a little of the same blood lines, no matter how small the chance, touched me.
As we moved on from my cousin, we saw so many wonderful works of art, including "Venus de Milo" 
believed
 to be a sculpture of Aphrodite, the Greek Goddess of love and beauty (Venus to the Romans).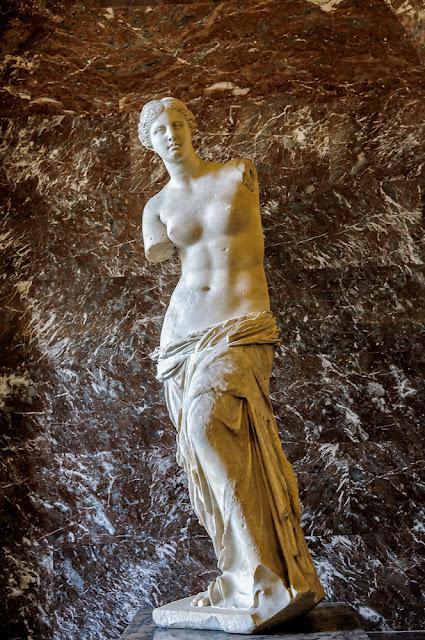 Following are more examples of the art you see at the Louvre.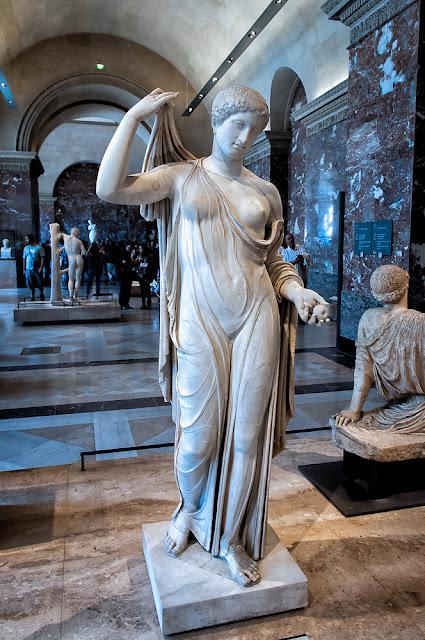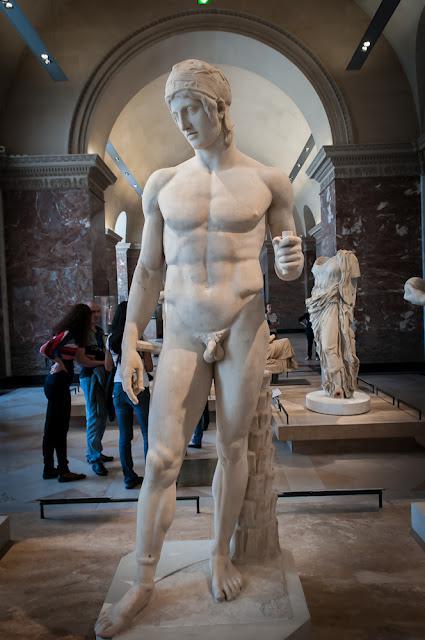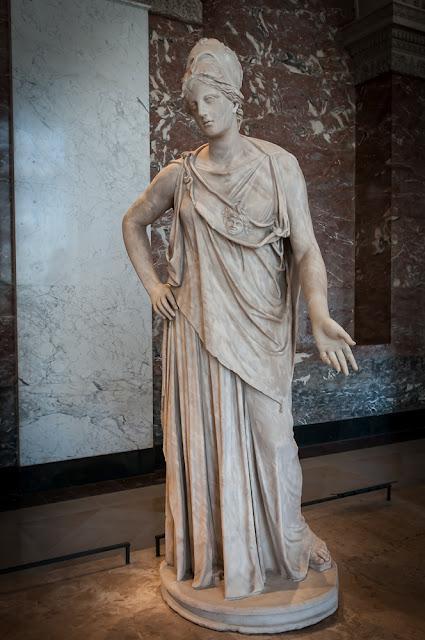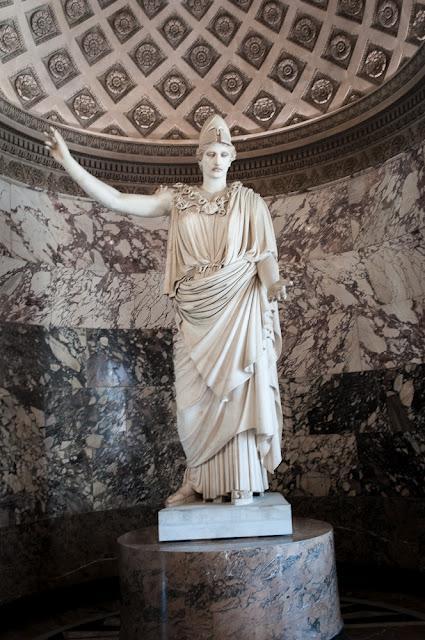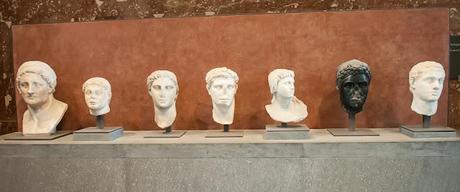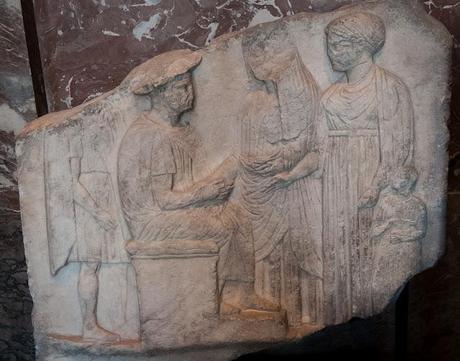 The King and Queen of the jungle!!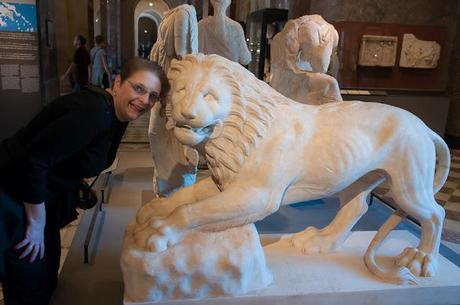 This gentleman was sketching this bust that looks really uncomfortable!! Just another example of the pain we will take for our art!!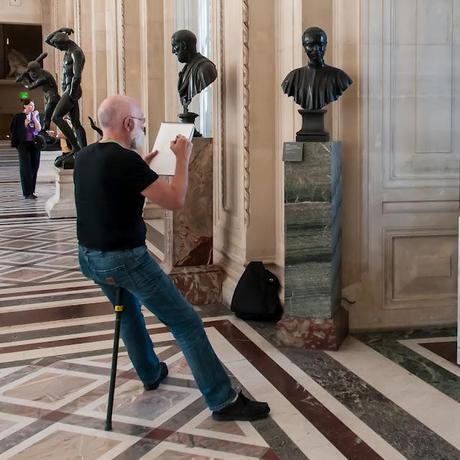 As we reached the main courtyard, I was thinking how lucky we are to have a place like the Louvre. If you're ever in Paris, do yourself a favor and visit this magnificent treasure or if you're interested in art, history or just to do your soul some good!!