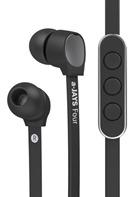 The award-winning a-JAYS Four has a sleek design, thanks to its black rubber and silver metal finish that matches the color scheme of the iPhone 4 and its L-shaped plug. More importantly, JAYS, exclusively a headphone manufacturer based in Sweden, has extensively marketed its tangle-proof flat cables. This, of course, is contrary to the tubular cables of traditional earbuds. 
Based on experience, other earbuds with tubular cables have severely tangled up in my pocket especially during travel, and tangles have caused some of my expensive pairs to stop working. Field testing my pair of a-JAYS Four, I can attest that it doesn't tangle up all too easily in my pocket.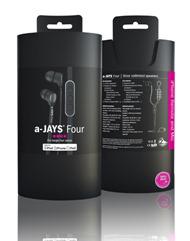 I prefer bass-driven earbuds, as perhaps half my playlist are fast club songs. But you see, my pair of a-JAYS Fours is a welcome alternative—it has a nice mix of bass and mid and thus produces a good, enhanced sound output. Its snug-fit silicon sleeves that come in sizes inside the elegant packaging provide great sound isolation, which is very vital for travelers like me.
The feature that distinguishes the a-JAYS Four from the rest of the a-JAYS Series the most is its three-button remote that has been designed and certified to work for the iPhone, iPod touch, and the iPad. Its three buttons include a play/pause button, and volume up and down buttons that are all important for music and voice calls, among others. The remote indeed worked well with my iPhone and gave me full control.


The a-JAYS Four is exclusively distributed in the Philippines by Maclin Electronics and retails for 4,499php at AstroPlus and AstroVision stores. Know more about JAYS products through +63 2 731 7449 or this link.
Thanks to the generous people of Maclin Electronics and also to the great people of AstroVision and Orange Magazine TV.