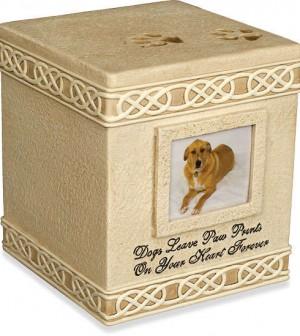 The loss of a dog is a heartbreaking experience for any dog owners/lovers of all ages. But even when the dog is gone, you can still honor his memory through special memorials and tokens in his honor. For dog owners who've lost their beloved four-legged companions these are some tokens that you can do and have to honor your dog's memory. This is also applicable for people who have family and friends who are grieving for the loss of their dogs.
Loss of a Dog Keepsake: Headstone/Marker
A simple headstone or marker at your garden is a very good method of honoring your pet. The stone/marker can be engraved with your pooch's name or a special memory of him. A poem or saying about dogs can also be engraved on the stone. You may do this as a DIY-project or go to a store that specializes headstone engraving.
Loss of a Dog Keepsake: Photos
Photos are great because they can "live" forever. Keep a wonderful memory of your pooch with you all the time with a photograph of him. You can put the photo inside your wallet or you may put it in a keepsake frame. You can even create a photo-box for him- complete with photos of him and his favorite toys and/or collars.
Loss of a Dog Keepsake: Planting a Tree
Another way of honoring your dog's memories is by planting a tree. Memorial trees are fast becoming one of the go-to "to honor deeds" of pet owners who recently lost their pets. You can plant the tree at your own backyard to keep both the departed dog and the tree at home with you at all times.
Loss of a Dog Keepsake: Special Jewelry
One of the most common keepsakes when you loss someone is by incorporating their memories with jewelry. You can a bracelet full of charms that remind you of your life with your dog or a necklace with a special pendant related to your pooch.