Step a-way from the chips!
If you're a lover of Fuerteventura holidays, you'll probably already know about these wonderful local specialities.  And if you don't, I prohibit you from gobbling another portion of burger and chips at some uncultured, British-run greasy establishment.  
I absolutely forbid you.   
It's time for chip-addicts to step out of the greasy comfort zone and realise that the local food of Fuerteventura is just too delicious to miss out on. So that's it, you – yes, you – step a-waaay from the burger, and come and see what Fuerteventura's seas have to offer you instead. 
Sancocho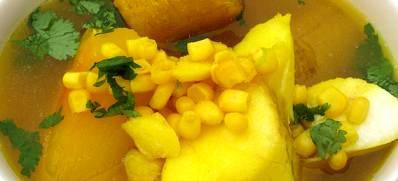 This wholesome, warming soup is interpreted in a number of ways in different countries, but in the Canary Islands, it often involves boiling a whole fish.  You may not fall in love with this broth upon first acquaintance, but I promise it will grow on you.  The beauty of this dish is that it's cheap and comforting and will vary from chef to chef.
Papas Arrugadas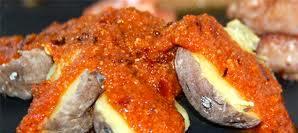 Otherwise known as "wrinkly potatoes", these locally grown gems provide a slightly more cultured way of getting your tatty fix.  Served with lashings of the famously red "mojo" sauce, you'll be able to enjoy a nice little kick with your carbs.  Delicious.
Tortilla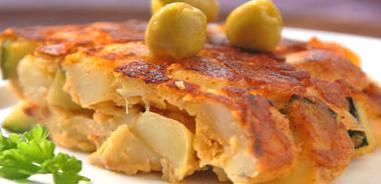 This Spanish omelette is thick and substantial in size, very much like a quiche.  Usually combining simple flavours and very basic ingredients, Spanish Tortilla works for the whole family, offering a choice of toppings or fillings. 
Spanish Tortilla is perfect for the less adventurous, and you will never underestimate an omelette again. 
Seafood Paella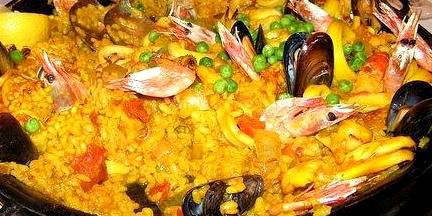 I'm a great lover of Paella.  Impress the locals and assert the silent "L" when ordering and don't forget to soak up the remaining juices with bread (or chips if you must).  There's no better way of getting a true taste of the Canary Islands than trying the local Paella. 
Pejines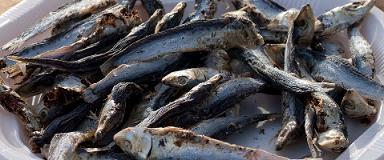 Usually found on tapas menus, Pejines are amazingly moreish snacks which work well with a refreshing pint of beer in your hand.  The tiny fish are dried in the sun and later grilled or cooked in alcohol, and although this dish isn't the most appetizing to look at, you'll not be able to stop once you start.
Enjoy the local food of Fuerteventura! x