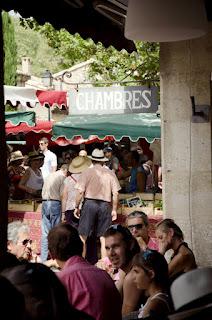 The Bar du Progress is heaving. There's not a chair to be found outside. The language is French, only French out here. The locals know what the tourists don't - coffee first, then shop. The busier it gets, the merrier it gets, and the longer they stay. It's never too early for a pastis.
Inside the walls are pied. Black and white portraits, glossy in their black enamel frames show the villagers. As I file through them, I believe I start to know them, or at least want to know them. I wonder who took the portraits. They are well done, and the beauty in every person is captured.

The barmaid is lithe, pierced and oozing cool nonchalance. She works quickly. A Long limb stretches to the top shelf for Goldilocks' slurp of grenadine, and it's slugged out with the left while our expressos are plugged in with the right. Hips sway in as a waitress passes down the galley. A fridge door is kicked closed. The old fashioned till chimes, the drawer clunks open. Tips jingle, the coffee machine shushes and gurgles, glasses clink - sante! Patrons chatter and guffaw. Jimmy Hendrix strums from an ipod dock behind a percussive bar orchestra.
But I can't linger with the locals, or the other holiday makers I've discovered on the inner. To market I must go. Outside the glare of provence's perpetual summer sun reflects off everything and everyone. Shiny, happy people indeed.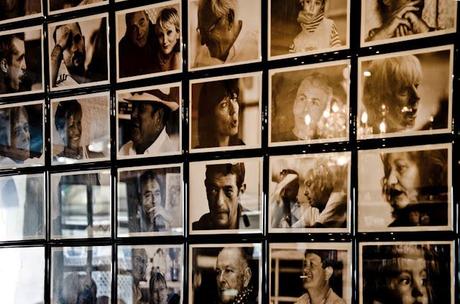 If Tarascon's market is "Maman", and St Remy is "France's PR agent", then Eygalieres market is the "best friend". It's comfortable, casual, pretty yet unpretentious and full of inner beauty. Its warm and welcoming, but in a vicarious and cheeky way. It's jumping to the music, demanding all get on the metaphorical dancefloor. Today, she's dressed up for summer - swathed in lavender and draped in lace with a little bohemian rags and feathers for contrast. All of a sudden, I find that I don't need food for dinner. No - I need pink tartan espadrilles, a new purse made from reclaimed fabric and antique latch. I need a fan, a lace parasol, napkins embroidered with fleur de lys, a car made from an old tin can, an olive sapling and a honey lollipop.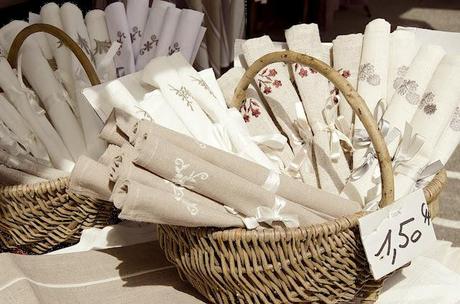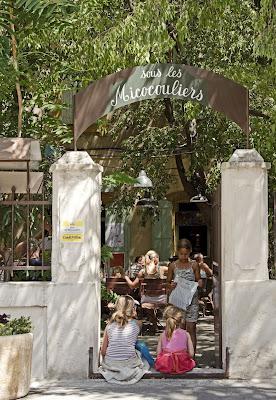 I'm drawn to her sparkly offerings - colored glass jewellery, chandelier earrings, glimmering bowls of crystal salts and the wine tasting table, where biodynamic ros茅
s blush with the help of the sun's rays filtering through the umbrellas. The cheese man calls me over like and old mate, extends a bite sized wedge, then winks suggestively, as if he's proffered a small piece of anatomy. 
Refreshment is never far away, and like all trips out with my bestie, I find it needs to be taken often, with vigour. Sante, we say, sante, sante. Who's driving home? Cafe de la Place is the place. It's gritty, with walls and art as dark and twisted as film Noir. As a contrast, the people are bright and conspicuous. Its a hustle to the bar, and a long wait, but as I do wait, and wait, and wait for service, on what appears to be the busiest day of the year, I can't help but feel like I'm acting a part in a play. I'm not a tourist, I'm a wanderer, a seeker of destiny. The colored people and dusky walls surround me like a perfect set, and I'm almost waiting for the climax, and then for the curtain to come down.
As the market winds down, the night's festival begins preparations. It seems it never stops here. Shopping crowds now flow into the tributaries seeking greater sustenance. There is no lack of this either. We've dined once in the shady arbour of Les Micocoulieres. Molecular gastronomy with a country appetite. Where umbrellas framed like parasols of hongkong cast diverging patterns over diners, and waiters fawn over patrons in an honest and giving way. They tempt, teach and take the lead when necessary.
Another visit saw us at Bistro L'Aubergine, a courtyard restaurant only open through the year when the sun shines. It was a more casual lunch, with a matre'd who messed up the term "boomerang" when laughing about the return of his panama hat. It was crisp, clean and sunny, just like the day and the wine. They served me one of the best mushroom risottos (or is it risotti?) I've had.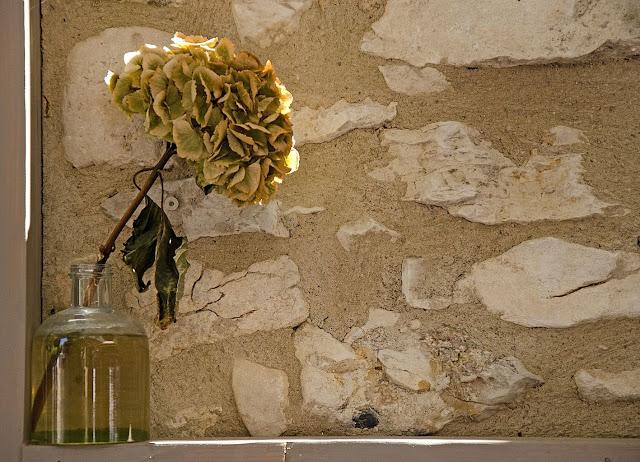 But no, as much as I enjoyed the last experiences, today we tread carefully over a crispy field with parched olives to La Ferme d'Eygalieres. It's quiet, and with a distinct family-run feel. Red setters lie under the tables, and children drive cars over the terrace floor between tables. The menu appears overly simple, but surprises, especially the plate of creamy oeufs en coccotte with asparagus. I find, too late that it has inspired me. I wish I had bought more food. I can't help but think of one of my favorite breakfast dishes - shakshouka, and wondering how I could merge the two into a summer provincial baked egg dish. Hmm... maybe some green zebra and cherry tomatoes, borlotti beans, herbes de provence, black olives and roasted red capsicum. Yes... this recipe deserves consideration over a glass of the house Limoncello. Think I might make Lou-lou drive home...
---------------------------------------------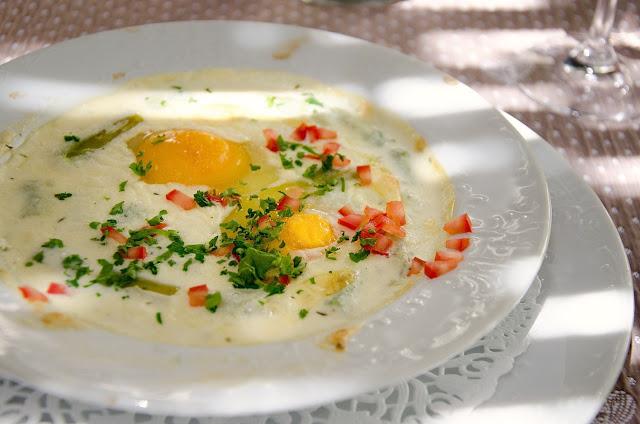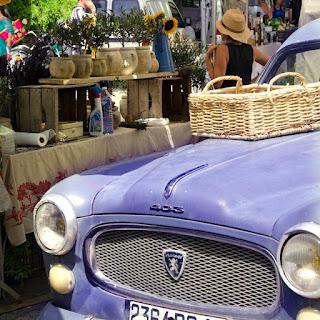 For my recipe of shakshouka, click here. 
Eygalieres is in the Bouches du Rhone department of provence, a short drive from Saint Remy de Provence. Market day is Friday.
Restaurants Recommended:
Sous Micocoulieres - tucked in a lane behind the Bar Le Progress. Modern cuisine, and my personal favorite.
Bistro L'Aubergine - For great salads and casual, friendly dining. Walking distance from central square.
La Ferme d'Eygalieres - just out of town, but easy walking distance - direction Orgon. 
Chez Bru - the only Michelin star in the area, just out of town - direction Orgon.
La Ferme also has accommodation - reasonably priced, and with a lovely pool. For a small step up, try La Bastide, which also has a good restaurant - about a kilometer out of town. There is also a very well sited yet basic camping ground: Les Olivieres. 
Since writing this I have discovered that Eygalieres is the village close to Bastide de Brangelina. This had no effect on my loving the village whatsoever. However, I find I now have much more respect for them - they are obviously people of taste.