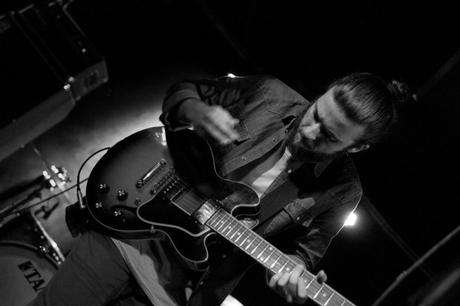 Photos by Charles Nickles
I think Sunday nights spent out make me a bad man, so I try to stay inside, tethered to my couch with the TV going full bore until I dumb down enough to catch a few z's before my 5am Monday call. Not this past Sunday, though. That night, I was at the Mercury Lounge to catch SKYES and The Lighthouse and the Whaler play an intimate, early gig to a surprisingly packed (GoT premiered that evening), unsurprisingly cosmopolitan crowd.
SKYES were up first and on time (thanks, guys) and offered up a refreshingly ominous take on the synth/femme torch song normative. Perhaps ominous isn't the right word. SKYES is a far cry from the goth bands of my notebook youth, but there is something deliciously unnerving about their sound. It undulates and rumbles and swells in alley cat shadows offering both counterpoint and complement to the blues-honed siren at their helm — transforming what might otherwise be passing saccharine fancy into a meat that could feed your misgivings a week.
The Lighthouse and the Whaler were next, and I'm ashamed to say that they were totally new to me. Though I was reluctant, at first, to give credence to any group that sports two bearded hair buns (long, boring story), their new romantic folk explosion (GUITAR! GLOCKENSPIEL! MANDOLIN! VIOLINS! EYES!) proved more than enough to get me longing hard for the days I could lay by the Farmington River, reciting Plath, H.D. and Eliot from memory — a blue-haired naïf too wrapped in her own wonder to understand that we could/should/would be totally, TOTALLY forever in love.
The Lighthouse and the Whaler















Skyes