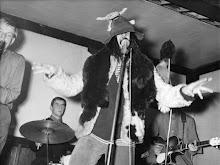 If you're  reading the Ripple Effect blog, chances are you're a connoisseur of the more esoteric side of rock music.  And, chances are you've heard the name Screaming Lord Sutch bantered about.
   "Screaming" Lord David Edward Sutch was doing the shock rock shtick as early as 1959.  Coming onstage in a top hat which he would doff to reveal his shoulder length hair (scandalous for the time) He employed all manner of horror themed theatrics, such as being wheeled out onstage in a coffin, menacing pretty young girls in the audience with a knife, and  throwing raw meat out into the crowd. This is all at least a decade before Alice Cooper, and more than two decades before Blackie Lawless and WASP.  His earliest singles were produced by the legendary and slightly mad Joe Meek, and members of his backing band, the Savages would go onto greater fame joining Deep Purple, Led Zeppelin and the Jimi Hendrix Experience.
   The records that Sutch and Meek churned out were heavily produced slabs of black-humored genius.  Songs like "Jack the Ripper", "Till the Following Night (Big Black Coffin)", "Dracula's Daughter", and "She's Fallen in Love with a Monster Man" would grace the A sides of singles, while Lord Sutch and the Savages unique take on 50's rock n roll standards like "Don't You Just Know it", "I'm a Hog For You" and "Good Golly Miss Molly" would be the B-Sides.
   Throughout the early-mid 60's Sutch and his ever changing Savages took their horror show on the road playing these songs, while the rock n' roll scene grew and changed around them.  By the late 1960's the Scary Showman's act was passe as rock music became more psychedelic and serious. 
   In 1970 his Lordship called upon some of his former charges who had surpassed him in celebrity and recorded an album called "Lord Sutch and Heavy Friends".  Backed by the likes of Jimmy Page, Noel Redding, Jeff Beck, John Bonham, Carlo Little, and Nicky Hopkins just to name a few, it was a can't miss formula.  Most of the tracks were clumsy remakes of old 50's rockabilly tunes, and the exemplary musicianship couldn't mask Sutch's lack of vocal talent and the album was a flop.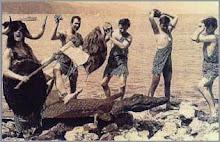 Undaunted, in 1972, Sutch unscrupulously used some recordings from a one-off gig with another group of "Heavy Friends" and released "Hands of Jack the Ripper".  Featuring Ritchie Blackmore, Nick Simper, Matthew Fischer (Procol Harem), and Keith Moon just to name a few – who had no idea the impromptu set would be released. According to http://thebookofbands2.blogspot.com/  Ritchie Blackmore  was given $500 for playing the gig. He noticed the recording equipment onstage and thought, "He's doing it again".
   During the 70's Sutch all but abandoned music and focused on his political career.  He became notorious for losing elections, but with his constituents in the Monster Raving Loony Party, made a great show of it and exposed the true ridiculousness of politics and politicians.  Sutch's ideas such as  lowering the voting age to 18, having pubs open all day, and issuing  passports for pets all eventually became law in Britain.
   In 1999, overcome with depression and the grief associated with his mother's recent death, Lord Sutch took how own life.  I'm not going to pretend I know anything about the man and what his personal troubles were, but it's obvious he was dealing with something that was too overwhelming.  Digging deep into the internet I found out there were various mini-scandals brewing beneath the surface at the time of his death, involving an ex-wife and a child who may or may not have been his.  The truth about this and other things were going to come to light it seems and maybe his Lordship did not want to be around to find out.  He's the only one that knows and even with a Ouija board we'll never truly know the truth.
   However, his music is worth seeking out - "Lord Sutch and Heavy Friends" has been likened to what the demos for Led Zeppelin II must have sounded like.  And there is some very good playing on this and "hands of Jack the Ripper".
If you're curious and want more info about the man, check out a really comprehensive site:
http://thebookofbands2.blogspot.com/
  
--Rys