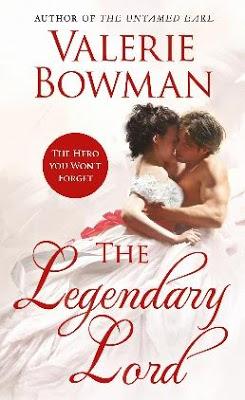 "A sweet and fulfilling snowbound romance."
−Publisher's Weekly
"

Graceful writing enlivened with plenty of dry wit, a charming cast of secondary characters, and a breathtakingly sexy romance between a perfectly matched couple make Bowman's latest addition to her Regency-set Playful Brides series another winner."
−Booklist
The Legendary Lord

Valerie Bowman
Bestselling author Valerie Bowman returns this fall with the highly anticipated sixth installment in her Regency-set Playful Brides series. In THE LEGENDARY LORD (St. Martin's Paperbacks, November 1, 2016, $7.99), a fan-favorite bachelor finally gets his own story that readers have been clamoring for. Add in a blizzard and a sexy Scottish setting, and this twist on George Bernard Shaw's Pygmalion is sure to be a hit!
THE MAKING OF A LEGEND…
When Christian Forester, Viscount Berkeley, flees the stuffy ballrooms of London for his Scottish hunting lodge, the last thing he expects to find ensconced before his fire is an incredibly beautiful woman. But the plight of lovely young Sarah Highgate, who has run away from an unwanted betrothal, inspires an eminently practical exchange. He'll safeguard her reputation with the town while she advises him how to best attract a proper bride…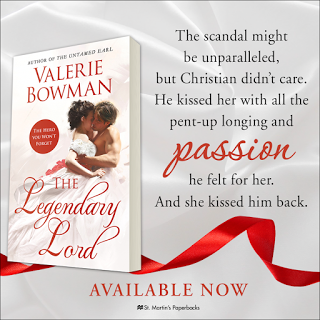 As the undisputed belle of the season, Sarah has enchanted plenty of suitors. Still, she isn't interested in marriage, especially not to the pompous bore her father has chosen for her. But her hasty escape seems reckless now that she's estranged from her family and has no one to count on besides Christian. Turning the luckless lord into such a catch has another unplanned consequence for Sarah: Has he run away with her heart? EXCERPT: FIRST MEETINGIn his thirty years of life, Christian had never seen a sight quite like the one that greeted him when he kicked open the bedchamber door. A beautiful woman stood there brandishing a sword at him. Well, brandishing might be a bit of an overstatement. She could barely lift it an inch from the floor, but she was obviously attempting to brandish it. Normally, Christian was at a loss in front of a beautiful woman. Well, other than his friends, of course. And this woman was extremely beautiful. She had lush black silky hair that fell in fat curls past her shoulders. She'd obviously unpinned it for her nap. She had pale skin, red lips, an adorable upturned nose, and eyes of palest green, almost crystalline. They were tilted, like a cat's, and framed by long, sooty lashes. She was dressed as a servant. Had she run away from some estate? Only there wasn't an estate near here. She must have come far. Regardless, whoever she was, she was an incomparable beauty. And a stranger.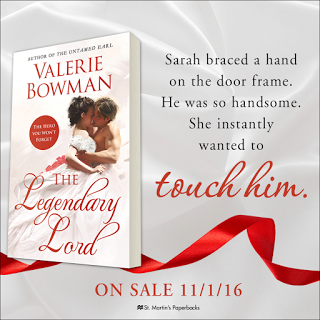 "Get out of here right now, or I'll cut you in half." The sword quavered in the woman's grip, but her eyes narrowed to slits. "I mean it. Leave now. You won't want to see me angry. I promise you. I'm quite good with a sword." Again, the sword quivered up another inch. In other circumstances, Christian would have stuttered in the face of such beauty, wouldn't have known what to say, would have made an ass of himself. God knew such lack of debonair sophistication was a large part of the reason he'd failed to find a wife in London after all these years. But the audacity of this par tic u lar woman—or, more correctly, his anger at her audacity— mixed with his exhaustion, made his encounter with this beautiful woman quite dif fer ent from all the others. "What if I told you I have a pistol?" he asked dryly, studying her face to gauge her reaction. She tossed her curls and lifted her chin higher, but her eyes flashed with a hint of fear. "I have a sword," she announced, her voice quavering slightly. "I see that. But I'd like to think we would both agree that a pistol would trump a sword were this little confrontation to turn into actual combat." He stepped toward her, all the while assessing how carefully and quickly he might disarm her. Her eyes flashed again. She took a step back. "I . . . I don't believe you have a pistol. You'd have shown it by now. And I will slice you in half if you take another step closer." He pressed his lips together to keep from smiling. "Well, you see," he said, squinting, "I don't usually point pistols at ladies. But I'm quickly beginning to consider making an exception in your case. Especially if you continue to threaten me and refuse to put down that sword."  She did exactly the opposite. She lifted the sword even higher, but the muscles in her upper arms quivered. It had to be a chore for her to keep the thing aloft. "If you have a pistol, show it. I dare you to," she said, her jaw clenched. "Oh, my dear Miss House Thief, don't tempt me. Now, I'm going to ask you one more time to put down that sword before I force you to put it down. It's entirely your decision." "You'll have to kill me first. And I'm no house thief." Her quaking arms lifted the sword even higher, and she had the audacity to jab it toward him slightly. That was it. Christian was through with this farce. He had to disarm her before she hurt herself or him or, God forbid, the dog, who'd sat in between them watching this peculiar exchange, his ears switching from side to side, no doubt in an effort to hear each of them more clearly. Christian reached her in two long strides, wrenched the sword out of her hand, twisted her arm behind her back, and pulled her sharply against his chest. "You say you're not a house thief, but let me see if I have the right of it. You've broken into my home and you're trying to kill me? With my own sword?" The woman struggled to pull her arm free, but Christian held her fast, her backside squirming against him. He wasn't about to allow her to scramble away from him. God only knew what she'd scoop up to fight him with next. The dog, perhaps? "Your home? How do I know this is your home?" she asked in a tone that was both demanding yet edged with fear. And in an accent that was obviously not of a maid, but of a lady. Unexpected. Her breath came in panting gasps, and her breasts— which Christian had quite a good view of, actually, given that he was close to a foot taller than her— were heaving. She was frightened. Good. Thieves shouldn't get too comfortable. "I damn well know it's not yours, Miss Thief." "I told you. I am not a thief. Let go of me." She struggled harder to break free of his grasp. He tightened his hold on her arm. "Is anyone else with you?""No." "How long have you been here?" "This is my third night." "You have been in my home three nights?" Outraged, he glanced around the room, searching. "What have you taken?" "Nothing. How many times do I have to say it? I'm no thief." She attempted to elbow him in the ribs. He stepped back just in time, mentally thanking his fencing days at Eton for his quick reflexes. He secured her elbow so she couldn't do it again. "I don't want to hurt you," he said calmly, "but unless you can tell me in the next five seconds who you are and why the hell you're in my house, I'll be happy to toss you out in the snow, thief or not." She stopped struggling and made a small gasping noise. That was more like it. "You're Master Christian?" Her head snapped to the side, and he saw the outline of her patrician profile, though she still had her back to him. Christian tightened his grip on her warm wrist. "I'm the one asking questions here, not you," he growled near her ear. The lily scent was definitely coming from her. Her ebony hair was giving off the essence. It smelled . . . good. Too good. "I'm trying to prove that I'm not a thief," she insisted. She'd stopped struggling for the moment. "How else would I know your name?"
MY REVIEW: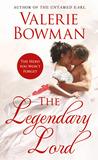 The Legendary Lord by Valerie Bowman
My rating: 5 of 5 stars
The Legendary Lord (Playful Brides #6) by Valerie Bowman is a 2016 St. Martin's Press publication. I was provided a copy of this book by the publisher and Netgalley in exchange for an honest review.
This installment in the 'Playful Brides' series is a delightful Regency period romp, filled with light banter and charming characters.
Sarah Highgate can't endure the thought of marrying the man her parents have chosen for her. So, despite a lifetime of cowering to her parent's wishes and preparing herself to marry within the peerage, she snaps, and runs away from home, a fateful decision that will change her life.
Christian Bancroft, Viscount Berkley, arrives at his Scottish lodge looking for a respite from London, only to find a most alluring lady has broken into his home. Once it has been established that Sarah mistook his hunting lodge for one belonging to her father, the two discover they are stuck together due to a winter storm.
When Sarah explains her dilemma, expressing her deep remorse for disappointing her parents and suggests she is beginning to regret the damage she has done to her reputation, Christian comes up with a way to help her reenter society without causing a scandal, and Sarah promised to help him find a wife, by turning him into a 'Legendary Lord.'
If you want a pure Regency romance, you've come to the right place. Thank you Valerie Bowman for getting it right! I loved the setup, Sarah's charm and wit, and Christian, is the perfect example of an introverted soul who just needs a little shove in the right direction, to help him gain confidence. He had me a little worried there for a while, though.
I also admired the proper language, the manners, and how true the author stayed to historical authenticity, in these regards.
Overall, this is a lovely story, captivating and infused with humor, and pleasing all around. I thoroughly enjoyed this one!
Buy Links:

Macmillan

Barnes & Noble

Amazon


ABOUT THE AUTHOR: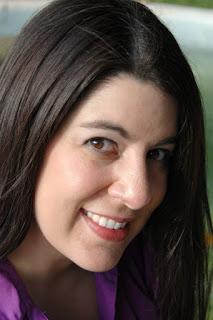 #   #   #

VALERIE BOWMAN

grew up in Illinois with six sisters (she's number seven) and a huge supply of historical romance novels. After a cold and snowy stint earning a degree in English with a minor in history at Smith College, she moved to Florida the first chance she got. Valerie now lives in Jacksonville with her family including her two rascally dogs. When she's not writing, she keeps busy reading, traveling, or vacillating between watching crazy reality TV and PBS. She is also the author of the Secret Brides series, starting with Secrets of a Wedding Night, Secrets of a Runaway Bride, and Secrets of a Scandalous Marriage.Social Links: 

Author Website

Facebook

Twitter: 

@ValerieGBowman