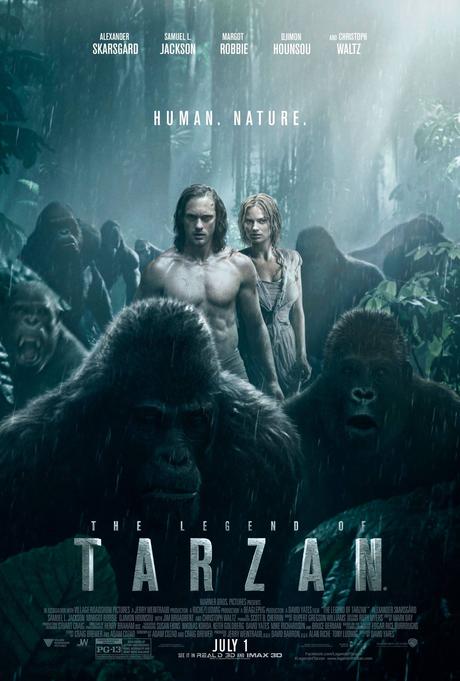 The Legend of Tarzan
Director: David Yates
1h 49min | Action, Adventure | 1 July 2016 


Tarzan, having acclimated to life in London, is called back to his former home in the jungle to investigate the activities at a mining encampment.














"They're singing The Legend of Tarzan.  He was thought to be an evil spirit, a ghost in the trees. No man ever started with less." - Jane Clayton
Last night I had the privilege of seeing an advance screening of The Legend of Tarzan. Now, without spoiling anything for you I'd like to share my thoughts. I really liked it. The film begins after what we might know as the story of Tarzan. It's been eight years since Tarzan, now John Clayton III met Jane in the jungle and since, he has been turned into a proper English Gentleman. He is striving so hard to fit into his new role, his new world, and to deny the place where it all began.
Life in England is dark, grey, dreary. The filmmakers did an incredible job of showing you just how grim The Clayton's new life was in contrast to the bright, sunny, hot as he points out, Africa he had left behind. Jane is desperate to return to the village where she grew up and where she first encountered John.
He doesn't get the chance to resist for long, as he is tricked into coming back to Africa with his wife and with Samuel L. Jackson ...eeer I mean George Washington Williams, as his companions. Dr Williams seemed to serve as the general comedic outsider. He was all of us, the American thinking he could handle life in the wild jungles of The Congo only to be harshly surprised when John, Jane and the Natives easy out run him. I loved seeing the exchange between human Tarzan/John and the animals of the jungle in a realistic manner. There was no ridiculousness of talking animals, everything was communicated through body language, and inherit respect and understanding.
The story also explores the very horrific and real occupation of the Congo by King Leopold II of the Belgians. The story revolves around his army's invasion, his search for wealth in the Congo lands and his enslavement of the Congolese people to build their railroads and cities. It was interesting and nice to see that such a legend be so intricately intertwined with history.
Alexanders Skarsgard was the epitome of this character. From the build of a man who had spent his life climbing trees and swinging on ropes to the British accent he refined and the awkward way he wears his royal clothes. He begins as the ultimate pretender, trying to fit in where he doesn't belong and we gradually see him find a balance between who he was, and who he has become.
I definitely recommend seeing it. It's the perfection balance between a historical film and an action adventure film.