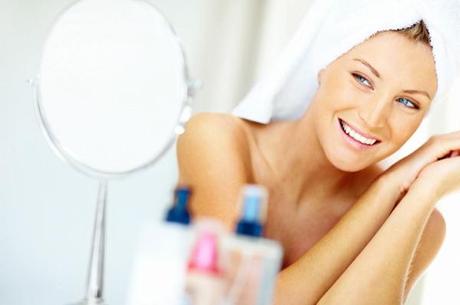 Hello Gorgeous! We don't always have time to pamper ourselves like we would like too. Just because we don't always have the time I know we all want to look our best right? Keep reading to see how you can achieve perfect skin without a lot of time.
The Lazy Girl's Guide to Perfect Skin:
Problem: Wrinkles
The Lazy Girl Solution: Instead of spending precious time and energy piling on the products indulge your lazy side and condense your skin routine. Choose two products only–one with antioxidants and one with retinol. Both of these ingredients have been proven to help brighten, plump and regenerate skin cells.
Problem: Redness
The Lazy Girl Solution: Watch your diet, a green tinted makeup base or concealer will help neutralize redness–then just apply your foundation as you normally would.
Problem: Puffiness
The Lazy Girl Solution: Sleep on your back with two pillows. This will help fluids drain and prevent your eyes from getting puffy.
Problem: Dark Circles
The Lazy Girl Solution: Make sure to use a sunscreen everyday to prevent them. Otherwise hide them quickly with a CC Cream with brightening ingredients.
Problem: Pimples
The Lazy Girl Solution: Use a product with 2.5.% benzoyl peroxide and an over the counter hydrocortisone cream on the spot–it will immediately kill the acne causing bacteria and reduce inflammation.
Problem: Dryness
The Lazy Girl Solution: Use an overnight mask–its gel formula delivers a big dose of moisture and nutrients while you sleep.
Problem: Oiliness
The Lazy Girl Solution: Primers are your best friend. They not only absorb oil and make you look less shiny but they help prevent your makeup go on more smoothly.
I hope these tips and solutions were helpful. :)
Gorgeous, how do you achieve perfect skin?
Stay Gorgeous!
Source: Byrdie