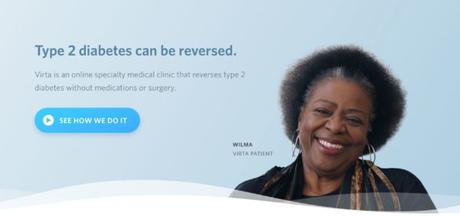 Today is a very exciting day for anyone interested in the potential of low carb to change the world. Today marks the public launch of Virta Health, a well-funded company of 50+ people located in San Francisco.
Virta Health is an online clinic, specialized in reversing type 2 diabetes using a ketogenic diet, modern mobile technology and a staff of awesome physicians and nutrition coaches.
Virta was started back in 2014 by the Silicon Valley entrepreneur Sami Inkinen, with two cofounders and researchers whom every low carber know well: Dr. Stephen Phinney and Dr. Jeff Volek.
I've had the privilege of visiting them twice during the last year, while they were still in stealth mode, developing their product and conducting their research. I've come away very impressed with their competence and sheer determination. Their mission? Reversing type 2 diabetes in 100 million people by 2025.
Now it's showtime. Today the first results from their clinical study are published, and they show dramatic improvements in type 2 diabetes, including getting people off many of their diabetes medications:
JMIR Diabetes: A Novel Intervention Including Individualized Nutritional Recommendations Reduces Hemoglobin A1c Level, Medication Use, and Weight in Type 2 Diabetes
I highly recommend visiting their website for much more, including lots of short inspiring video interviews with their type 2 diabetes patients:
We'll have much more to share about Virta Health in the upcoming weeks, including an interview with the founder Sami Inkinen and a short video documentary about him and Virta Health.
Is it for you?
If you have type 2 diabetes and live in the US you can schedule a consultation with Virta.
Are you a physician who treat patients with type 2 diabetes? Then you can partner with Virta Health to help the patients safely lower blood sugar, lose weight and reduce medications.
More
How to Reverse Type 2 Diabetes