Ricky Martin ft. Christina Aguilera – 'Nobody Wants to Be Lonely'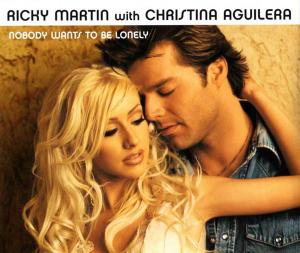 Photo Courtesy: wikipedia.org
To conclude my research of awkward music videos, I have chosen "Nobody Wants to Be Lonely" by Ricky Martin ft. Christina Aguilera. Let's get something straight – I love Ricky. I have loved him ever since he shook his bon-bon all the way into my heart with the release of his self-titled album in 1999. When I saw Ricky Martin for the first time, I think that was when I became a woman.
As for the single I am focusing on, I thought what a pair these two were! I was hoping Xtina was getting some action out of the deal, but alas she was not…
"Nobody Wants to Be Lonely" was released on January 19, 2001 and did a pretty good job pleasing the masses. This jam peaked at #13 on Billboard's Hot 100. I'm almost positive the music video didn't assist in that chart position at all.
The video starts out with a flock of doves heaving their way at you. Next, the camera guides us inside some sort of mythical mansion where we get to stare at Xtina in an empty room. I believe this is the point where she discovered Botox (Sorry Xtina – but it's the truth. Your hair looks great tho). We first see Ricky standing against a wall of shrubbery…the camera cuts back and it's actually a maze (digital maze, of course). Could this symbolize the maze to his heart?
Throughout the video, these two just randomly pop up all over the mythical mansion singing their faces off. Those god damn doves make cameos every few scenes as well.
My favises part of this video: when Xtina and Ricky walk through each other, kinda reminds me of the movie "Ghost." While this walking thru part is happening, our stars stare at each other awkwardly…in a WTF kind of way. Okay, you watch the video and try to describe it.
This music video ends with Ricky and Xtina embracing and singing to each other. Little did she know he just wasn't that into her.