I received this book for free from NetGalley in exchange for an honest review. This does not affect my opinion of the book or the content of my review.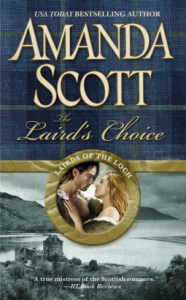 The Laird's Choice
by Amanda Scott
Series:
Lairds of the Loch #1
Published by
Grand Central Publishing on Dec 18, 2012
Genres:
Fiction, Historical, Romance
Pages:
356
Format:
eBook
Source:
NetGalley
Goodreads

Lady Andrena MacFarlan has been different since the day she was born. Possessing the power to sense others' most intimate desires, she knows her duty is to marry the man who will take the MacFarlan name as his own and help her father regain the chiefdom of their clan. But her unique gifts don't prepare her for the day when a mighty warrior suddenly enters her life. The attraction between them is undeniable -- and insatiable.
DESIRE UNLEASHED
Hunted by brutal enemies, the wounded Magnus Galbraith washes up on MacFarlan land where he is rescued by a laird's lovely daughter. Andrena is like no one Magnus has ever known. She has the uncanny ability to both calm and enflame him in ways he never dreamed possible. But she has other unknown-and dangerous-powers. Now, as Magnus seeks to avenge a brother and protect a king, the young beauty could prove his greatest ally-or his ultimate undoing . . .
I found this story to be an interesting read. This historical, along with the paranormal mystical side of Andrena's family made for an interesting combination. Trying to determine if the strange things happening were really mystical or just happenstance kept me entertained. But then again I have really enjoyed the other stories by Amanda Scott that I have read.
Andrena and Magnus are both strong characters, and it was fun to see them getting to know one another while trying to stay safe and to help their King and to help keep Andrena's family safe. Magnus and Andrena have a lot to over come if they are to have a happy future together. It was a fun ride seeing how they work together, come to care for one another and fall in love.
I really did enjoy this story, and look forward to the others from this series.