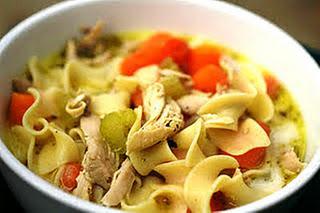 Paula Deen is the quintessential queen of Southern Cuisine and she is
game changer #24
 . Oh and if any of y'all are interested in featuring the next 26 more game changers, contact Mary at 
One Perfect Bite
 . Paula is among other things a cook, cooking show host, author and restaurateur.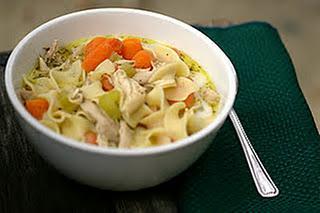 Did y'all know we celebrate the same birthday? Yup January 19. Hers is a few years before mine.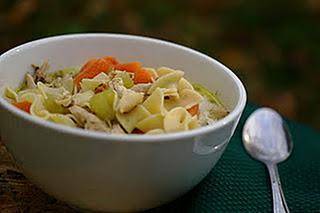 She has five cookbooks under her belt. Her life story is without a doubt a rags to riches one. Both her parents died when she was very young. She suffered panic attacks with agoraphobia, it got to the point to where she wouldn't go outside at all. In 1986 she took a job as a bank teller, when the bank was robbed at gunpoint she never returned. She started the bag lady catering company with only $200.00 dollars in her pocket. The business has bloomed into what it is today. Paula now happily lives in Savannah with her husband and two boy, and now a couple of grand kids.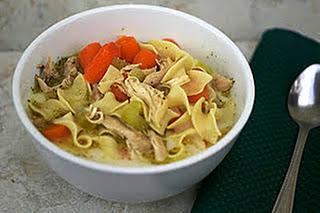 The Ladies Chicken Noodle Soup
Stock3 lbs chicken in assorted pieces3 1/2 quarts water1 med onion peeled2 tsp Italian seasoning1 tsp lemon-pepper seasoning3 cloves garlic minced4 bay leaves3 Chicken or veg bouillon cubes
Add all ingredients to a stock pot cook chicken until tender about 45 minutes to an hour. Removes and allow to cool. Discard Bay leaves and onions. Put stock back in pot for the soup
2 cups sliced celery2 cups sliced carrots2 1/2 cups uncooked egg noodles1/3 cup Parmesan cheese3/4 cup heavy cream1/3 cup white wine
Bring the stock back to the boil, add celery and carrots. Cook for 5 to 10 minutes. Add egg noodles and cook according to directions on package. When noodles are done add chicken cheese, cream and wine. Cook for another 2 minutes. Enjoy with a nice hot crunchy loaf of french bread.Val -
More Than Burnt Toast
, Joanne -
Eats Well With Others
Taryn -
Have Kitchen Will Feed
, Susan -
The Spice Garden
Claudia -
A Seasonal Cook in Turkey
, Heather -
girlichef
Miranda -
Mangoes and Chutney
, Jeanette -
Healthy Living
April -
Abby Sweets,
Katie -
Making Michael Pollan Proud
Mary -
One Perfect Bite
, Kathleen -
Bake Away with Me
Viola -
The Life is Good Kitchen
, Sue -
The View from Great Island
Barbara -
Movable Feasts
, Kathleen -
Gonna Want Seconds
Amy -
Beloved Green
,Jeanette -
Healthy Living
Linda -
Ciao Chow Linda
, Linda A -
There and Back Again
Martha -
Lines from Linderhof
, Nancy -
Picadillo
Mireya -
My Healthy Eating Habits
,
Annie -
Most Lovely Things
Peace be with you,
Veronica