Nagoya and Takayama
(Trip to Japan, September, 2008)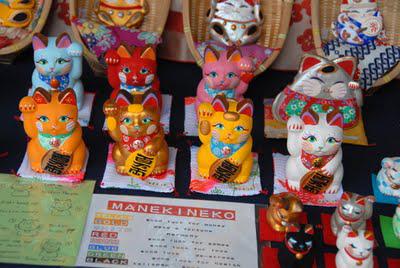 Welcome Cats (Hello Kitties)
Thursday, September 4 (Notes from my trip diary)
   Arrived in
Nagoya
, Japan, and, with the help of an attendant at the ticket machine in the airport, we got train tickets to the Nagoya JR station.  Then we got a taxi, complete with white lace seat covers, a white-gloved driver, video screen, and automated recorded instructions in English admonishing us to wear seat belts, for a short ride to the Hilton Hotel.  There, on advice from the super helpful, somewhat English speaking desk clerk, we went to a travel agent to buy our train tickets for the next morning to Takayama.  There, another super helpful, impeccably uniformed young woman helped us, and spent an extra ten minutes just to find out what track we needed to go to for our train.  For dinner we went to a small sushi restaurant nearby, pointing to pictures on the menu for our meal.
Takayama, the Little Kyoto of the North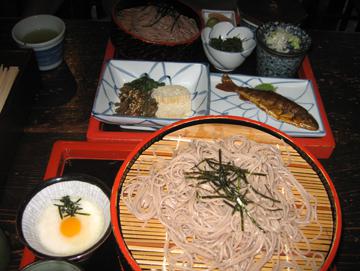 Lunch of Soba (buckwheat) noodles
Friday, September 5
   Checked out of hotel and went to train station.  Rode backwards to Gifu and then the train reversed direction to go toward Takayama.  Nagoya and Gifu are both on a flat coastal plain, but after leaving Gifu, the train climbed into the mountains, mainly following river valleys.  Saw ospreys and white and gray herons fishing in the shallow, swift flowing rocky rivers.  Also, human fishermen. 
   After two hours we arrived at Takayama, known as the little Kyoto of the north.  We walked one block to the
Best Western
hotel, left our bags, and went to a nearby restaurant for soba (buckwheat) noodles, a local specialty.  They came cold, on a bamboo tray, with a soy dipping sauce.  A side dish, something like runny farina with a raw egg yolk in the middle, was impossible to eat with chopsticks.  Art's meal also included an excellent roasted fish and rice mixed with vegetables.  Then we caught a local bus to Hida Village.
Hida Village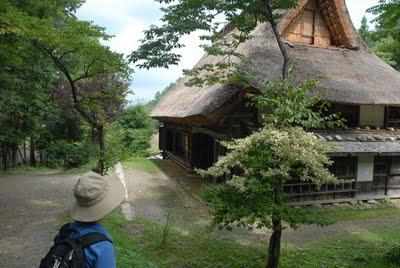 Hida Village.  Farmhouse roof made of thatch is steep to withstand winters with up to 6 feet of snow.  Thatch is lashed onto roof supports with rope.  An opening in the roof lets in light.
  In the old part of Takayama and at
Hida Village
, one feels plopped into a Kurosawa movie, half-expecting a samurai to appear around the next corner.  (In fact, one can rent costumes in Takayama to wear for the day.)  The Hida Village, about a mile uphill from the center of town, is a collection of farmhouses and other buildings from the Edo period, moved there as a "living history" park. (You can see buildings of the same era in the movie "Silk" which was filmed at a similarly preserved mountain village.)  Signs admonished us to "stay on the course", presumably for traffic control, and follow the prescribed route through the village.  The huge parking lots outside the gate, almost empty, suggested that at peak times the place is packed, but we found it almost empty. 
   The village of about six large houses/barns and various outbuildings  is organized around a pond–with carp you can feed, a swan, and a water wheel.  Except for one house, not from the local area, all the houses had roofs designed to withstand heavy snow, up to two meters, with shingles held down by rocks or thick thatch lashed onto logs.  A small fire burned in each house, filling it with smoke and making it almost impossible to breathe.  In all buildings we had to take off our shoes to go inside (slippers were provided).  At the charcoal burning shed a sign warned us to "Bee careful."  Few signs in the village were in English.  We did have a brochure with brief English explanations.  Some people were demonstrating local crafts–woodcarving, lacquerware, doll making and textile stitchery.  We bought a set of six cloth coasters.
River Walk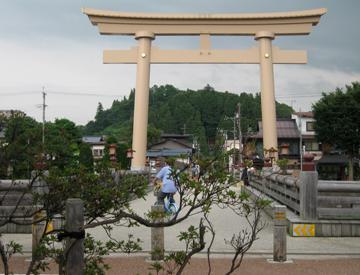 Tori Gate, Takayama
Instead of waiting for the bus, we walked downhill to the art museum.  On the way, we bought three little brooms, another local craft, at a shop.  The art museum is a huge modern building with a shallow reflecting pool on one side and an English tea garden overlooking the city on the other.  It specializes in glass art.  We didn't pay to go in and instead, caught the free bus (a red double decker) back to town. 
   For about an hour we wandered the streets near the river where the old buildings have been preserved, many converted into shops.  We went to the red bridge (
bashi
) for a picture and then walked along the river.  For dinner we went to a restaurant we found in the guidebook, Suzuya, where the menu was in English.  We saw more non-Japanese (
gaijin
) there than we had all day.  I had sukiyaki and Art had beef cooked on a large leaf, a local specialty, both cooked over small burners at the table.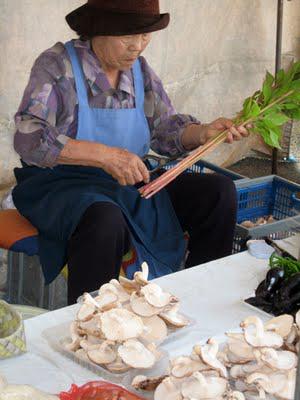 Woman selling mushrooms at farmer's market
Farmers' Market and A Walk in the Park
 Saturday, September 6
   After an American breakfast at the hotel–the buffet offered both American and Japanese foods– we walked to the morning market by the Civic Center where farm women sold apples, peaches, grapes, pears, all kinds of vegetables, leaves like we had seen at the restaurant, pickles, and handcrafts.  We bought two girl's cloth purses shaped like fish.  We then climbed the hill to walk in the wooded park above the town.  Each time we passed someone, they would bow and greet us with
O-hi-o Go-zi-mas
(good morning) or
ko-neechi-wa
and we would reply.  On top of the hill were the ruins of the shogun's castle and a lot of mosquitoes.  The day had started out with comfortable weather, but became steadily hotter and more humid. 
Festival Carts, Shrines, and Lion Masks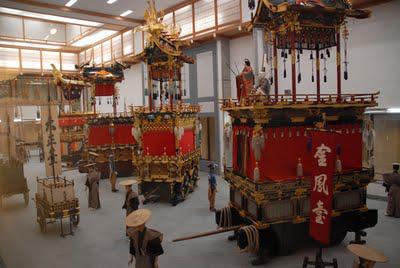 Festival carts and manikins wearing traditional clothing
We returned to town to see festival carts on display at the museum next to the Shinto shrine and Tori arch.  There a polite young woman apologized that no one could take us on an English language tour; instead, she handed us a tape recorder with English explanations.  The elaborately carved and painted carts (two stories high) are similar to those used at the Gion festival in Kyoto except that they have wheels.  The carts are used for festivals in the spring and fall; the one held in the fall is a harvest festival, similar to American Thanksgiving. Our ticket also got us in to the museum next door in which the shrine complex at Nikko had been recreated in miniature–it felt a little like going to see the tiny Taj Mahal in Florida.
   Next to shrine museum was the Lion Mask museum where we went in to see lion masks and the "puppet show."  The puppets, which were similar to those on some of the festival carts, were more like robots or automatons and did acrobatics, served tea, or wrote.  Art was selected from the audience and given a scroll written by the puppet scribe.
On to Kamikochi
   We walked back to the hotel to pick up our luggage, stopping on the way at an ATM and the convenience store for some boxed lunches (a sandwich and "bento"). We ate them at the bus station while waiting for the bus to Hirayu Onsen where we caught a shuttle to Kamikochi. 
For more detailed information about Takayama from other travelers, click
here
and here.
Part II will be about our visit to Japan Alps National Park.