I had resisted the pull from the Father toward the cross and His moment of justification. (John 6:44). I was not successful, obviously. But I vividly remember the feeling that I was OK about the concept of God but not OK with the sin and the blood of Jesus. It was just too weird. Of course we know the bible teaches that Jesus' general call to the world (Matthew 22:14) was not an effectual call for each person upon it. (Romans 8:28). My thoughts and opinions of the matter didn't figure into His process of salvation for me one iota.
I remember feeling like I was being drawn somewhere, (John 6:65) but kicking and screaming. I used to liken it (mentally) to the science fiction use of the famous "tractor beam."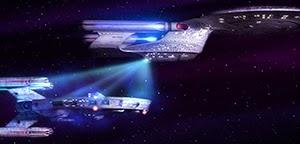 The 1960s show Star Trek used the tractor beam a lot, with ship engineer Scotty always yelling they were caught in it and they couldn't get out no matter how many shields they put up or how much force they turned the engined up to. Star Wars too.
"We're caught in a tractor beam! It's pulling us in!" ―Han Solo, Star Wars
In "Star Trek," tractor beams were often used to pull spaceships and other objects closer to the focal point of the light source attached to another ship. The term came from a 1931 science fiction story where the author had used the term "attractor beam".
I used to call this palpable draw 'the invisible tractor beam' and now I know it was the Father drawing me to Jesus. I resisted it forcibly.
I was unsuccessful. Thank God!
After I was saved, I was talking with another Christian and I was laughing about my foolishness to resist the Holy Spirit. I said, "I was dragged kicking and screaming to the cross." They looked at me disdainfully and said "You were not!" I knew I was. The notion that person had, and so many others have, is that we all come to the cross gently and walking on cotton candy rainbows, placidly and willingly. It is such a false view. We resist salvation every step of the way and it is the Father drawing us that gets us there. (So none may boast- Ephesians 2:9)
We resist the grace of Jesus in salvation, we are in a spiritual war in which we are the enemy combatants, and we never, ever seek after righteousness or holiness, in fact we resist it.
I picture Justification as a courtroom where the guilty criminal is hustled by burly bailiffs to stand before the judge in handcuffs for his own safety, the accused yelling he's innocent, but made to look at the judge and receive his sentence while he writhes against the process. (Sentence: PARDON!). It is all spiritual warfare and none of it is easy or gentle.

But Scripture reveals a truth about a call, a summons that cannot be ignored and it cannot be resisted. It is the unyielding summons from God. It is a subpoena to appear before Him in His court for the purpose of being declared righteous… ~John MacArthur


We're all dragged in the 'invisible tractor beam' toward the point of Light, and we all resist - some more than others but resistance is 100% for each person. However just like the science fiction stories say, "Resistance is futile!" lol. Wouldn't you like to see a behind the scenes view of the process of our own justification, the angels around us, both holy and unholy, and the Spirit doing His work?
My own experience notwithstanding, as I learned by studying the Doctrines of Grace, His grace is irresistible. That is a very good thing, because if we had the strength to resist Him fully we would be sovereign over God. In addition, He would not be God if His will could be thwarted. And finally, none of us would be saved. (Romans 3:11)
Here are three good essays on the Irresistible Grace of the Savior. I've included an excerpt from each.
John Piper: Irresistible Grace
"The doctrine of irresistible grace means that God is sovereign and can overcome all resistance when he wills. "He does according to his will in the host of heaven and among the inhabitants of the earth; and none can stay his hand!" (Daniel 4:35). "Our God is in the heavens; he does whatever he pleases" (Psalm 115:3). When God undertakes to fulfill his sovereign purpose, no one can successfully resist him.This is what Paul taught in Romans 9:14-18, which caused his opponent to say, "Why then does he still find fault? For who can resist his will?"
"Irresistible Grace - is it biblical?"
"Simply put, the doctrine of irresistible grace refers to the biblical truth that whatever God decrees to happen will inevitably come to pass, even in the salvation of individuals. The Holy Spirit will work in the lives of the elect so that they inevitably will come to faith in Christ. The Bible teaches that the Holy Spirit never fails to bring to salvation those sinners whom He personally calls to Christ (John 6:37-40)."
John Murray: Irresistible Grace
"When we speak of irresistible grace, therefore, it is not to assert that all grace is irresistible, nor is it to deny the numberless respects in which grace is resisted and resisted to the culmination of resistance in everlasting doom."
The Doctrine of God's Effectual Call
Paul understood that he was just grabbed by the neck by God and awakened to the glory of Christ and saved and made an Apostle.