TAKEAWAY: She personalizes the glamorous reporter in all those Superman comics and movies, and now Lois Lane's glamour gains a new high tech edge as she trades the traditional reporter's notebook for an iPad in the new Man of Steel movie coming this summer to a theater near you.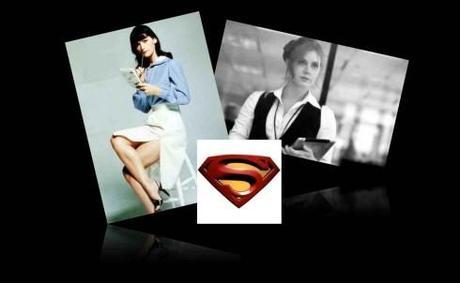 Lois Lane trades the notebook for the iPad as we see her: Margot Kidder played the role of the reporter in four films starring in 1978; Amy Adams is the new Lois Lane and will be seen in Man of Steel coming out this summer.
It was inevitable. It just had to happen.
Lois Lane, that most iconic of female reporters, has put away her spiral reporter's notebook and traded it for an iPad.
Indeed, you will see Lois Lane (played by Amy Adams), displaying an iPad as her journalistic tool of preference when the next movie about the Man of Steel appears this summer.
Since Lois Lane has had a decades' long competition with Superman for the best scoops, I wonder if Superman will also carry an iPad, or will he be using another tablet? Samsung? Kindle?
The Daily Planet, the fictitious newspaper for which Lois Lane works, apparently has gotten into the 21st Century, outfitting all its reporters with an iPad.
How trendy are they?
Well, while few newspapers are giving away iPads to everyone—-not just yet—-it is obvious that the iPad is becoming the tablet of preference for many editors, reporters and designers.
In my own unscientific research, I have observed that there are more iPads in the average newsroom globally than any other tablet.  I know this is likely to change, but it has not happened yet.
Lois Lane knows that the iPad is hot, so do editors and, particularly,  advertisers.
Let's not forget that there are 100 million iPads globally, not to mention other up-and-coming tablets from other companies
Advertisers favor having their ads appear on iPads over any other device, and they are willing to pay for it.
The iPad has surpassed the iPhone in popularity
And, rest assured that after Lois Lane appears on the big screen with her iPad, the tablet will probably soar in popularity as high as the man in the blue cape himself.
Of related interest:
Great Scott! Clark Kent quits the Daily Planet!
http://articles.nydailynews.com/2012-10-22/news/34660089_1_clark-kent-superman-perry-white
The Onion (satire): Economically Healthy 'Daily Planet' Now Most Unrealistic Part Of Superman Universe
http://www.theonion.com/articles/economically-healthy-daily-planet-now-most-unreali,28718/
Watch the trailer for Man of Steel
Of special interest today:

Why Vine's Going to Grow Into Something Huge
http://www.wired.com/gadgetlab/2013/02/why-vines-going-to-grow-into-something-really-huge/
First paragraph:
The very best things we make are the things that allow us to make even better things: tools that create connections and empower creativity. The latest of these is Vine, Twitter's remarkable new video sharing app.
Where's Mario until March 2, 2013?

Mario's upcoming speaking engagements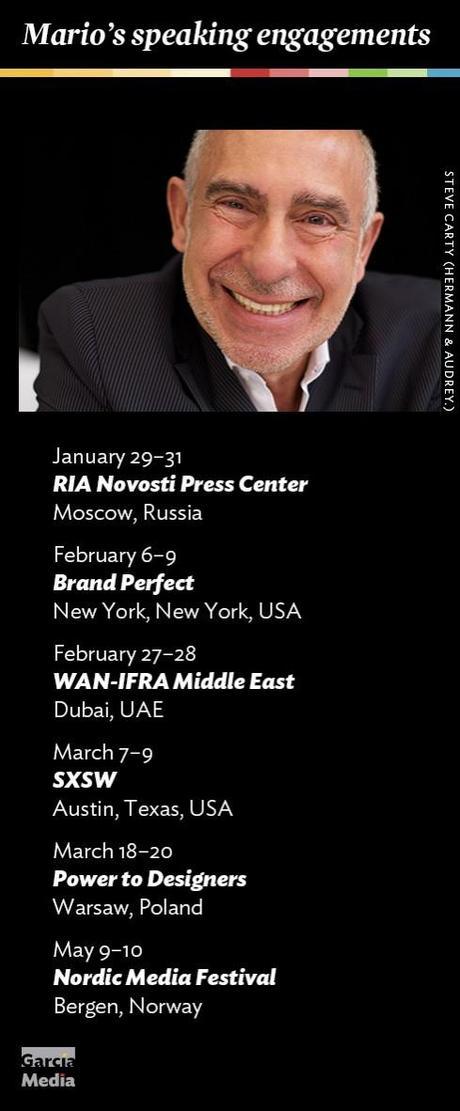 Take advantage of our iPad Design/Ad Lab workshops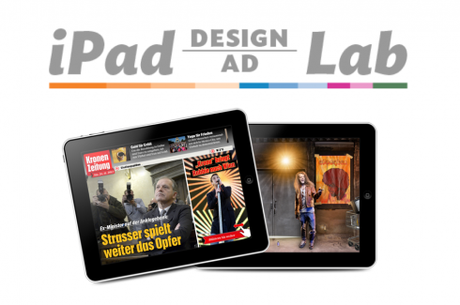 Do you want to take your brand to the next level by creating a tablet edition? Garcia Media can help. We now offer one- to two-day iPad Design Lab workshops on demand to jumpstart your presence on this exciting new platform. We also offer iPad Ad Lab workshops to develop engaging advertising models for your app. Contact us for more information.

Purchase the book on the iBookstore
iPad Design Lab has been given the
QED

 Seal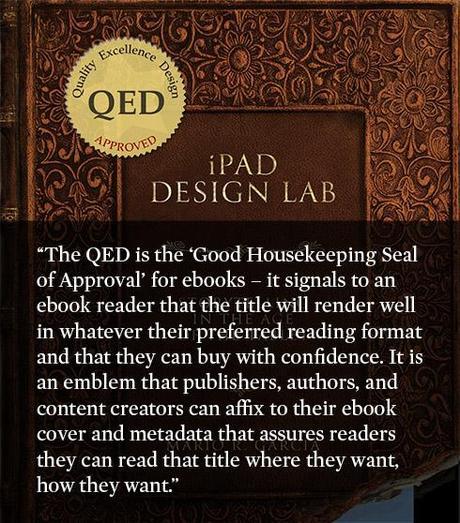 The QED (Quality–Excellence–Design) Seal is bestowed by the judges of the Publishing Innovation Awards after "a thorough, professional 13-point design review with an eye towards readability across multiple devices and in multiple formats."
Learn more about the QED Seal here.
The
EPUB

version of book is

HERE

:

Now available: The EPUB version of  iPad Design Lab: Storytelling in the Age of the Tablet, ready for download via Amazon.com for Kindle:
Here is how you can get iPad Design Lab book:
The original version of the book is the multitouch textbook version available on the iBookstore for iPad (iOS 5.0 and up): 
https://itunes.apple.com/book/ipad-design-lab/id565672822
This version includes video walkthroughs, audio introductions to each chapter, swipeable slideshows, a glossary and a sophisticated look and feel.
Apple only sells multitouch textbooks in certain countries at this time, unfortunately. Copies are available in at least the following countries: Australia, Austria, Belgium, Canada, Finland, France, Germany, Great Britain, Greece, Italy, Latvia, Luxembourg, The Netherlands, Poland, Portugal, Romania, Slovakia, Spain, and the United States.
For those in other countries and without an iPad, we have made the book available in a basic edition for other platforms. This basic edition includes the full text of the original, along with the images and captions, but lacks the other features such as audio and video. It is available on the following platforms in many countries:
Amazon Kindle: 
http://amzn.to/SlPzjZ
Google Books: 
http://bit.ly/TYKcew
Take a video tour of iPad Design Lab
"iPad Design Lab" trailer on Vimeo.
Read the Society of Publication Designers' review of The iPad Design Lab here:
http://www.spd.org/2012/10/must-read-ipad-design-lab.php

Keep up with Mario Garcia Jr.. via Garcia Interactive: helping transform online news since 1995.
http://www.garciainteractive.com
TheMarioBlog post #1188