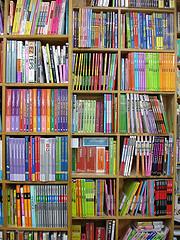 Image by Jens-Olaf via Flickr
Have you decided to learn language in a foreign destination? When it comes to language learning, nothing beats the maximized result of immersion. And since this is English language, we won't give you options that are sub-standard or could only give you limited results with your English language learning. When we think of excellent English language learning, we always give learners like you the options to take English courses in Miami, the most suitable destination for excellent English language learning.
Our school in Miami is proven and tested to provide exceptional language courses that don't just provide you with the necessary knowledge in terms of English learning but it is also intended to maximize your potential in terms of communicative and social skills.
We actually have lots of courses you can choose from: Cambridge Examination Courses, Individual Courses, Individual Courses, American Work Experience, Business English Courses, TOEFL (Test of English as a Foreign Language) Preparation and Exam, and so many more! But this time, we will be emphasizing the most "intensifying" English course available in Miami: the Intensive English course.
Our Intensive English learning program specifically starts every Monday, given 20 hours every week which lasts to 36 weeks throughout the learning process. The program is intended to give learners all the skills they need to master the English language. Our language school makes sure that practical communication and the four major skills (listening, speaking, reading and writing) in the English language are integrated into class activities.
Compared to other English courses available in Miami, the Intensive course is honestly more concentrated. If you are looking for maximized results in a shorter period of time, take this kind of course.  Usually, our course starts the class with a homework review and grammar structures; followed by grammar analysis and practice. There will be short break then proceeds to expansion work and conversation and pronunciation. If you want, you may also avail our optional classes on private lessons, private business English or TOEFL or TOEIC preparation, and conversation classes.
DO you want to know more details concerning our English Courses in Miami? Feel free to browse our page more and contact us. Mind you, you will never regret taking the best option to learn English since you will be learning it in the most recommended learning center in the United States.