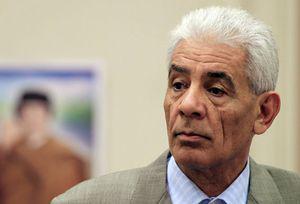 "Moussa Koussa, the former Foreign Minister."
Messages found in his office show how MI6 gave details of dissident exiles to Gaddafi – and how the CIA used regime for rendition
By Portia Walker and Kim Sengupta in Tripoli
The Independent Online
Saturday, 3 September 2011
Secret files have been unearthed by The Independent in Tripoli that reveal the astonishingly close links that existed between British and American governments and Muammar Gaddafi.
The documents chart how prisoners were offered to the Libyans for brutal interrogation by the Tripoli regime under the highly controversial "rendition" programme, and also how details of exiled opponents of the Libyan dictator in the UK were passed on to the regime by MI6.
The papers show that British officials actually helped write a draft speech for Colonel Gaddafi while he was trying to rehabilitate his regime from the pariah status to which it had sunk following its support for terrorist movements. Further documents disclose how, at the same time, the US and UK acted on behalf of Libya in conducting negotiations with the International Atomic Energy Agency. [source INDEPENDENT]
I mean, "What on earth are we seeing here?"