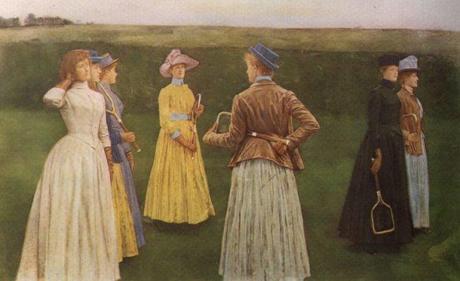 How should one assess the best ways to ensure survival for your tennis style in an age of perpetual revolution? What exactly is the tipping point between a piercing eye and intense manual dexterity? When does one try to hold on to the values that gave meaning to one's upbringing, ans when is it best to just let it all go? When does moral commitment to your moody genius trump the ambitions of a personal career?
Such questions do not always have self-evident answers, and especially not in the case of Miloslav Mečíř, who came of age in a period when revolutions of many different kinds swept their turbulent way throughout the 1980s—discussions about nuclear proliferation in Central Europe [1], barbed wire and ceasefire sprouting in the streets, and the odd rustle of the Perestroika, liberating an empire from a perception of propaganda and surveillance. During that decade, increasingly muscular conceptions of ground-strokes and the most personal, idiosyncratic styles alternated and overlapped in tennis, sometimes combining with a renewed awareness of the different surfaces of the game, at others invoking the claims of various foreign powers for special treatment and territorial control. (Take the protracted dominance of the Swedes at Wimbledon, or the flourishing of a flower-and-bird French style evident in players such as Henri Leconte and Yannick Noah.) The Czechs were confronted by a sea change of options, ranging from the vigorous, imperial brushstrokes of Ivan Lendl to Mečíř's patient calligraphy, as from militarism to republican experiments in governments; the waves of a progressive tactical occupation of the field flickered between elitist single-hand control from right and left and the self-induced chaos of tennis genius.
Even in his early Czech years, Lendl inspired trust and awe effortlessly, blending the native pointiness of his features with a Oklahoman's openness; his style was rhythmic, unfaltering, often grueling, affirmative, suggesting, perhaps, with a raised eyebrow, a physical link to something permanent: the shell of a big stone house, traceable ties to family memory. After he switched to the U.S., Lendl continued to carve on commission, always in an extraordinarily demanding art form, and he became a master of colossal tennis landscapes.
By contrast, Mečíř is one of finest repositories, in tennis, of apocryphal stories. The feline movements for which he is justly famed have not eroded, but it is the overall temperament to produce a magically cathartic effect; he would either cloak his choices, protecting them behind the screen of an imaginary confessional, or else tumble forth, thriving on angles like Ockham's razor, as if induced by a hidden trauma, a sudden burning need for redemption. Like his playing, Mečíř's beard was perennially the product of compass and scalpel, the sickly smudging of yellow charcoals: even shaved, he possessed the pale halo of a Georgian icon, the saint's body ascending intact to heaven, while his Levantine predilection for concealment offered a thinner version of the eccentric, Anglo-Egyptian Arthur Simpson portrayed by Peter Ustinov as a muted acrobat of hustling.
Mečíř the artist, who retired very young and probably never looked better than he did in 1988, when he challenged for a Wimbledon title by defeating Mats Wilander in a quarter-final (and was eventually beaten by Edberg despite a two-set advantage, in what is a crucial juncture in Edberg's serve-and-volley ascent to the world crown) and won the Gold Medal in the Seoul Olympics, provides us with a range of entry points into the tennis of his time, many of which have been only partially explored. Even the notion of an extreme unpredictability, though certainly broad, still does not quite catch the full richness and ambiguity of the materials presented by the game in those years. Cumulatively, details of Mečíř's hopes and experiences amount to a puzzling variety of perspectives through which one can explore themes of indolence and hypochondria in the sporting life, and access an unusual life in a time of opportunity and change.
_____________________________________________________________________________________________________________________________________________________________________________________________________________________________________________________________________________________________________
_____________________________________________________________________________________________________________________________________________________________________________________________________________________________________________________________________________________________________
Mečíř was born in Bojnice during the waning years of the wooden racket—the rise of graphite equipment in a Grand Slam tournament being only fractionally inferior to Calvin Klein's apparel in fashion—to a prosperous national community of tennis players: in the 1986 U.S. Open, Czechoslovakia could boast four players competing in the two singles finals for men and women, Mečíř and Lendl (who won in straight sets), as well as Helena Suková and the legendary Martina Navrátilová. News of Miloslav's unusual skills spread quickly, yet at every step he appeared like some talented schoolboy who already has a character of his own and is effectively preparing himself for a teaching career [2], or somebody who selected the English language as his major field, but soon switched to majoring in art. Those who immerse at any length in Mečíř's tennis grow fascinated by a tactile design similar to that used in the decoration of fine porcelain, or stimulated in drawing and carving—demonstrating the exquisite ways in which Miloslav covers an area of a few square inches with the precision of an apprentice in a ceramics shop and the fastidiousness of an umbrella mender.
This last observation, and its reference to artisanal knowledge, leads me in turn to imagine Mečíř's elusive career as a partially typeset manual of Chinese calligraphy from the late 1920s that somehow survived the heavy Japanese bombing and shelling of Shanghai—in a period where the city's industries are brought to a halt by massive strikes and Mao's troops are setting a new revolutionary base in the mountainous countryside around Hankou, patiently waiting to counter-attack.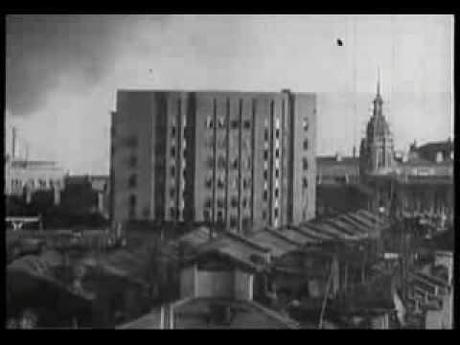 Shanghai in the 1920s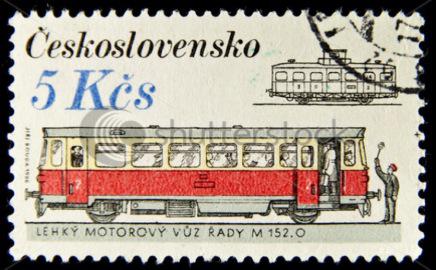 Czech Tram, Stamp from the 1980s
Like everything about Mečíř, the historical analogy is engrossing and quite suggestive: how much of Czechoslovakia, after all, transpires through China's darkest events, when you consider the energy spent to crush dissidence, to prohibit modes of expression not sanctioned by the authority? Yet the result is not satisfactory.
One is better advised, I suppose, to draw a parallel between Mečíř's supernatural casualness on the tennis court and Björn Borg's calm demeanor, his celebrated grace under pressure [3]. That both Borg and Mečíř used a double-handed backhand, still rare at that time, is an obvious point in common; but concordances only go so far. If Borg employed a topspin technique virtually at every shot—for the first time in the game—as if to feel the slippery nature of the match, come rain or come shine, Mečíř tried instead to flatten the impact of each ball to gain a better tempo of execution. While Borg, moreover, served-and-volleyed his best adversaries on first serves and, for the rest, was content to settle into his powerful ground-strokes like a blonde Atlas who had found his room in the Vatican Museum, Mečíř had an overall troublesome relationship with the baseline. His foot-work was stellar, allowing him to be amazingly quick, but he was vulnerable when attacked with direct shots at his body [4], and was at times caught several feet behind the baseline, unable to catch a drop-shot.
(This is something that Yannick Noah successfully exploited in the beautiful 1989 final of the Indian Wells: the Frenchman lost to Mečíř, like many before him, at the fifth set, but won dozens of individual, strenuous points by altering the pattern of his game; when fully fit, Noah was always, among the last great players, one you could trust for combining a straightforward, aggressive style with remarkable nuances, and not just the Machiavellian use of power that was typical of Boris Becker.)
To appreciate the extent of Mečíř's eccentricities, one step removed from being downright prophetic, it would be enough to consider that at the time of his shadowy prominence, by the mid-1980s, there were two major interpretations of the game fighting for ultimate success in tennis: roughly, as in architecture, the line and the circle—the ideal of relentless regularity embodied by Borg and Lendl, and the mythical aspiration of a return to the glorious past of eclectic players such as Rod Laver and Arthur Ashe, who made a name for themselves by mixing up their shots. And yet, given this landscape, for reasons that are as foggy as the memory of history, Mečíř was not in recognizable pursuit of either trend. His defiance was outlandish. His thorny tennis stood in splendid isolation, like the Byzantinoid monastery of Bačkovo, a Bulgarian site a full day trip from Sofia to Plovdiv which overlays a local taste for the balaustrade and the miniature with the foreign habit of the mosaic, by merging them into a navy-blue Orientalism.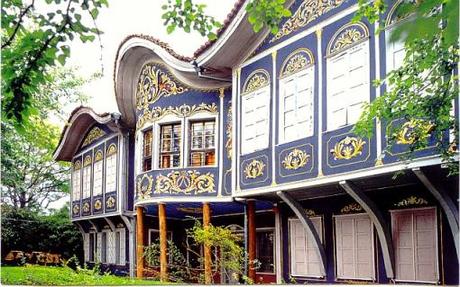 Marcelle Detienne's intuition of a 'cunning intelligence' in Greek thought—conspicuous in Odysseus, who adapts himself to the enemy like an octopus to better drain and undermine his energy—is a useful anthropological tool to understand how playing against Mečíř became, in a few years, an absolute nightmare for tennis top players. They knew that they would look bad (it's hard to think how it was possibile to cope with such utter frustration then, while today's leaders only need a minimal variation from the game-plan to plunge themselves into sarcasm and disgust); they also knew that if they could not bully skinny Miloslav into a physical breaking point, they would inevitably fall into his slow trap, a lullaby of deceitful exchanges hiding the final blades, sharp as the multi-colored stripes of his signature Reebok shirt, ferocious as the Armenians hired by Emperor Comnenus, and every bit as jeweled and gessoed as the algorithms of the Bačkovo muralists.
Having established his professional residency in Prague, Mečíř also demands to be understood as a product of the Cold War—a world where paranoia accumulates and sticks to each day like shaving foam, and the crrkk! of every step works both as a loudspeaker and a listening device, amplifying the spectrum of noise like the character of Terence's Eunuch who confesses (1.2.105): "Plenus rimarum sum, huc et illuc perfluo" [I'm full of cracks, I leak all over].
For Mečíř is embedded in local history like fillet in horseradish sauce; and the Czechs, I am sure, could read into his perplexing geometry the single stroke of the knife that cuts a carp at the tendons, dispatching the shrieking head, still alive, into a plastic tank, rivulets of blood to the gutter, and a cascade of guts and ice cubes to the street's damp cobblestones. It's one thing to admit that the Mečíř moment in tennis is equivalent to the dark and bitter poetry of Ovid, once he was exiled to the Black Sea—and make up the nexus between creativity and regional enforcement, like a dove escaping in flight from the rib cage of a dead carcass; it's quite another to inquire why a forehand in tennis, especially in the preliminaries of a point, which Mečíř liked to sedate almost to a standstill, had never looked so shy and becalmed before.
As the door handle is the handshake of a building in many Mitteleuropean novels and stories [5], so too Mečíř's forehand is a tactile ingredient concealed in vision. Often arching on the top, it could be inviting and courteous, or forbidding and aggressive, like the hand of a bronze Buddhist goddess. Everything in Miloslav's playing betrays an intimate contact with the body—the body knows and remembers.
To put it in terms of architectural experience, Mečíř was always an archaic farmer, seeking not to move (and, seemingly, not moving at all), but he wanted his adversary to work as hard as a primordial hunter. In the Slovak tradition of making a living as a response to traits passed down from generation to generation, tennis skills are learned through incorporating the sequence of movements refined by habit, not through theory or tactical drills. Mečíř's craft, in this light, presents kinship with that of the mason or the stone cutter, and especially his forehand always appeared to be based on the wisdom of the body stored in the haptic memory.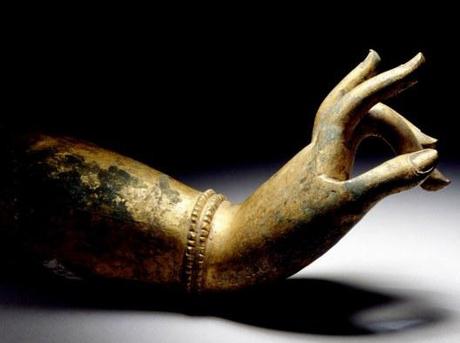 Buddhist Hand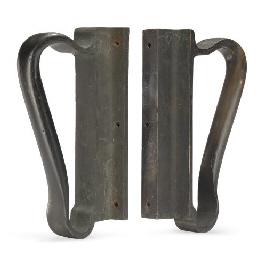 Door Handles, Alvar Aalto
There is a strong identity between Mečíř and the sensation of home; as in a daydream, Miloslav's tennis is a cradle (and this might explain, perhaps, why he is so comfortable with curling up a ball). Marcel Proust gave us a wonderful description of this shape of touch at Combray, an image of homecoming as perceived, through muscle and bone, by the skin: "It is like an immaterial alcove, a warm cave carved into the room itself, a zone of hot weather with floating boundaries".
If one considers the way in which Mečíř wrapped up his first victorious set against Stefan Edberg in the 1988 semi-final at Wimbledon—when he broke Stefan's serve entirely on surgical first-responses, and then proceeded to seal his advantage on the net by mastering a savage left-hand volley—there was hardly any mystery, any agonistic frenzy. The different styles of Edberg and Mečíř are particularly useful to construct a dichotomy in the relationship between their tennis and the sensorium. Edberg's elegant game was permeated by doubt, and a hunger of the eyes: a notion underlying his all-embracing impulse for serve-and-volley; but Mečíř, like a John Ruskin in Venice, wanted to eat up the space on the court touch by touch, never loosing connection with the primacy of the tactile: crossing a double-handed shot like the snow caps a landscape at dusk, and walking ever so slowly after a point as though gently warming his frozen limbs.
_____________________________________________________________________________________________________________________________________________________________________________________________________________________________________________________________________________________________________
_____________________________________________________________________________________________________________________________________________________________________________________________________________________________________________________________________________________________________
On several occasions, hurry has pleaded as an excuse for the imperfection of a tennis player. What gives Mečíř a peculiar undertone of hypochondria is that, in his cast of mind, the issue would always be of a hurry of spirits, never of rapid agitation of the flesh. At times our mind would agreeably brace, in anticipation, the champion's sight, but then the exhibition would turn out to be something of a letdown, either for excessive arrogance, exhaustion, or gloomy distemper. Sometimes, watching Miloslav on the court, you would find the pages of your notebook filled with notes; sometimes not, you would only have a few remarks on disparate subjects. Be what they may, Mečíř has never failed for not undertaking, but rather for undertaking nothing determinate for too long, which is typical of those who decide to write essays. Hypochondriac and essayist—a considerably Shakespearean disposition. Indeed, Hamletian.
A Mečíř game was always a tell-tale of a very singular kind. The old-fashioned players had a vivacity of deception that used to be tricky yet earnest; compared to these examples, Miloslav is whimsically modern, not so much because he could not perform an obsolete gamble down the court, as though drumming his fingers on the table, or because he could not execute a shrug well-timed, but rather because it was a lot harder to determine whether he was to be admired for his resolution in not mentioning or his ingenuity in disclosing a tennis figure.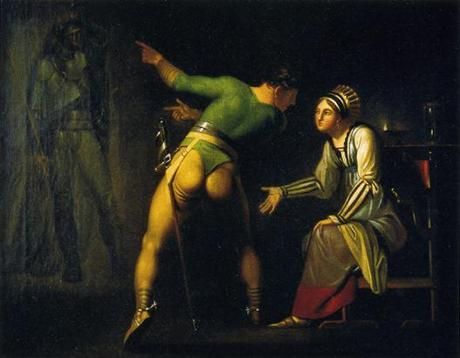 Hamlet and His Mom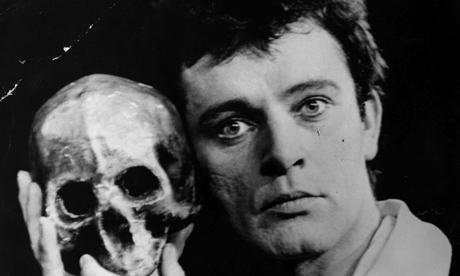 Richard Burton and the Skull
Mečíř's movements were a punctuation of promises: engaging, insinuating and mono-syllabic. Having some sense of his duty as a brilliant player, he hesitated a little at the breach of a point. And he was also excellent at a "doubtful phrase," as Hamlet calls it, or an "ambiguous giving out." One of of Shakespeare's readers would have thought that his conversation consisted chiefly of broken innuendos, as
Well, I know—or, I could—and if I would— // Or, if I list to speak—or, there be, and if there might. . . (Hamlet, 1,5, 176-80).
With the sole encouragement of self-muttering, the spectators were left to draw proper inferences from these piece-meal premises of a game, and then a torrent of secret history would rush forward and feel overwhelming, as if heightened from national and cultural consciousness, in the way Slovak forces alternatively resisted and crumbled under the destructive assaults of the past century [6].
His temporary dejection would make Mečíř's faculties seem quite feeble. But, thanks to his corrosive imagination, he would elevate himself from the woe of melancholy, and then his game would be, again, a livid, glaring, sudden rush to strokes of genius—darting like objects seen in short intervals aside flame and smoke.
I find this disposition or inclination overall typical of hypochondria. I sometimes imagine Mečíř regretting his having ever attempted distinction and excellence in tennis in any way, because the effect of his former exertions now serves only to make his remoteness more vexing to him. According to James Boswell, a Scottish writer who lost his health to venereal disease and excessive drinking during the twilight of the eighteenth-century in London, there is a cloud in the hypochondriac,
as far as he can perceive, and he supposes it will be charged with thicker vapour, the longer it continues. He is distracted between indolence and shame. Every kind of labour is irksome to him. Yet he has not resolution to cease from his accustomed tasks. Though he reasons within himself that contempt is nothing, the habitual current of his feelings obliges him to shun being despised [7].
Had Mečíř seen anything great or agreeable in the situation of other players, it would not have been out of sympathy for him to try and partake of their enjoyment. Cheerful or fallacious in its apprehension, the world is one undistinguished wild.
It is a circumstance of peculiar regret that what we might call the 'Yorick momentum' or the 'skull style' in Shakespeare's Hamlet, jarring and unease as it is, should often be the propensity of delicate and amiable minds such as Miloslav Mečíř, while tennis players more unfeeling and unsusceptible have seldom disappointed, and commonly followed the beaten track with activity and resolution. And yet Mečíř's playing is so seducing—its evils unfelt, and its errors unrepentant. It is from his use, not the possession of talents, that we get on in the game; those who have attained such improvements in style, as Miloslav has, vastly outweigh the indecision of even the brightest circumstances. Time in tennis is a processional figure: it heals as it slows its flow. Mečíř the Big Cat [8] is perennially 'detained', he makes us aware of our petrified solitude, like the Great Peristyle at Karnak.
When Mečíř's back cracked and forced him to retire in 1990, as if in self-admonition or in admission of lawful indolence, the hurry of business, the want of health prevented Miloslav from answering the plea of absolute greatness he had elicited among his followers. The guardians of tennis artistic traditions—among whom Mečíř himself could now be seen as a senior member—were working and living on the margins of survival. Muscular aesthetic categories dominated most of the game's records, and to unsympathetic observers Mečíř's calligraphy, while capable of spectacular solutions, was considered static and outmoded, in need of being dropped from the class rosters in name of one of those 'curriculum adjustments' that simply made modern tennis a discipline antithetical to individualism, if not conservative and stagnant in its current form.
Never the scholar-bureaucrat but deeply embedded in the history of Central Europa, as I have been arguing here, Miloslav Mečíř remained unscathed, as far as we can tell. Like in a Carpathian mole digging under the surface of a fairy tale, he struggled to survive through a dark and sundered landscape of ponds and marshes, across prickly acacias, and the shallow edges of the Prague Castle. Mečíř's tennis conjured up tempestuous visions and some of his battle scrolls are stupendous—his racket offering washes of enigmatic orange and red. ♦
_____________________________________________________________________________________________________________________________________________________________________________________________________________________________________________________________________________________________________
Notes.
_____________________________________________________________________________________________________________________________________________________________________________________________________________________________________________________________________________________________________
[1] On the one hand stood the so-called 'porcupine theory', which suggested that a state with a modest nuclear weapons arsenal possesses the capability to "walk like a porcupine through the forest of international affairs: no threats to its neighbors, too prickly for predators to swallow;" on the other end of the spectrum was the Rapacki Plan, a rejected 1957 proposal by the Polish foreign minister to denuclearize Poland, Czechoslovakia, East Germany and West Germany.
[2] He is now the Slovak Davis Cup captain.
[3] Since it almost appeared that, at some point, the big Swede had struck a Faustian bargain to transform into automaton, the creators of Star Trek: The Next Generation adopted his name, Borg, to characterize a race of remorseless, unyielding half-humanoid/half-machines, which is great idea, especially because it implicitly wraps John McEnroe, Borg's rival in top-level tennis and a notoriously neurotic New Yorker, with the mystique of the melancholic champion of humanity.
[4] This is, more or less, how Lendl was able to demolish Mečíř in 1989 with a triple 6-2, in the Australian Open final in Melbourne; after the match, Lendl acknowledged to the crowd his tactics to hit deep and central shots. Judging from the way the icy Ivan took big swings against his fellow national, for example during the 1987 final of the Lipton Championships in Key Biscayne (won by Mečíř), there was little love lost between the two players.
[5] The phrase about the door knob is Juhani Pallasmaa's, from his The Eyes of the Skin. Architecture and the Senses (Chichester: Wiley, 2005), p. 58, and it is an observation which I am currently developing, among other suggestions, into a new reading of a novella by Stefan Zweig.
[6] I have often wandered if Mečíř, under modified historic circumstances, would have been forced into an act of 'self-criticism', or if his dark style ever suffered the accusation of anti-proletarian pessimism.
[7] I am citing from Dennis Gigante's anthology, The Great Age of the English Essay (New Haven and London: Yale University Press, 2008), p. 212.
[8] This nickname is one of the witty neologisms of Italian sports writer Gianni Clerici, who more recently cautioned against the prominence of the 'blacksmiths of topspin' in tennis; the French commentators, not to be undone by their cousins beyond the Alps, preferred to call Mečíř the Conjurer. This last image, however, fails to capture his shady forgetfulness, which almost recalls the idle hours of Epicurean philosophy.