For a taste of Italian culture this coming May, neon suggest a visit to The House of Peroni, a month long celebration of the best Italian contemporary fashion, art and design.
As you can see from the dining table pictured below the space will feature some stunning Italian design having been designed by co-designer of the Enzo Ferrari Museum, Andrea Morgante. Inspiration for the space is 1963 a transformative year when Italian style became renowned across the world and the year that Carlo Peroni created Peroni Nastro Azzurro the beer which has become so popular in the UK today.
The House will feature three bars plus a large terrace bar and top floor restaurant which overlooks Lincoln's Inn Fields, the largest public square in London.
While open there will be something for visitors every evening while over the weekends there will be a selection of paid for events which include a food and cocktail pairing class, an Italian brunch club, a gentlemen's grooming and cocktail evening, Coffee tasting with Lavazza, outdoor food events and live DJ's.
The food on offer will be great, neon can vouch for the excellent Bottega Wapping who are providing in house chefs and recreating Italian classics for the main restaurant.
House of Peroni Scarf Masterclass: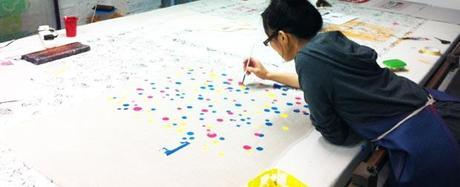 House of Peroni Dining Table: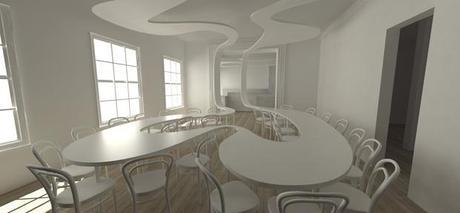 House of Peroni Lamb Dish: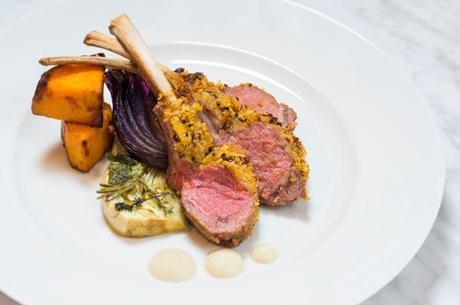 Visitor Details:
The House of Peroni runs from the 2nd to 31st of May 2014.
Guests are welcome to meet friends, relax and enjoy the drinks and food menu at The House of Peroni from 12 noon until 11pm, Monday to Saturday.
Event Schedule:
Tickets available here
Dining in Multicolour **Recommended** – 3rd, 10th, 17th, 24th May
Inspired by the explosion in color photography of 1963 – the year Polaroid began manufacturing color film – this unique dining experience is a sensory extravaganza of stimulating flavor and color. The entire room, right down to the cutlery, will be a dizzying rainbow of multicolour and will form the backdrop to an equally colourful feast prepared by The House of Peroni's resident chefs Bottega Wapping, whose inspiration for the menu derives from the Red Green Blue model of color used in photography and electronic systems.
The Art of Gelato – 4th, 12th, 19th, 25th May
Discover the surprising history of Italian dessert, Gelato, in this artisan-led masterclass. From the ancient sorbettiera to the latest machine technology, the makers of GINO Gelato will teach you all there is to know about the famed frozen dessert. Put your newly learned skills to work as you create some of your own and take the chance to taste innovative flavours including Olive Oil & Parmesan, and Tiramisu.
Italian Brunch Club **Recommended** – 10th, 17th, 24th, 31th May
Enjoy a leisurely brunch at The House of Peroni on Saturdays. Taste classic Italian dishes reworked with a modern twist, such as the Uova alla Napoletana or traditional baked eggs cooked with ham, stracchino, spring onions and paprika, while sipping a selection of innovative Peroni Nastro Azzurro infused drinks. While you relax with friends, you'll be entertained by a hand-picked selection of live bands and DJs.
Alfresco Feast & Italo-beats – 2nd, 9th, 16th, 23rd, 30th May
Experience premium Italian street food vendors combining the best of fine dining with a laid-back street food approach on the beautiful terrace at The House of Peroni in associated with Urban Food Fest. A selection of DJs will provide backdrop of remixed classic Italian beats. Don't miss your chance to try dishes such as nettle gnocchi with blue cheese sauce and osso buco or braised veal shank richly seasoned in herbs.
Modern Vintage: Create Your Own Silk Scarf – 6th, 13th, 20th, 27th May
Inspired by the timeless chic of Sophia Loren, this design masterclass looks back at the history of the Italian printed silk scarf, the designers that popularised it, and the women that made them iconic culminating in guests creating their own 100% silk crepe de chine scarf with a bespoke design.
Mixology Masterclass: Balancing Tastes **Recommended** – 8th, 15th 22nd, 29th May
Federico Riezzo, resident mixologist at The House of Peroni in May, will be hosting an exciting new Masterclass engaging guests in the art of pairing a selection of cocktails with food. Riezzo will demonstrate how to perfectly balance flavours, taking into account flavor profiles, and deconstruct tastes to create the perfect food match. Guests will enjoy a selection of The House of Peroni's Aperitivo menu and learn how to create drinks that enhance and compliment the food perfectly.
Become an Italian Barista – 3rd, 10th, 12th, 19th May
The House of Peroni, in association with Lavazza, will deliver this authentic Italian coffee experience where guests will learn the origins of coffee and enjoy a tasting session with different beans and blends covering all the classics from velvety cappuccinos to intense espressos.
Il Barbiere: Luxury Italian Barbershop **Recommended** – 7th, 14th, 21st, 28th May
Sicilian Master Barber, Carmelo Guastello, formerly the resident barber at Dolce & Gabana's flagship store, hosts an evening of masculine grooming at The House of Peroni. Carmelo will be offering male guests a selection of luxury shaves and hot towel treatments that they can enjoy while sipping a Peroni Nastro Azzurro and listening to tunes from the effortlessly cool DJ Raisa. The House's mixologist Federico Riezzo will also be hosting a cocktail clinic, showing guests hints and tips for creating contemporary concoctions