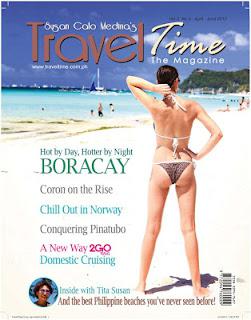 Travel Time producer and host Susan Calo Medina continues to take travelers around the Philippines with the sixth issue of Susan Calo Medina's Travel Time, The Magazine.
The summer issue carries the theme, "The Heat is On!" and is packed with the magazine's signature stunning visuals of beautiful sights and local people, and well-written articles on ideal summer destinations, exciting activities and useful tips.
What's a summer issue without Boracay? Celina Cruz goes beyond the usual feature on what to see and do and Boracay, and takes us instead to the dusk-till-dawn party scene and shows us how Boracay is hot by day, but even hotter by night.
For a more serene escape, there's breathtaking Palawan. Gibbs Cadiz sees Coron on the rise and shares how he is captivated by the Philippines' last frontier.
Ricky Lopez and Lala Dimaano discover the joys of domestic cruising as they travel to Boracay and Cebu onboard 2GO Travel vessels.
And can we forget Bohol? Tita Susan shares the story of the Bohol she knows--how it was then and how it is now--and how she is still in love with it!
The magazine also features Intramuros as a heritage town by architect Augusto Villalon, summer health tips by Dr. Jaime Galvez-Tan, a tour of Rizal province on a budget, summer camps for kids, the marine wonders of the Verde Island Passage by diver Yvette Lee, astrological tips by Walter Ang, a trek to Mt. Pinatubo, a Kapitolyo food walk, and a whole lot more.
With 124 pages packed with travel stories and photos, Susan Calo Medina's Travel Time, The Magazine gives you all the summer getaway options you need.
The magazine retails for only P125. It is distributed by Emerald Headway Distributors, Inc. and is available in Powerbooks, Fully Booked, and National Bookstore and other leading bookstores and magazine kiosks nationwide.