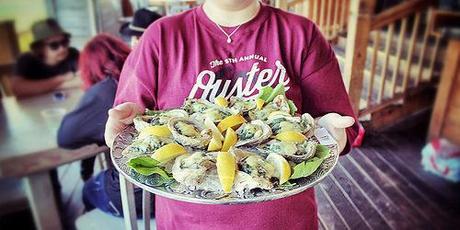 It is going to be a bigger and better affair for the Hangout Oyster Cook-off this year, a 3 day event to be exact!
In the past the annual Oyster Cook-off at The Hangout has been a one-day affair where some of the nation's most renowned chefs compete in a fun but spirited oyster-cooking contest. While the chefs are cooking, patrons stroll the spacious grounds of The Hangout sampling oysters, beverages, and enjoying a fall day at the beach.
To commemorate the seventh anniversary of this popular event, organizers announced that they are expanding the contest to three days, Nov. 7-9. The festivities kick off on Friday, Nov. 7 with the Oyster Cook-off Craft Beer Festival presented by AL.com. The event is sponsored by Alabama Seafood among others you can see here.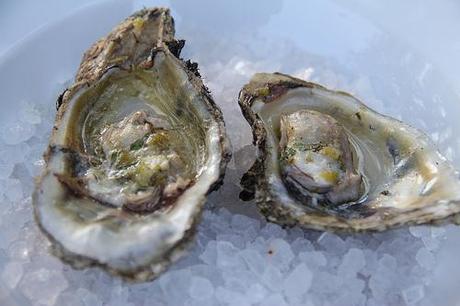 Champagne Oysters Baren-Mignonette
More than 60 beers from more than 25 breweries will be featured at this tasting that begins at 6 p.m. at The Hangout. Tickets for this tasting are $25 and are available at hangoutcookoff.com.
The fun continues on Saturday with the cook-off where more than 50 chefs will compete in three categories for the best oyster – Rockefeller, Cajun and Raw. A panel of judges will pick winners each category, with 30AEATS.com's Susan Benton once again being one of the lucky taste-testers!
Those in attendance will also get the chance to name their favorite in a people's choice award competition that is also sponsored by AL.com.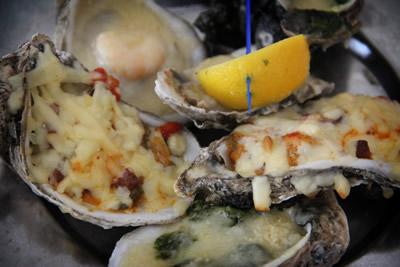 There will be a lot of cooking demonstrations, a fun Bloody Mary Invitational and more. Live music will also be a big part of the daylong festivities with a line up to be announced at a later time.
Admission to the cook-off is free. Tasting tickets will be available for purchase that will allow people to sample the oysters, beer, wine, moonshine and champagne.
Wake up Sunday morning to a festive Sunday brunch and bloody mary's at The Hangout. Tickets for the brunch are $25 and $10 for kids 12 and under.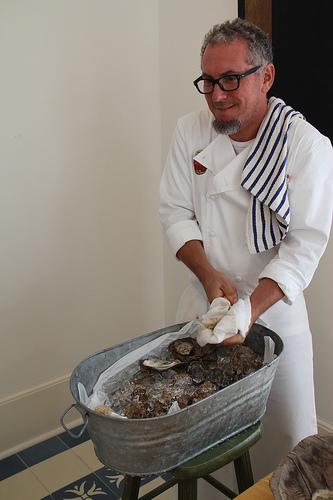 Chef Scwartz Shucking Oysters for 30AEats.com
The program administrator for the Alabama Seafood Marketing Commission, Chris Blakenship, which is once again title sponsor for the cook-off, said, "We are once again proud to partner with The Hangout for this fantastic and anticipated fall event.We invite everyone to come down to the beach and enjoy the region's best and brightest chefs while celebrating one of the Gulf coast's finest treasures, the oyster."
A host of well-known chefs will take part in the three-day oyster festival. They include Food Network star Martie Duncan from Birmingham and Eater's Chef of the year Tyler Williams,  as well as Ryan Prewitt from Peche Restaurant in New Orleans, who took home a James Beard award this year.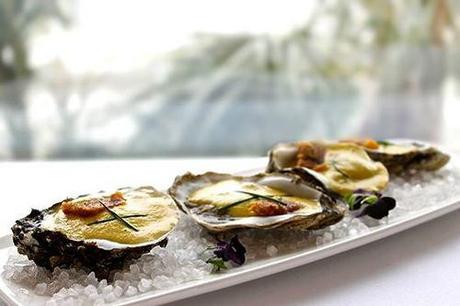 Oysters Camille at Voyagers, Orange Beach
Competing chefs will be vying for $20,000 in prize monies, Hangout Music Festival tickets and a Big Green Egg grill.
For information on the cook-off, or to sign your chef team up while you still can (deadline October 13), visit their website at www.hangoutcookoff.com or email Susan Benton at info@30aeats.com. You can also follow their Facebook page here. 

Print