Anthony's Restaurant Rating:
81/100 X
Welcoming:9/10 Menu Choices: 9/10 Food Presentation: 8/10
Food Temperature: 8/10 Food Taste: 16/20 Service: 9/10
Ambiance/Music: 7/10 Architecture/Interior: 8/10 Air Quality: 7/10
Total: 81/100
Local hotspot The Hangout, located in the heart of Gemmayze, mixes the old with the new, the traditional with the modern -  all in a beautifully colorful and hip interior . The Hangout offers over 100 different Lebanese wines to be enjoyed with special authentic edibles like mouneh and other cultural delicacies as well as internationally diverse cuisine…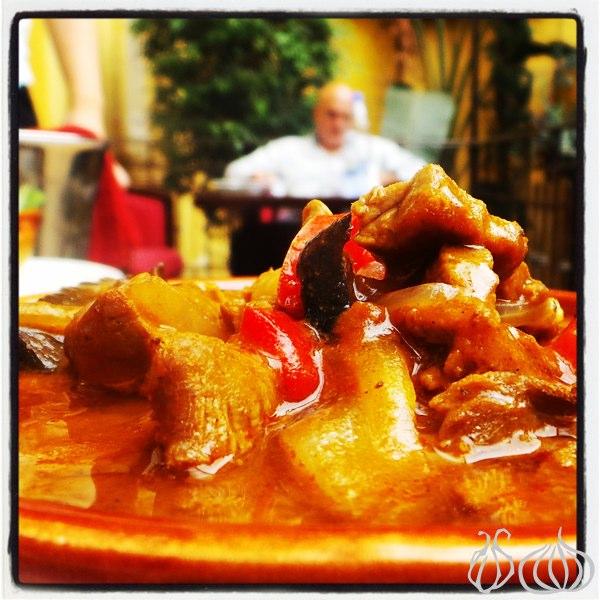 Before sitting down, take a tour around the different rooms colored with different hues like green, lilac or "griege," a mix between gray and beige. Each room has a certain feel – depending on your mood that day, so ask for your favorite corner to sit down. A lot of details to check out, like the salad bar display and the old Lebanese Lira framed picture on the wall among others… all add an interesting touch to the design. Don't forget to also check out the nicely decorated outdoor section at the back of the place.
I passed by for a second visit and checked on all the improvements. We sat outside, in the newly refurbished setup where a certain calm and serenity overpowers the place; and to the musical tunes of Beirut's chirping birds, we smoked our cigars and enjoyed Hangout's wine of the week.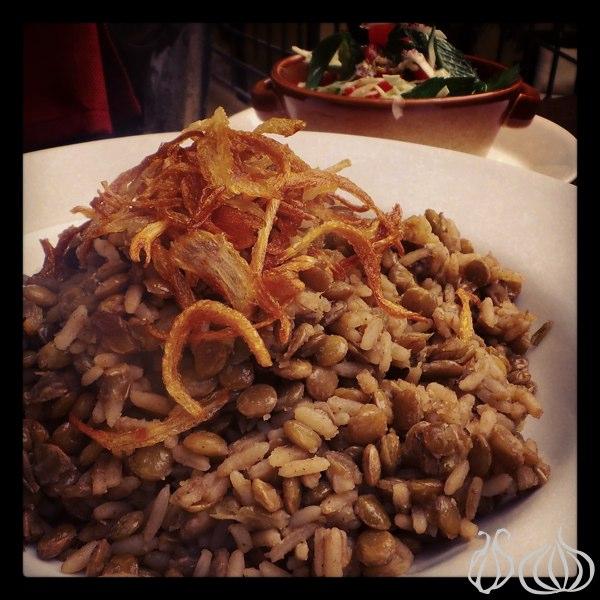 The architectural details:
A well preserved Lebanese house still has its charm and old details
Marble clear flooring reflects the shining colors from above
Red sofas in the middle room and other gray ones in the side corners are distributed around tables from different sizes
The room on the right is build on blue notes differentiating from the places style
On the left, orange walls make of the space more suitable for elderly people
Two imposing metallic chandeliers light the high ceilings
Another two red decorative structures, pending from the ceiling add a touch of modernism
The main signature item, is the round window giving a look at what the wine cellar is hiding
A cozy, homey and nicely decorated terrace for the smokers fits perfectly at the back
The menu sections:
Starters
Hangout Salads
Our Specialities
Hot Starters
Main Course
Pasta Corner
Gourmet Burgers and Sandwiches
From our Charcoal Grill
Sides and Sauces
Low Cal Menu
Desserts
We Ordered:
Camembert Sous la Cendre 21,000L.L

Le Tartare de Saumon 33,000L.L
Beauf Strogonoff Flambe a la Russe 30,000L.L
Le Burger Traditionel 19,000L.L
Salade de Quinoa 21,000L.L
Food started with Teta's selection (grand-ma's appetizer platter) from the village of Jebchit (Check out the village website): goat cheese Labneh and a wide choice of pickled vegetables: olives, cornichon, small eggplants, janerek (Green Plums) and fresh almonds. It is served with a home made full fat addictive butter. Accompanied with crunchy fresh premium French baguette from the famous Prunelle, its warmth just makes the butter melt before touching your lips.
Sitting on their relaxing individual sofas, food was served.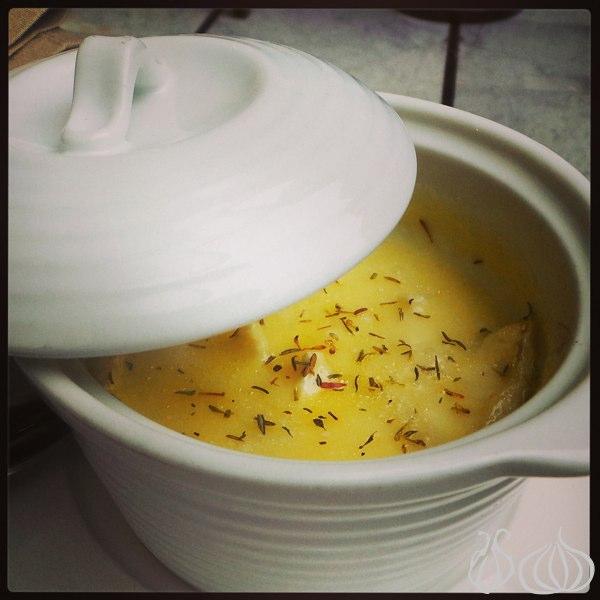 The wine tasted today: Oumsyat, Rose, Soupir, 2012
On their Facebook page, Salim Heleiwa passionately describes the wine:
It was evening. It had finally stopped raining after a gray week of winter in the middle of April. I longed for Spring, for softness, for a little sea breeze and gardens full of flowers… I wanted to be away.

I sat wondering how I could fulfill that desire or ease my yearning… Then a name inspired me: "Soupir d'Oumsiyat", a breath, a sensual emotion, a moment of music in an enchanting evening. The bottle was beautiful, the color splendid, the label just right: I had found what I was looking for!

The shrimps were fleshy and juicy, perfectly grilled, the side of ratatouille and the rice had a subtle perfume of Spring that matched both my mood and the wine!

The three grape varieties, Syrah, Grenache and Cinsault, glittered in the midst of it all, playing acidic and exotic notes: How amusing!
The food:
Camembert Sous la Cendre: An awesome creation. So simple. Take a complete Camembert cheese box and plunge it in the charcoal grill for 10 minutes. A melting pot emerges for you to dip in their crunchy bread to savor the love
Le Tartare de Saumon: It's good as much as it is simple: Capers, lemon, olive oil and parsley
Beauf Strogonoff Flambe a la Russe: This plate is just perfect: meat, red sauce, red peppers, onions, grilled mushrooms, lemon and flaming vodka accompanying a plate of white rice topped with sour cream. I can admit that they do it better than my grandmother's
Le Burger Traditionel: Sorry, but this is still a NO. A big NO
Salade de Quinoa: I am not a quinoa fan or wasn't until today. This salad of quinoa, tomatoes, and cucumbers is so delicious. I loved it
Lunch ended with the famous Robertinia chocolate cake. A plate I loved so much that I bought a complete cake to take back home with me. The exact required chocolate quantity without a feel of strong sweetness and an adequate melting dose
Chef Salah Zneit, who previously worked at Hotel Phoenicia Beirut, Fakhreddine London, Le Comptoir Libanais London, came back to Lebanon to Lebanon to handle Zabad Zaytunay Bay and is now handling the rich menu at The Hangout.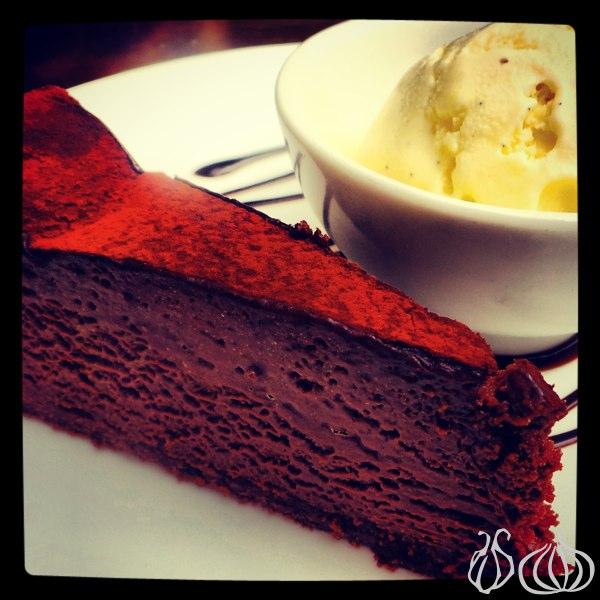 Do not leave without tasting the unique Afandello (The Lebanese version of the Limoncello). It's a must!
The pluses:
The service is still perfect

The staff is always smiling, professional and welcoming
The Plat du Jour is very tasty
Their cutlery and white plates are so nice and pleasant to eat with
The improvement is clear
The minuses:
The burger has to be fixed. For me it's a NO

I would love to have a table napkin. A nice square cloth napkin instead of picking a number of paper tissue, continuously one after the other
Whether you're going for lunch or dinner, The Hangout is sure to bring your taste buds alive while the cultural design elements throughout the restaurant will take you down memory lane.
On your way out, stop by The Teta's Corner and check out the local products served during the meal.

























Pages  [
1
]  [ 2 ]  [ 3 ]