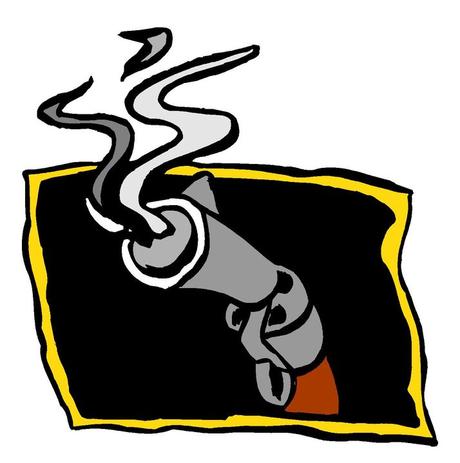 Fort Myers, Florida aka the Gunshine State, just had another mass shooting.  The last one was a little over a month ago, in Orlando, resulting in 50 dead, 53 wounded.
Germany has had a series of terrorist attacks in 2016, 3 knife attacks, one guy with an axe, one with a bomb, and one non-terrorist attack with a gun.   Each of the terrorist attacks resulted in only 1 dead. Of the stabbings and axe attacks, the knife attacks each left one injured, a third knife attack left 3 injured, and the axe attack left 5 injured.  The suicide bombing left 12 injured.
Only the shooter in Germany, tentatively associated with right wing terrorist Anders Breivik, was successful in accomplishing a mass killing, 9 dead, 16 more wounded. 
This proves the point that strict gun laws work; Germany has some of the strictest gun laws in the world.  Most of the illegal guns are from areas in and near the EU which have experienced civil wars like Bosnia.  Eastern European states often have more lax gun laws; for example, the January 2015 shooting in Paris involved firearms legally bought in Slovakia. The number of dead in that attack, on the magazine Charlie Hebdo, was 12.
Right wing gun-huggers would tell you that if there is restrictive gun regulation, only the bad guys will have guns.
That is not true.  For example, Germany has the 4th largest legal gun ownership in the world, after the US, Finland and Switzerland.  People can still own guns under gun regulation, the so-called good guys.
Right wing gun-huggers will claim - wrongly - that gun regulation and gun restriction means that ONLY the bad guys will have guns.  Bad guys encompass terrorists, both Islamic and right wing terrorists, and criminals; that is also not true.  Rather we see terrorists, both right and left, and criminals, and domestic abusers as well, all find it too easy to get guns in the United States, and far too easy to use them against innocent victims.
Germany has a very low level of criminal acts involving guns, giving the lie to the claim that with gun regulation ONLY the criminals will have guns.
NationMaster makes comparisons between countries easy, including regarding firearms and crime.
For example:
Gemany ranks 77th in crime (per capita)  the United states ranks 30th (per capita); the US has more than twice the rate of crime of the USA
Germany ranks 24th for rape; the US ranked 9th with 3 times more rape than the US (per capita)
Germany ranks 15th for violent gun crime; the US ranks 1st with 3 times more than Germany
Germany ranks 43rd for intentional homicide with a rate of 0.81 per 100,000; the US ranked 7th, with 6 times the homicides per 100,000 of Germany with 5 per 100,000.
 There are a variety of other metrics; all of them come out with Germany as safer than the US, usually by a very very large margin.
We can continue listing, but the bottom line is that Germany, with their stricter gun laws continues to make legal gun ownership available for qualifying citizens while making their country broadly safer from violence, particularly gun violence.
The right wing gun huggers, as they do with any subject that doesn't suit how they wish the world to be, simply deny inconvenient facts, be it gun control, Brexit being a disasterous vote, or the science of global warming.
We can't let those who are willfully disconnected from reality endanger the rest of us.  We need comprehensive gun control in EVERY part of the United States.  It is increasingly clear that it is not merely correlation but causation, more guns means more gun violence, not greater safety.
When, WHEN will we have enough of killing and injuring people because of ridiculous but well-funded myths and propaganda?