February 10 2016
Trivia Answer: The guy from Lost was HURLEY and the guy from Three's Company was Mr. FURLEY. 
First Fives: Mike O'Dea, Neil Moffatt, Lance Beitler, Brett Blattman & Jim Carter
Honorable Mention: James Gabriele
THE NUMBERS
Sunday's Broadcast Top 5
Super Bowl 50-CBS 34.1/111.9
Super Bowl Postgame-CBS 17.9/48.6
Pitch Perfect-NBC .6/1.8
Shark Tank-ABC .5/1.8
Simpsons-FOX .5/1.1
Sunday's Cable Top 5
NFL Primetime-ESPN .9/2.1
Family Guy-Adult Swim .8/1.7
Puppy Bowl-Animal Planet .7/2.2
American Dad-Adult Swim .5/1.0
Shameless-Showtime .5/1.1
Sunday's Social Media Top 5
Super Bowl 50-CBS 16,909,000 Tweets
Stephen Colbert-CBS 21,000 Tweets
Downton 

Abbey-PBS 12,000 Tweets
James Corden-CBS 10,000 Tweets
Keeping Up with the Kar

dashians-E! 6,000 Tweets
Puppy Bowl delivered million viewers but the marathon from 3pm to 3am Super Bowl Sunday delivered 9.3 million viewers total. While these are pretty impressive numbers, viewership was down by 21%. Kitten Bowl numbers and Fish Bowl numbers have yet to be revealed but I'm betting that the numbers are up vs. last year. 
Monday's Broadcast Top 5
The Bachelor-ABC 2.5/8.6
X-Files-FOX 2.5/8.3
Supergirl-CBS 1.8/7.9
Lucifer-FOX 1.7/5.4
NCIS: Los Angeles-CBS 1.6/9.7
Monday's Cable Top 5
WWE-USA 1.4/3.9
Love and Hip Hop-VH1 1.4/2.5
Fast N Loud-Discovery 1.1/2.6
Stevie J & Joseline-VH1 1.1/2.1
Teen Mom-MTV 1.1/1.8
Monday's Social Media Top 5
WWE Monday Night Raw-USA 343,000 Tweets
The Bachelor-ABC 236,000 Tweets
Love & Hip Hop-VH1 66,000 Tweets
X Files-FOX 42,000 Tweets
Full Frontal with Samantha Bee-TBS 4,000 Tweets
THE SHOWS
Real Housewives of Beverly Hills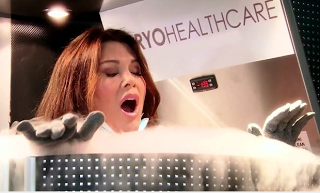 Have a little time before lunch? How about some cryotherapy? What is that you ask? Well...you get naked and stand in a pod for 90 seconds at -140 degrees Celsius. If I did my calculations right that's -220 degrees Fahrenheit. Either way, it's F'ing freezing! It's supposedly good for you. Kyle said it made her knee feel a little better and Yolanda swears by it so who knows. A single session is $100 bucks but remember, a single session is 90 seconds! Not a chance I'd do that, I hate being cold. We did get a quick shot of Lisa V's boobs, so I guess it was worth it. After Yo, Lisa V and Kyle froze together, they barely ate together. Salmon's and salad's and if that wasn't enough how about Bella and Anwar's medical records. Yolanda was PISSED that Lisa said the kids didn't have Lyme's Disease and brought their records to prove it. She also threw Lisa Rinna under the bus for spilling the beans. The question was. Who told Yolanda about that convo? Her BFF Erika, that's who!  Also lunching on nothing, Ilene and Kathryn were not eating their salmon salads. Who could eat without a fancy purse? Huge news, alert Bravo's news department!  Eileen does NOT own an fancy handbag. Kathryn hated Eileen's bag and just needed to call Vincent Van Patten and tell him his wife needed 10 grand in bags...stat!  After all the ladies barely lunched everyone but Eileen packed up their Louis Vuitton's and headed down to San Diego to see Erika Jane perform for a bunch of naked gay guys. Erika was getting her naked body painted and prepped for the big night. Bravo didn't show us much of the performance, but from what I saw I wasn't THAT impressed. After the show, back at Erika's hotel room the girls were getting hammered and calling Erika out for throwing Lisa Vanderpump under the bus. Erika who's all about owning this and owning that didn't own up to the fact that she was the rat. She did wear a necklace that said "c*nty" that she did own up to. With all that Chanel jewelry, why go with the "c*nty" one? Shock value that's why. The battle continues next week. Can't wait. 
People vs. OJ Simpson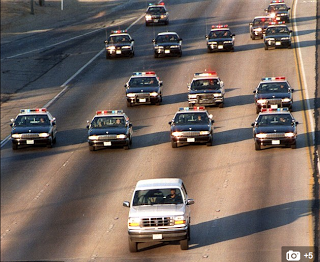 AC Cowlings is still alive. Wonder what he thought about last nights episode of People vs. OJ. Did he tell Ryan Murphy what went on inside that Bronco or did Ryan make that all up? I remember watching the entire thing. It was crazy! I didn't know that AC had the same exact Bronco as OJ. That's sorta weird, right? I'm still having a very hard time with Cuba Gooding Jr. as OJ. He's not pulling it off at all. I forgot what idiots the LAPD were. Of course even as kids the Kardashians loved seeing any one of their family members on TV, even if it was for a friends murder. Kudos to David Schwimmer. I'm loving him as Robert Kardashian. Did we know that he told OJ's family that OJ was dead? Chris Darden's neighbors joking about OJ in the backyard, hilarious. No Al Michaels Bronco chase narration, or the famous Howard Stern prank call, but again, another great episode.  
The Grinder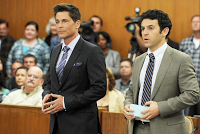 Okay, okay, now we're getting somewhere. The writers have figured out how to turn the corner with the show and I think it's a good move. Stewart and Dean in therapy with Maya Rudolf works for me. Just Stewart explaining to Dean that he speaks in TV character and why that's not normal was hilarious. I think this could work guys. I thought it was great when the new client wasn't impressed at all by Dean's celebrity but then was sucked in by the therapy and the family drama. Anyone notice that blackboard in the kitchen? The list never changes and the handwriting is WAYYYYYY to perfect. Just saying. 
THE OTHER STUFF
-Angel From Hell Cancelled after only 5 eps. I don't know how that thing even made it to air. It was a mess.

Wednesday's Trivia Question: Jamie, Megan, Michael J & Matthew. What do they all have in common? 
WWTM-Kristy
Like me on Facebook at Watching Way Too Much
Follow me on Twitter at tvnme
http://watchingwaytoomuch.com
[email protected]