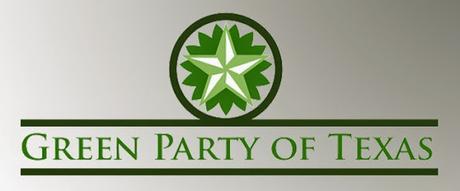 To automatically qualify for a position on the ballot in a statewide Texas election, a political party must get 5% of the vote in at least one statewide race.
The Green Party of Texas failed to do that in 2016. Their leading statewide vote-getter was Martina Salinas, who ran for Railroad Commissioner. She got about 287,000 votes, or about 3.2% of the votes cast in that race. That means the party does not automatically qualify for the 2018 ballot.
In the past, the Green Party has qualified by running candidates in the few statewide races that no Democrat was in (thus getting some votes from progressive Democrats). But in 2016, Democrats ran a lot more statewide candidates, and the Greens were not able to take advantage of races without a Democrat.
That means the party must get 47,183 signatures on a petition to put them on the ballot by May 29th, and those signatures must be from people who did NOT vote in any other party's primary election.
That could be tough. The petition drive would cost at least $200,000, and the party has very little money. It could also be tough because both Democrats and Republicans had very large turnouts in the March primary (making those people ineligible to sign a petition).
The last time this happened was 2010, and the Greens were saved by an out-of-state Republican group who funded the petition drive with a $532,000 donation. It's possible that some rich Republican might do the same this year, thinking that in an election as close as some are predicting a Green Party candidate getting 2% to 3% of the vote could save a Republican seat in a competitive district.
Right now, it's a long shot that the Green Party will be on the Texas ballot in November -- but they still have a little over a month to make it happen.