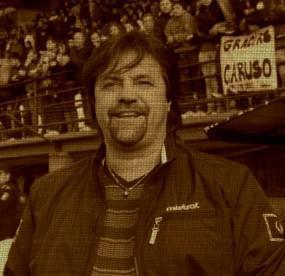 Ricardo Caruso Lombardi has always been at the center of controversy and there are few coaches that relish being the centrifuge of smack talk.
His gesticulations, tone of voice, and self-constructed soapbox permits him to evocate any type of rhetoric that will generate controversy.  In other, he's Argentine television gold.  He finds himself in a country where the media and sports journalism is driven by personalities that talk over each other and the one that roars the loudest-wins by split decision.
"Me salió el 'tano" ".  The Italian in me came out.  That's what he's said at times whenever he has something to say after the heat of the moment is over and done.  His southern Italian descent emerges while he is on the bench for every team he coaches.
His affinity for the spotlight is only surpassed by his quirks and his pseudo-choker chain with the Estudiantes crest hanging on it- his beloved Pincha.  Based on that admission we know that Gimnasia fans loathe him and Estudiantes fans love him.  He has confessed his desire to be able to coach that side someday.
His constant soundbytes generate headlines and the ire of many players.His comments are beneficial to add ink to pages on newspapers and allow writers to further abuse their keyboards.  His media battles with Roberto Trotta, with Chori Domínguez and with Rolando Schiavi  yet there is a method to his madness.
A poor man's Jose Mourinho, you can somewhat say.  But the fire in his belly exceeds the cold and calculated Portuguese boss.  Although he does not master sarcasm very well.  His comments and criticisms are as subtle as a dropkick to the testicles.  He pulls no punches and he will take a shot at anyone with no hesitation. He's a man with that "cassette" that the Argie media always talks about.  He doesn't have it.
Between the media and his alleged dealings in pay-for-play, Ricardo Caruso Lombardi is a coach that has a very unique modus operandi.
Caruso Lombardi can be described in one word- unfiltered.  A microphone gets in front of him and his mind acquires Acute Publicity Tourette's. He will say pretty much everything that is on his mind and say it to the whole world.  He's done so on talk shows on television and radio; now on Twitter.
Caruso Lombardi approaches the game with the fervor and passion that few people do.  In the process, his roughness reflects in his look more resemblant of an Italian mobster with his windbreaker or dapper suit at times.  But he lives every ball, every play from the sideline like he did when he was a player.
"If Messi were to play here, he's very comfortable in Spain… he'd be uncomfortable. He plays here, he's uncomfortable. He plays a World Cup qualifier in Bolivia, he's uncomfortable. He goes to Colombia, he's uncomfortable. I see that he's uncomfortable. I'm not talking about whether he sings the anthem or not. If he's more Argentine, or not. I can tell you one thing the way he celebrates goals for Barcelona, he doesn't do that with the national team. When he starts to score for the national team then we'll see. It upsets me. If it were just another player, it wouldn't matter. "                                        - Ricardo Caruso Lombardi on Lionel Messi
Many are now saying by this point in the article, "Ok, so what makes this loudmouth so special?"  While Mourinho can make winners out of team with extensive payrolls and getting whoever he wants, Caruso Lombardi is on the complete opposite of that spectrum.  He has established a reputation at the opposite side of the table where Mourinho is accustomed to being.  He is a relegation expert- a savior to be more precise.
When teams are looking to go up, they call him.  When teams feel the inferno of the second division burn their feet, they call him. He's proven on several occasions that he's able to squeeze water and blood out of a rock. With every team, he's able to morph himself from a coaching perspective to fit what he has available. He is not a coach that imprisons himself within the world of schemes and systems.
For the most part , he knows that he doesn't have the luxury to implement a system or the players to implement it with.  There is nothing that really can you can point to that says  he has intangibles that go beyond.
His ability to have wounded troops rally around him is unconventional to many. He is able to do what many coaches have done. His uncanny ability to attract attention and deflect it from his team does diffuse the pressure in the dressing room.  Yet inside, the players focus on him.  He just draws that attention from his players and knows how to make them respond.
He's also become a feared master in the implementation of social media in order to bring his points across.  If you have nay doubts about that, just ask Boca Juniors defender Rolando Schiavi.  The former Newell's Old Boys man happened to be coached by Caruso Lombardi and their row on Twitter a few months ago had them trending after all the venom they spat out in incessant fashion.
"[Schiavi] at Newell's went behind my back with two players I didn't know about.  It didn't hurt him either when he faked an injury against Huracán.  Our roster was decimated and we went with five players to play Colón to see if we lost the match.  Then they did not speak to the players that played, most of the Paraguayans, and we were able to get a wonderful draw there. They did not even speak for a week because what they wanted was for me to leave."   He then said that he wasn't much into being in the media.  Now he wins the title with Boca and he's on every cover and talking.  I don't fall for that.                                                                                                                                                                                                            - Caruso Lombardi on Rolando Schiavi
As a player, Caruso Lombardi was nicknamed "El Serrucho"(The Saw).  He was a player that had some quality but he was mostly one that ensured a physical presence in the middle for Argentinos Juniors, but his career would have very little reference outside of that during that 11-year career that spanned throughout the first and second division.
It would be his first stint where he would start to open eyes helping Sportivo Italiano to the league title and then the infinite amounts of times when he prevented a side from being relegated.  He also helped Tigre earn promotion nearly a decade later and one saw his tactical soundness as one of the reasons for his teams' successes.
"You were a great player, but let me make something clear.  I didn't make a living out of football.  I made a living out of the work I did. Now prove to me you can do something as a coach.  You were already a coach. Become friends with Maradona, it's that easy."                                                                                   - Caruso Lombardi talking to Roberto Trotta
He always found a way to motivate his teams.  He recognized the players' respective psychology and he knew that players below had to have things such as their motivation, effort and manhood questioned in order to prevail.  He also appeals to raffles and prizes.  Should his team win, he will raffle off things such as flat screen HD TVs, PlayStations and things of the like.  It all helped the club remain motivated.  It also helps in the camaraderie as well.
"I ask of you to do everything you can to help this club.  Why?  Because they are giving you work. We have to stay in this division and we have to fight.  We have to give it our all.  In football, to win you have to give it your all."                                                                                                                                                                            -Ricardo Caruso Lombardi
He realized as well that every player has to do their part in order to maintain the team's goal within  target and he does so by keeping everyone involved and helping the weakest link become stronger.  With this particular knack he had, he developed a trend of instead of looking back to Europe for the reinforcements that would fortify a team, he did something that saved much more money.  He began looking for players from the lower divisions. Although it was mocked by many, his acquisitions had as much hunger as he did.
He's done this throughout his career and it has worked on several occasions and it helped players such as Boca's Juan Insaurralde, Everton's Denis Stracqualursi and even Álvaro Pereira who is currently playing with Porto.  Those are just the few that have been able to make a name for themselves in some of the best teams in South America and Europe.
Now he's doing his best to wave his magic wand around and look to make a miracle happen at a San Lorenzo side currently embroiled in one of the worst crises of its history.  So far in his two-game stint as coach of the club, he's been able to get points out of both affairs and help El Ciclón get out of the promotion zone they currently find themselves in.   His arrival at Boedo might have been controversial after his sudden departure from a Quilmes side that was fighting for a chance to return to the top flight.
Yes, it did seem awkward to see him talking about San Lorenzo while coaching Quilmes and wearing the club's training gear.  That is one side that rubbed many the wrong way.
So far he's sold a team that looked hopeless into believing, not just with actions, but with results.  He's fed them and they are now believing.  So whether you like him or you loathe him, he gets the job done.
Follow @juang_arango