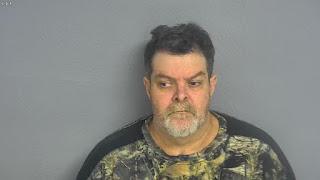 Scott J. Wells
How has Missouri resident Scott J. Wells been held behind bars for more than two years, even though he has never gone to trial, he's been convicted of nothing, and the child-pornography charges against him involve allegations that are
physically impossible for him to have committed
? I have a two-pronged answer to that question: (1) Bad law; (2) Bad people enforcing the law.
As Legal Schnauzer
recently passed its 12th birthday, our over-arching theme has been: The law, in many cases, makes sense, but the people who enforce it (lawyers, judges, prosecutors, cops) tend to be crooked, incompetent, or both. In the Scott Wells case, both the law itself and the people enforcing it are of dubious character.
Wells has been in prison or jail since spring 2017 because of
18 U.S.C. 3142 ("Release or detention of a defendant pending trial")
. In a society where an accused is considered innocent until proven guilty and is entitled to a speedy trial, I suspect Scott Wells has been treated in a wildly unconstitutional fashion. In fact, all or part of Sec. 3142 probably would be overturned if a few members of Congress had the temerity to challenge it in this "tough on crime" era.
Wells has been deprived of a speedy trial because the first two court-appointed lawyers assigned to defend him -- David Mercer and Shane Cantin -- did almost nothing on the case. We attended a pretrial hearing yesterday and saw no sign that the third court-appointed attorney, Brady Musgrave, will spring into action (seeking to have the case lawfully dismissed) at any point before the August trial date.
Sec. 3142 is long and unwieldy, so we will try to focus on its key elements. First, it allows the prosecution to seek a detention hearing and order. The judge is supposed to make a determination on detention or release based on four primary factors:
(1) The nature and circumstances of the offense charged, including whether the offense is a crime of violence, involves alleged sex trafficking of children, terrorism, a minor victim, or a controlled substance, firearm, explosive or destructive advice;
(2) The weight of the evidence against the person;
(3) The history and characteristics of the person, including his character, physical and mental condition, family ties, length of residence in the community, past conduct, criminal history, history relating to drug or alcohol abuse, and record of appearing at court proceedings;
(4) The nature and seriousness of the danger to any person or the community that would be posed by the person's release.
How does Wells score on this four-point checklist? Based on available information, he scores well. Re: item No. 1, there is no evidence that Wells was connected to any controlled substance, firearm, or destructive device. The issues about a "crime of violence" and "a minor victim" come under the heading of bad law and poor investigative work. 18 U.S.C. 3156 includes possession and distribution of child pornography as "crimes of violence." The law on sexual abuse and exploitation repeatedly refers to "contact offenses," where an adult makes inappropriate and unlawful physical contact with a minor. When the allegation is that an accused merely viewed an image of child pornography -- and maybe did not even do so knowingly or intentionally -- how can that involve violence? Some might consider the conduct deplorable or disgusting, but it's not violent. As for "a minor victim," that is a matter of simple arithmetic: Is the alleged victim under the age of 18? Nothing in the criminal complaint suggests investigators know the ages of any alleged victim. They make several references to "minors," but they provide zero evidence about anyone's age.
As for item No. 2, the weight of evidence against Scott Wells is zero. He became a target because of a Facebook "CyberTip" about a suspicious image that had been uploaded to his account. But the criminal complaint states that Wells uploaded two different images at the exact same time (to the second), which is physically impossible and
cannot form probable cause for his arrest or the search of his home
.
As for item No. 3, Wells has plenty of family ties in the community and has lived in Springfield, MO, for most (maybe all) of his life. The only criminal history I've found involved the child sexual abuse case, where a conviction was overturned due to ineffective assistance of counsel provided by my brother, attorney David Shuler. I'm unaware that Wells has any significant history with drug or alcohol abuse or failing to appear at court proceedings.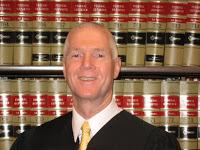 David P. Rush
As for item No. 4, it's hard to see how Wells can be a danger to anyone. He is virtually blind in one eye, and because of a benign brain tumor he's had since childhood, requires a walker to remain upright and mobile. He was rolled into yesterday's hearing in a wheelchair.
The detention process in
U.S. v. Wells
 appears to have involved three documents -- (1) The government's Motion for Pretrial Detention and Hearing pursuant to 18 U.S.C. 3142(e) and (f), from chief prosecutor James J. Kelleher; (2) The court's minute entry for the preliminary hearing and detention hearing; and (3) The court's order regarding detention, from U.S. Magistrate David P. Rush.
All three documents contain statements that are deceptive, inaccurate, nonsensical -- or some combination of the three. We will examine those documents in an upcoming post.
We should note, for now, that the record contains no indication that Federal Public Defender David Mercer, who was representing Scott Wells at the time, filed any written response to the government's detention motion. It's not even clear that Mercer made any substantive oral argument at the hearing to keep his client free. Wells' two subsequent attorneys -- Shane Cantin and current counsel Brady  Musgrave -- have made no effort to free their client, even though there are ample grounds for doing so.
(To be continued)