After hearing about all the health and beauty benefits of using a silk pillowcase as opposed to the traditional cotton, I was so excited to put the The Goodnight Co. 100% Pure Mulberry Silk Pillowcase & Eye Mask to the test and see if it truly delivered on 'beauty sleep'.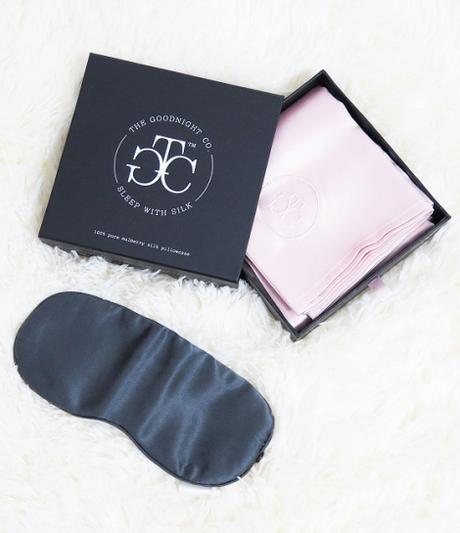 The smooth, tight weave of natural silk fabric helps to keep moisture close to the skin. Naturally hydrated, plump skin cells are going to show fewer lines and wrinkles – so you'll wake up looking radiant. If you have dry, flakey skin you'll love sleeping on silk. Say goodbye to those nasty sleep creases, too!

According to dermatologists, silk pillowslips are free of potentially irritating chemicals. Silk pillowcases also contain natural substances that ward off various allergens, including dust mites and other nasties that are attracted to your cotton pillowcases.

A night of tossing and turning on a cotton pillowcase can dry out your hair and cause it to bunch up, knot and frizz. Hairdressers recommend sleeping on silk pillowcases as a way to keep your hair naturally soft, moisturised and tangle-free. The cling-free properties of silk allow your hair to slide over the pillowcase instead of sticking – extending the life of your blow dry by up to 2 days.

– The Goodnight Co.
As you would expect, the The Goodnight Co. 100% Pure Mulberry Silk Pillowcase & Eye Mask feel absolutely beautiful and soft, adding such a luxe feel to your sleep. The cool, smooth surface of the pillowcase and mask really helps you unwind and get to sleep faster during the hotter days. Having slept on a cotton pillowcase my whole life, the change needed some getting used to on the first night, however,  I was soon excited to get to sleep and hopefully see some results!
Over the past couple of months, I do feel as though the pillowcase has helped my skin in a number of ways. I've found that the silk has helped my skin look more refreshed and awake each morning, as opposed to the slightly duller complexion my normal-dry skin would sometimes cause. If you love a lie in, the silk also makes sure you don't wake up with any tell-tale signs like the deep creases a cotton pillowcase can cause! Another weird but wonderful thing I've found with the silk pillowcase is that I'm not tossing and turning as much as I used to, leaving my skin slightly smoother than it used to be.
The eye mask is lovely to put on each night and works well to block out any light, giving you a better nights sleep. It's cool texture also helps relax the eyes after a long day and being a contact lens wearer, it feels amazing! As I usually sleep with my hair up (I hate having my hair down when sleeping!), I can't really comment on whether or not it has helped with the health of my hair but I have noticed less fly aways when I wake up the next morning.
The Goodnight Co. 100% Pure Mulberry Silk products are available from their website.
Have you tried a silk pillowcase or eye mask before?


| Bloglovin' | Facebook | Twitter | Instagram |
*These products were kindly provided. As with all my posts, it is 100% honest and of my own personal opinion. For more information, visit my Disclosure Policy.