Remember to get all of your correct answers in regardless of what time it is.  They all count toward the monthly prize!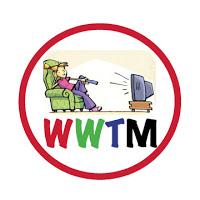 The answer to Thursday's Trivia Question: Courtney Cox was in Friends and Ace Ventura Pet Detective!
FIRST FIVES:  Karen Hadley, Candace Gorin, James Schiro, Ed Ziskind & Stephanie Baxter
Honorable Mention:Daniel Block
Wednesday's Broadcast Top 5
Modern Family-ABC 4.2/10.8

American Idol-FOX 3.1/11.7




How to Live With Your Parents-ABC 2.9/8.4




Criminal Minds-CBS 2.8/10.7




Survivor-CBS 2.5/9.2

Wednesday's Broadcast Trendrr Top 5 American Idol-FOX 301,799

Criminal Minds-CBS 57,298

Modern Family-ABC 56,589

Survivor-CBS 55,506

Supernatural-CW 50,581

Wednesday's Cable Top 5

Duck Dynasty 10p-A&E 3.7/8.3

Duck Dynasty 1030p-A&E 2.1/5.1

The Big Bang Theory-TBS 1.5/2.9

Duck Dynasty 930p-A&E 1.5/3.6

The Big Bang Theory-A&E 1.5/3.0

Wednesday's Cable Trendrr Top 5

Duck Dynasty-A&E 224,085

Psych-USA 64,452

My Crazy Obsession-TLC 57,780

NBA Basketball-NBA TV 33,892

The Americans-FX 13,110

Late Night Ratings for the week of  3/25/13-3/29/13

Leno .8/3.5

Kimmel  .7/2.6

Letterman .6/2.5 The Daily Show .6/1.5

Fallon .5/1.7 Colbert .5/1.2 Nightline .4/1.5

Ferguson .4/1.4  Conan .4/.8 Carson .3/.9

Early Morning Ratings for the week of 3/25/13-3/29/13

GMA-1.5/1.8 Today Show-1.5/1.8 CBS This Morning-.8/.9

Parks and Rec

Councilman Jam and his awesomely crazy hair was suing Ron Swanson and his awesome hair for beating him up at Leslie's event/wedding a few episodes ago. Tom, April and Andy all testified as character witnesses for Ron and his awesome hair. Andy told the truth which resulted in the laugh out line of the night: "sometimes when I blow my nose I get a boner and I don't know why". Just typing that I'm hysterical laughing.  Not sure if you guys caught the name of the law firm but it was Gately, Wayne, Kittenplan & Troeltsch...Kittenplan got me. Anyway, Ron and his awesome hair, hate liars and lying.  Apparently the only thing Ron and his awesome hair hate more than lying is skim milk which is water lying about being milk. I have to say, I agree.  Ben was back home in Partridge where he thought he was being honored but it was just a scam to make fun him for ruining and a chance to bring out Fred the Sled, the town mascot. That was my second laugh out loud moment.  Ben ended up on morphine for a kidney stone, so Leslie had to go accept the key to the city that had melted because it was made of ice. That really pissed Leslie off and she let the town have it.  While home, we found out that Ben's sister is Annabeth Gish from Mystic Pizza who looks amazing and not botoxy at all! What was her name in the movie? Secret 5 point bonus? Chris Trager and Ann Perkins took a compatibility test to see if they'd be great parents and of course they failed, but their moving ahead with the plan. They better fall in love and show Rob Lowe with his shirt off making that baby or this blogger is going to feel cheated.




Survivor

I'm so proud of myself and I owe you guys a huge thank you. Nobody ruined Survivor for me.  If you recall, I was out at the Bravo Upfront on Wednesday night  (yeah, I'm rubbing in just a little) and watched nothing. So as soon as I got home, checked the homework, packed for vacation, and ate dinner, I needed to find out what happened and WOW! What an awesome blind side!  A note boat announced the merge and Malcolm scammed the team with a new name "Enil Edam" which is really his Mom's name backwards but he told everyone it means "new beginning".  Hilarious.  Anyway, back to the awesome blind side...Yeah for Dawn and Cochran for putting it all together. Corinne's out. The look on her face was priceless.  I'm bummed, I am, but at the same time, it was a great move and it shook things up big time! This week was the disgusting food challenge and another shocker, although not as major as the Corinne blind side, Cochran won! He ate duck embryo, pig brain, shipworms and beetle larvae. I love Cochran. I'd love to see him win.  Suburgatory This week Suburgatory had to be one of my faves of all time. Jeremy Sisto was naked for a big chunk of it as he was trying out for Mr. December in the "Dads of Chatswin" calendar. First the women had him take his shirt off to audition and then for the photo shoot. Great plot idea writers! I loved him in his Loudan Swain garbage bag trying to lose weight for the big shoot. (Name that movie for another secret 5 point bonus) Dallas's cleavage this week was absolutely out of control, I wish I was still posting photos in the blog, because it was something to see. Cheryl Hines really has done an incredible job with those things.  While Jeremy was naked, most of the show centered on my fave character, Dhalia. She was jealous of Tessa's relationship with Jenna, Noah's lesbian daughter who's back in town At first I just thought it was normal friendship jealousy but then we found out DUN DUN DUN that she and Jenna had hooked up a while back. Honestly, didn't see that one coming at all, but what I really didn't see coming was her stalker like photos of her and George in her desk. Lisa found them while snooping in Dhalia's room and honestly, I'm not sure what to make of it. I froze my DVR so I could read the captions on all the photos. I can't tell if it's a crush or a Daddy thing.  I guess we'll find out though.  Modern Family

I still can't stand Lily and yet they keep coming up with story lines that are centered on her. This week Lily thought she was gay, but then she found out that she wasn't she's Vietnamese. Gloria got pissed that Lily (and Manny) were losing their heritage and culture, so they decided to take the obnoxious brat to a Vietnamese restaurant. The restaurant scene  was hilarious, but Lily of course ruins everything with her annoyingness. Jay took Manny to interview at a snooty prep school which brought back memories for Jay. Of course Manny's interview was a disaster that included a horrible attempt at moonwalking. Claire was in the hospital for tests (she's fine) and a bizarro Dunphy family of the future that included Justine Bateman, (another 5 point bonus if you can name her famous TV character) had Claire and Phil re-thinking their parenting skills.  Luke's been trying to invent something and The Carruba's loved the pancakes with popcorn in them that caused them to flip. We'd so buy that if it was real!

NEWS & INFORMATION:


-I'm sure you know by now that Roger Ebert passed away of cancer yesterday. I always preferred Ebert to Siskel. Just my personal preference. RIP Roger.

-Arrested Development's Netflix season begins on May 26th. I wonder if I can use another free trial to watch all the episodes like I did with House of Cards? They're releasing all 15 episodes at the same time, just like they did for House of Cards.  I signed back on for a free month trial and then cancelled my subscription again.  Maybe I'll do the same thing.  I'll let ya know when it gets closer what I'm going to do. What are you going to do? Do all of you have Netflix?




-Check out how much time is spent on YouTube and how many unique visitors were on the site in January...it's insane!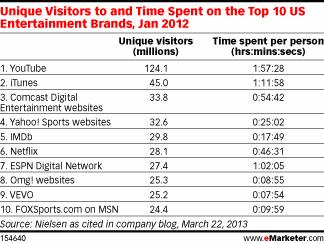 -Lots of talk about Millennials these days...here's what their doing and what their doing it with.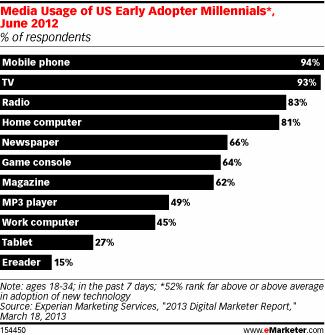 -Just another good chart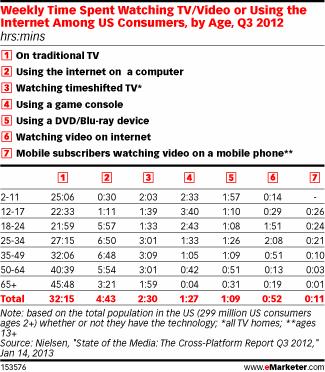 Friday's Trivia Question: Last day of the TV/Movie connection game (for now):  Reminder, I name a TV show and a Movie that share a common actor or actress. Here we go: How I Met Your Mother and Forgetting Sarah Marshall:   Name the actor. WWTM will be away on vacation next week and will not be posting at all.  Not here, not on Facebook and not on Twitter...Jamaica Mon! Chillaxin in the sun big time!  
WWTM-Kristy
http://watchingwaytoomuch.com
[email protected]
[email protected]