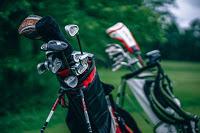 Kevin Kisner picked away at his opponents during the
WGC Dell Technologies Match Play Championship
and, on the 16th green against Matt Kuchar, rolled in a spectacular putt to win.
Prevailing after a first-round loss to Ian Poulter, Kisner defeated Francesco Molinari after the former Open Champion 3-putted on the 18th green.
What "sealed the deal" for Kisner during the championships, and sent home the other opponents, were
putting skills
... or lack thereof.
Did you know...
you can tell a lot about a
golfer's performance and handicap
from the 25 foot putting "make" percentage?
According to Stuart Leong, Chief Swing Officer of Swing Index,
"...data found that players who tend to leave themselves a two-footer or less on a 25-foot putt generally corresponds with a scratch handicap. Players who leave themselves between two feet and three feet generally shoot in the low 80s, while players who finish between three and four feet (or more) generally shoot in the 90s or above."
Sure, it's important to be able to stick the approach shot close to the pin so that you have a better chance of making the putt but
you need to close the deal
.
Golf for Beginners
has a few tips to make your putter shine during a round.
How to Pick the Right Putter
Putting is about feel and comfort, not just design and function. The PGA asks golfers to consider shaft length, weight, balance point, and head design before you purchase so that your flat stick fits you properly.
Find a grip that suits your putter stroke.
Select a style of putter you are comfortable with - do you prefer a blade or mallet?
Putting Drill Before You Play Golf
Proper practice is essential at the range and just before you head out for your round as you can get a sense of the speed of the greens and visualize the lines in your mind's eye.
Try this on the practice green: Hit lag putts to get the speed of the greens. Line up four balls and put the first ball three feet from the cup and then put a ball behind it every two feet. Before you leave, make every one of those putts in succession - if you miss a putt, don't putt the next one, instead, line 'em up again and start over - you will probably make fewer putts when you play your round!
Do you practice putting before a round and, if so, how long do you dedicate to it? Comment below and on
Twitter @Golf4Beginners
(make sure to tag us so we see your comments!)