High fashion's greatest era – 1947 to 1957.
A 1950s couture dress gallery and a free downloadable 1950s dress pattern -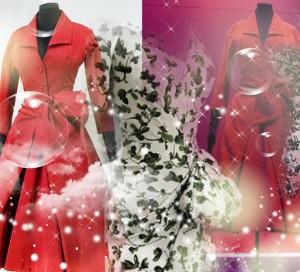 Scroll to end of article for dress pattern details:
It has been described by some as the golden age of couture – that post war era when fashion returned to opulence and glamour between the years of 1947 – the year Christian Dior introduced to the world his New Look – and 1957 the year Dior passed away.
Back in 2008 the V&A in London celebrated this age of fashion excess with a truly stunning display of famous dresses and suits by the great designers of the late 1940s and 1950s entitled the Golden Age of Couture.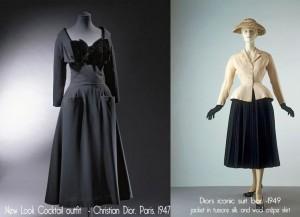 Diors-New-Look—1947-and-1948
During that era, French couturiers like Pierre Balmain, Jacques Fath and Cristobal Balenciaga dominated world fashion with their elegant and glamorous creations.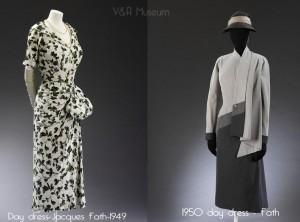 1950s-couture-dresses-Jacques Fath
In London, new competition arrived from the likes of Norman Hartnell, Hardy Amies and Digby Morton.were synonymous with the glamour of the royal family and princesses Elizabeth and Margaret.
Young bloods like Hubert De Givenchy captured the eyes and heart of the young Audrey Hepburn, and the rest of the world followed her.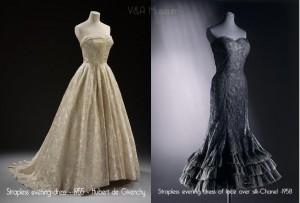 1950s-evening-dresses—Chanel-and-Givenchy
By the end of the 1950s Coco Chanel after a few false starts after the war, was in the ascendant once again and promoted a more consumer friendly women's wardrobe that was to herald the end of the golden age of Haute couture.
The death of Dior in 1957 and the changing economic world, ended this era of opulence that catered only for wealthy Hollywood stars and the social elite and a surge in DIY and boutique fashions – especially from London, heralded a new age of street fashion.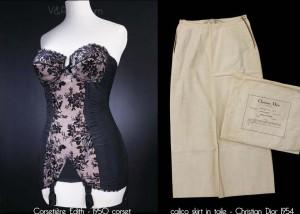 1950–couture-corsets—Dior
The 1950′s should perhaps more accurately be described as the golden age of 'Haute couture' or 'high fashion'. It did not come close in magnitude to the seismic shift in styles which occurred in post First World War fashions, but rather a return to the more classical image of women with corseted figures and curves.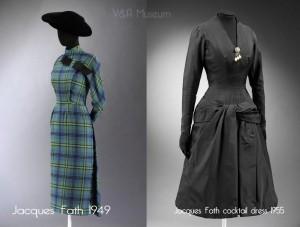 1950s-couture-dresses—Jacques-Fath
One major change in this period was in consumer marketing. Now all was in COLOR ! Kodachrome brought about a sea change in how the public perceived fashion.
In the mid 1920s, the merging of Art Decoratif with Modernist fashion, hugely influenced clothing design but also in how 1920s fashion was marketed. Most fashion houses relied on a team of great artists to help realize their creations and these sketches of languid women draped in angular art deco styles was pretty much the norm for fashion illustration until Dior came along.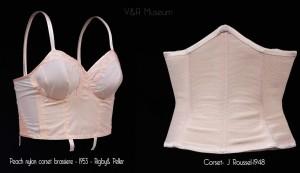 1950s-foundation-wear—haute-couture
In the 1950s fashion photographers like Cecil Beaton, John French, Bert Hardy, Henry Clarke, and later David Bailey – were names as well known as those of the 1920s and 1930s fashion illustrators like Erte, Paul Iribe, George Barbier, Charles Martin and George Lapape.
By the late 1940 – women expected to see every stitch in the new designs and the fashion mags like Vogue and Harper's Bazaar spared no expense in stunningly detailed color photographs of each seasons new gowns.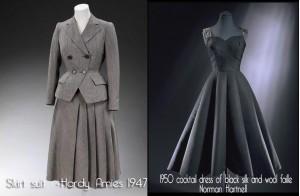 Hardy-Amies-and-Norman-Hartnell—1950s-dress-couture
In 1946, the Theatre de la Mode, a unique touring exhibition of dolls helped raise funds for the beleaguered French fashion industry. The new kid on the block in Paris was Christian Dior, who learned his trade during the German occupation, along with his talented designer friend Pierre Balmain, in the fashion house of Lucien Lelong.
His first post war collection under his own name in 1947, dubbed the New Look by Harper's Bazaars Carmel Snow, caused a sensation. Gone were the military lines, padded shoulders and stern angles. Sloping shoulders, tiny cinched waists and voluptuous busts and hips was the new silhouette.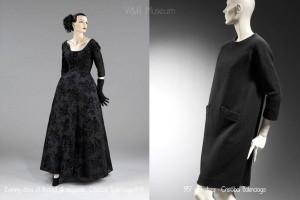 1950s-couture-dresses–Cristóbal-Balenciaga
In Britain the Board of Trade ( Norman Hartnell was a member), criticized the excess in fabric use, bearing in mind that rationing was in place for several years in the UK after the war. But Hartnell, designer of the famous war utility dress, who had himself been an enthusiastic creator of expensive wardrobes for the royals before the war, happily endorsed Dior's 'nostalgic romantic creations with a modern twist' and happily shed the ration restrictions from his future collections.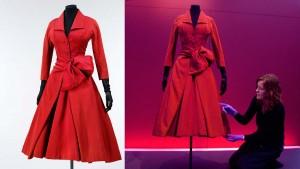 1955-Red-silk-grosgrain-cocktail-dress—Christian-Dior—V&-A-Museum
The 2007/2008 V&A Couture exhibition to my knowledge went on tour, but I never had a chance to see it in person. You can see more images from the collection at the V&A website as well downloading the Golden Age of Couture Timeline pdf – a very good chart of early 20th century fashion.
Create your own ready to Wear 1950s Dress.
As mentioned at the start of this post, the V&A kindly created a 1950s dress pattern to celebrate the event back in 2008, and here are the links of instructions, dress and body patterns for any sewing nuts reading this. Click on thumbs to download:
1950s couture dress pattern instructions:Click to download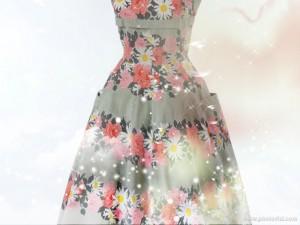 The dress is an original pattern based on one of the ready to wear dresses from the V&A collection and has been sized to modern dress fittings of 10, 12, and 14.
Download the Body Pattern: Click to download


Download the Skirt Pattern:Click to download


If you want to know how this dress might turn out, have a look at Jenny's fab creation below and read about her experience making the dress on her blog Chronically Uncool.